Benefits of Buying Workers' Comp from an Online Carrier
You've got a million things to do as a business owner every single day. Who has time to shop around for workers' compensation insurance? The good news is the process isn't overly time-consuming or complicated. In fact, you can buy workers' comp insurance online quickly and easily.
Whether it's legally required in your state or not, this form of business insurance offers invaluable benefits that can help you and your employees if they get sick or injured while working. Workers' compensation insurance, or workers' comp, provides helpful benefits if your employee is injured or gets sick on the job, allowing them to more easily recover and your business to avoid potentially devastating financial setbacks. Workers' compensation provides coverage for lost wages, medical costs, and more.
If you're curious how to quickly get workers' comp insurance online, Cerity is here to show you the benefits of online providers and guide you through the process.
How to Buy Workers' Comp
Before we dive into why you should consider buying workers' compensation online, you should be aware of all of your options. Although they vary from state to state, there are generally three ways that workers' comp is available:
Private insurance providers. As long as a private insurance provider is licensed to operate in your state, you can get competitive workers' comp rates from private insurers. These range from in-person to online.
State-funded workers' comp. Some states offer competitive funds to provide coverage to some businesses that can't get coverage from a private insurer.
Monopolistic state funds. In some states such as North Dakota, Ohio, Washington, and Wyoming, businesses have to get coverage through monopolistic state funds.
Factors That Affect Workers' Comp Rates
No matter what avenue you choose to get workers' compensation coverage, there are a few factors that are unique to your business that will affect how much your coverage will cost. These factors include:
Where your business operates
How many employees you have
The industry in which your business operates
Your business's workers' comp claims history
Benefits of Buying Workers' Comp Online
Once you've decided to get workers' comp and you've researched your state laws to see if online coverage is an option for your business, you might want to learn about the benefits of using an online provider before you make your final decision.
When you buy workers' compensation online, you can typically get a more competitive rate than through other methods. Online providers have little overhead and can offer more affordable rates than more traditional insurers.
Online providers let you get a quote more quickly and easily than through traditional means. Getting multiple quotes is key to getting the best possible workers' comp rates, and typically quotes are easier through online providers.
Online insurers can offer instant policies so you can get the coverage you need without waiting. You can be fully insured in a matter of minutes, and have a certificate of insurance the same day.
Finding the right online insurance provider who offers quick and easy quotes as well as helpful resources will allow you to better manage your workers' comp costs without sacrificing coverage.
Cerity Can Help
Cerity knows a thing or two about online workers' compensation insurance. After all, we created a faster and more affordable approach to workers' comp specifically so business owners like yourself could get coverage with the click of a mouse. At Cerity, we believed that workers' comp could be done better — so we created it, complete with an easy online quote tool and instant coverage.
Don't believe that workers' comp can be this easy? To see the Cerity approach to workers' compensation, go to our free online quote tool. Simply tell us a little bit about your business and quickly get an affordable policy you can buy right away. It's such a breeze, you'll wonder why you never tried online workers' comp before.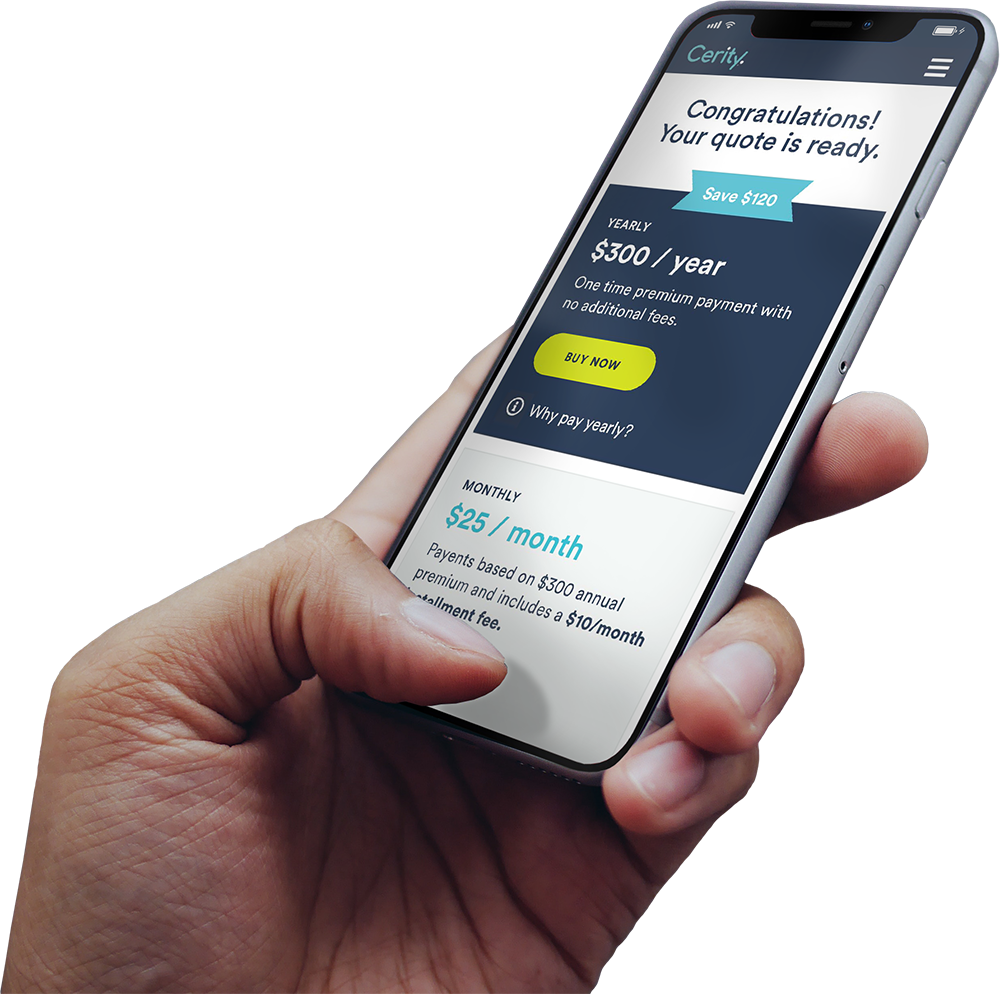 Grab your free quote today.
It only takes a few minutes, whether you're already covered or just getting started.