Preventing Claims is Good Business—Here's Why
Having workers' compensation insurance is a great first step to making your business a safer place for all. Workers' compensation is a form of business insurance that gives business owners and injured or ill workers support for expenses like medical bills, lost wages, and more. This insurance system is mandated by most state laws and is considered a must for most businesses. However, just having workers' comp coverage isn't enough. Preventing workers' comp claims before they happen is also key.
What are the benefits of lowering your business's number of workers' comp claims? And what steps can you take to help prevent workers' comp claims? Here we'll discuss all of that and more.
What Causes Workers' Comp Claims?
Workers' compensation claims happen when an employee is injured at work, and this happens more often than most business owners realize. Across the country, a worker is injured on the job every seven seconds, on average. Injuries and resulting workers' comp claims can happen because an employee falls from a height, slips and falls on a slippery floor, is crushed by heavy machinery, is exposed to dangerous chemicals, or suffers an injury through some other incident.  When these injuries lead to medical bills and lost time at work, a workers' compensation claim often happens.
While many people talk about workers' compensation claims being caused by workplace accidents, in many cases injuries in the workplace are preventable. they can be caused by many factors. For starters, what industry your business operates in has an impact. This means that inherently riskier businesses are more likely to experience a higher number of claims than a less risky business. In addition, things like where your business is located, the age and health of your employees, and how many employees you have will also contribute to how many workers' comp claims you might have.
However, the largest and most impactful cause of a high number of workers' comp claims is how much (or how little) your business values and prioritizes workplace safety and the health of your team. Although there are many factors outside of your control, the safety of your workplace is one that you can work on to help prevent workers' comp claims and minimize the costs associated with them.
How Can Employers Help Prevent Workers' Comp Claims?
To help prevent workers' comp claims you need to prevent workplace injuries and illnesses. Although accidents happen, there are preventative measures your business can take to help create a safer environment. Some of these steps include:
Create and enforce workplace safety policies and a culture that prioritizes safety, health, and well-being.
Educate all employees on the specifics of their job and duties, including how to avoid potential safety hazards and follow industry best practices.
Encourage regular breaks.
Create an open-door policy that allows employees to discuss situations in which they feel unsafe, overworked, or unsupported.
Track employees' adherence to safety policies and reward those who follow procedures.
Provide necessary personal protective equipment and training.
Review past claims to determine causes of injuries and illnesses and establish where positive changes can be made.
All of these steps can not only help establish a culture of safety in the workplace but also empower employees in the protection of their own wellbeing and that of their coworkers.
Benefits of Reducing Workers' Comp Claims
Preventing workers' comp claims is more than just a smart business move. In fact, there are key benefits of reducing your business's overall number of workers' comp claims. First and foremost, fewer workers' comp claims mean fewer workplace injuries and illnesses. This means a safer environment for your employees where they experience fewer on-the-job injuries and illnesses. Safe employees are happy employees, and happy staff members mean a better, more productive work environment.
Secondly, there are financial benefits to reducing workers' comp claims wherever possible. There are many direct and indirect costs to your business when one of your employees files a workers' comp claim. The Occupational Safety & Health Administration's (OSHA's) Safety Pays Program can help you calculate how specific injury types can affect your business financially. In addition, when you renew your workers' comp policy or get a new provider, your workers' comp claims history will be a factor in determining your premium, or how much you'll pay for coverage.
Cerity Can Help
Curious how your claims history is affecting your workers' comp premiums? Or are you looking for comprehensive coverage to help protect your business and employees before a claim occurs? Cerity is here to help. While you've spent time honing your business, we've spent time perfecting workers' compensation insurance. We believed workers' comp could be simpler and easier — so we created a better way.
With Cerity's faster and more affordable approach to workers' comp, you can get a quote quickly and easily — without phone calls or paperwork. Simply go to our free online quote tool, tell us a little bit about your business, and quickly get an affordable rate and even instant policies in minutes.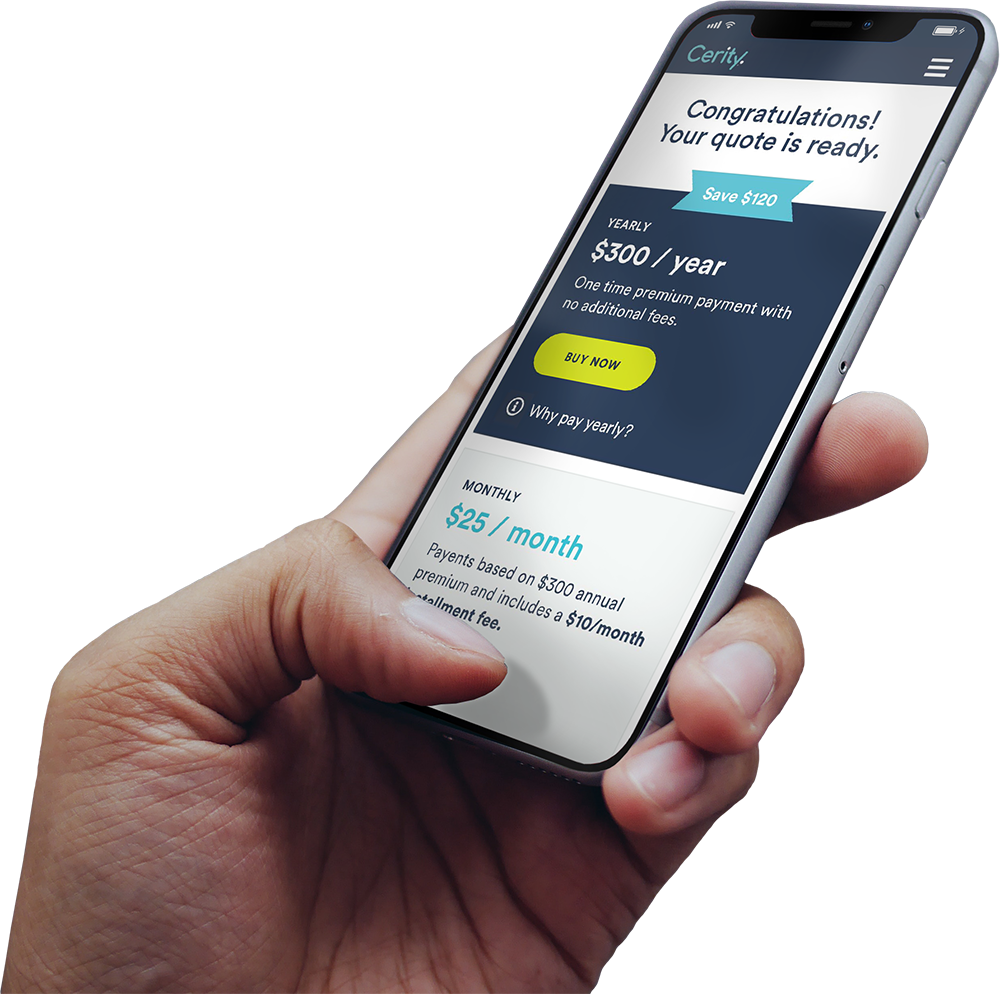 Grab your free quote today.
It only takes a few minutes, whether you're already covered or just getting started.