What Are the Most Common Retail Worker Injuries?
You wouldn't think strolling a retail floor and ringing up customers at the register would lead to injury. However, experts are finding out that this assumption is not actually the case. According to Chris D'Amura, the director of workplace safety at the Texas Department of Insurance, Division of Workers' Compensation (DWC), more retail workers in Texas are getting injured than construction, transportation, and factory floor employees.
What's causing these injuries? "According to OSHA [the Occupational Safety and Health Administration], the longer workdays, expanded schedules, and irregular shifts can negatively affect the mental and physical health of retail workers. When you add less sleep and more crowd stress, it's not surprising we start seeing more accidents," D'Amura says.
As retail businesses begin to see more demand from customers, the risk to retail employees only increases. Here, we'll detail the most common injuries to retail employees, how to prevent them, and why having a workers' compensation policy can benefit your retail business.
Common Retail Employee Injuries
Retail is a fast-paced environment that is known for long hours (usually standing up) and repetitive motion tasks. Working too hard for too long can cause overexertion and, as a result, common retail employee injuries such as:
Musculoskeletal injuries. Injuries caused by lifting heavy items or lifting bulky items with improper lifting techniques. These kinds of injuries include back injuries, shoulder injuries, and arm and hand injuries.
Bruises, fractures, broken bones. Slips, trips, and falls are among the top causes of injury for retail workers. Incidents such as these can cause bruises, fractures, and broken bones that can be moderate to severe.
Repetitive strain injuries. Retail workers often perform the same tasks over and over again. This kind of repetitive motion can cause strain on certain body parts. Examples of these kinds of injuries include carpal tunnel syndrome and tendonitis.
Scrapes and cuts. Retail employees often use sharp tools to open boxes and cut tags. Using items like knives or scissors regularly increases employees' risk of experiencing minor cuts to deep gashes.
Leg cramps and backaches. Many hours of standing at a cash register can result in muscle fatigue and over-exertion.
While there are many risks associated with working retail, those risks can be mitigated through thoughtful consideration and a little bit of preparation.
Reducing Risk of Retail Worker Injuries
In any industry, business owners are responsible for making sure the working environment is safe for their team members. Even though there's always some risk in any job, there are steps that retail business owners can take to help establish and maintain a safe environment that help reduce the risk of retail employee injuries. Some of these steps include:
Providing safety training programs
Creating and enforcing safety protocols
Ensuring supervision that can enforce safety training and protocol standards
Encouraging regular breaks
Keeping workspaces clear, clean, and dry
By taking these extra steps, you're helping to mitigate risk for your business and making it less likely that members of your crew end up at the doc.
Workers' Comp and Common Retail Employee Injuries
No matter how many steps your business takes to try and reduce the risk of on-the-job injuries, there's always a chance for a retail worker to get hurt or sick at work. After all, accidents happen. For those times when a worker is injured on the job, having a workers' compensation policy can help cover the surprise costs. Workers' compensation often pays for medical expenses, lost wages, and more. That's why it's so essential to have a comprehensive workers' compensation policy regardless of how low-risk your retail business might be. Not only does workers' comp help pay for the costs associated with a workplace injury, but it is also legally required in most states.
Cerity Can Help
Whether your business has experienced retail worker injuries before, you're being proactive against workplace incidents, or you're trying to meet your state's legal requirements, Cerity is on your side.
At Cerity, we're dedicated to helping retail business owners like you protect your team with easy insurance policies and helpful tips. Visit our Learning Center to browse articles on how to start, manage, and grow your business. And when you're ready, check out our faster, more affordable approach to workers' comp insurance. It only takes 3 minutes to get full coverage for your crew.
To see how Cerity has made workers' comp easier for small business, go to our free online quote tool. Answer a few quick questions and we'll put together an affordable, transparent policy tailored to your retail business.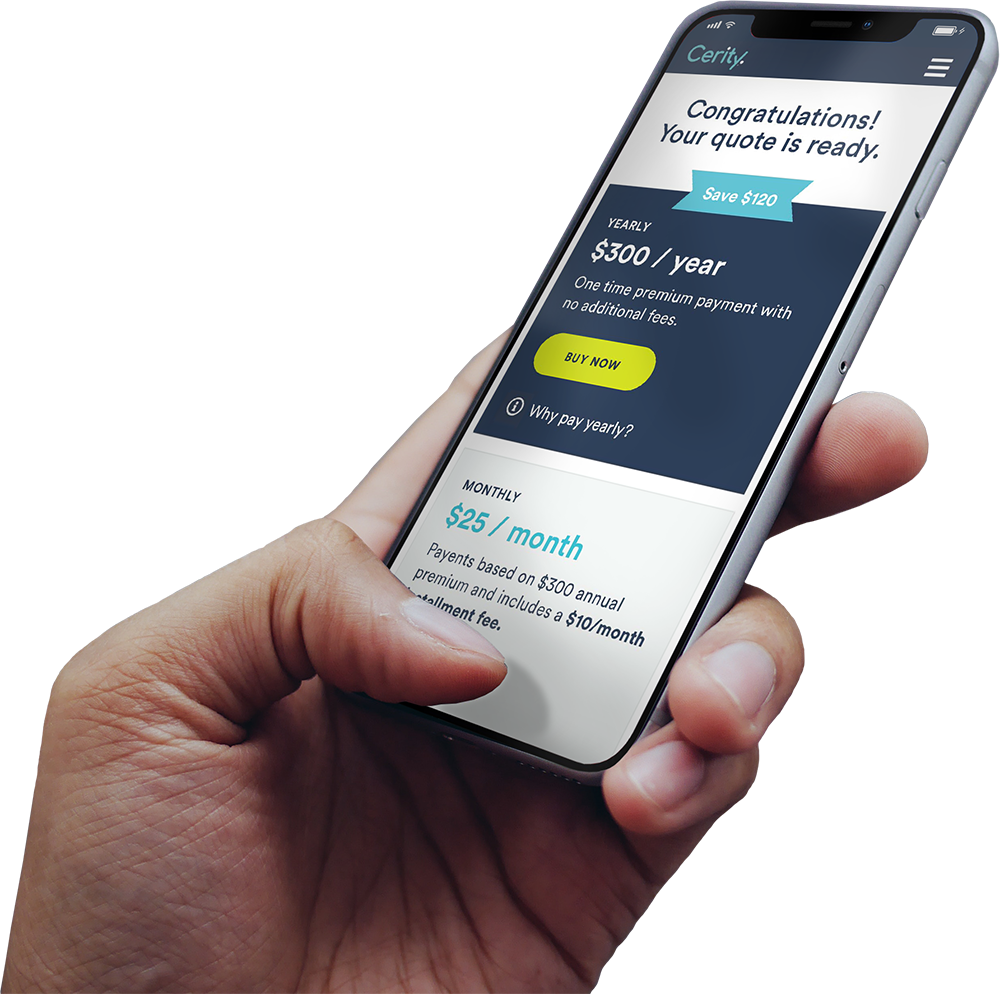 Grab your free quote today.
It only takes a few minutes, whether you're already covered or just getting started.