Why Do I Need Workers' Comp Insurance?
Small business owners who are just starting out may wonder whether they need to obtain workers' compensation insurance. It's understandable to view workers' comp as just another expense to factor into your budget, but it's much more than that. Workers' comp insurance coverage is a necessary safeguard that protects you and your employees. No employer should live without it.
None of us go about our work days expecting the worst to happen, but occasional accidents are inevitable. In fact, the National Safety Council reports that workplace accidents happen every 7 seconds. By purchasing coverage that is simple, straightforward, and comprehensive, employers drastically limit the ramifications of injuries and illnesses that occur within the course of the work.
Here's a breakdown of reasons why your small business needs workers' comp insurance:
It May Be Required by Law
It's that cut and dry: most states require workers' compensation insurance. In many states, it's mandatory from the moment you hire your first employee, even if the most rigorous task that employee will be performing is typing from a cushy ergonomic chair.
The requirements vary from state to state, and they often depend on the risks associated with the work environment. No matter how cautious an employer may be, factory work inherently involves more risks to employees than preparing food and drinks at a coffee shop. Of course, accidents happen in every work environment. Accordingly, workers' compensation is a necessary coverage for your business everywhere, no matter what industry you are in.  If you have employees, you need workers' compensation.
Obtaining workers' comp insurance is the best way to protect your company and your employees from unnecessary distress in the event of an accident.
It Protects Employers from Financial Loss
When an employer does not have workers' comp insurance, an employee who has been injured on the job may bring a personal injury lawsuit against them. For a small business, the legal fees and potential payout from a personal injury lawsuit can be devastating and even lead to insolvency. But workers' comp coverage offers financial protection and minimizes the conflicts and complications of negotiating with your employee.
It Protects Employees from Financial Loss 
Workers' comp insurance does more than cover your bases as an employer. It also gives your employees confidence that if an accidental injury in the course and scope of their employment were to occur, they would not be financially sidelined by daunting medical expenses or lost wages. Reasonable and necessary medical treatment and wage replacement are covered.
Workers' comp doesn't cover every type of injury. Exceptions include injuries that occur while the employee is under the influence of drugs or alcohol, or injuries that are intentionally self-inflicted.
What We Do Differently
With over 100 years of expertise, we've developed an approach to workers' comp insurance that reimagines everything your coverage can be. Our modern methods make things fast and simple by providing 24/7 online access, a registered nurse hotline, and preventative resources that will help you improve the safety of your business. We cater to small businesses in more than 115 industries, and we're growing every day.
Signing up is a breeze. To obtain a quote, just tell us a few key things about your business. Your premium will depend on your payroll size as well as risks associated with the nature of the work. State laws and claim history are also factored into your premium. Get a workers' comp quickly online with Cerity (no phone calls, no paper work), so you can rest easy knowing that your business and employees are protected.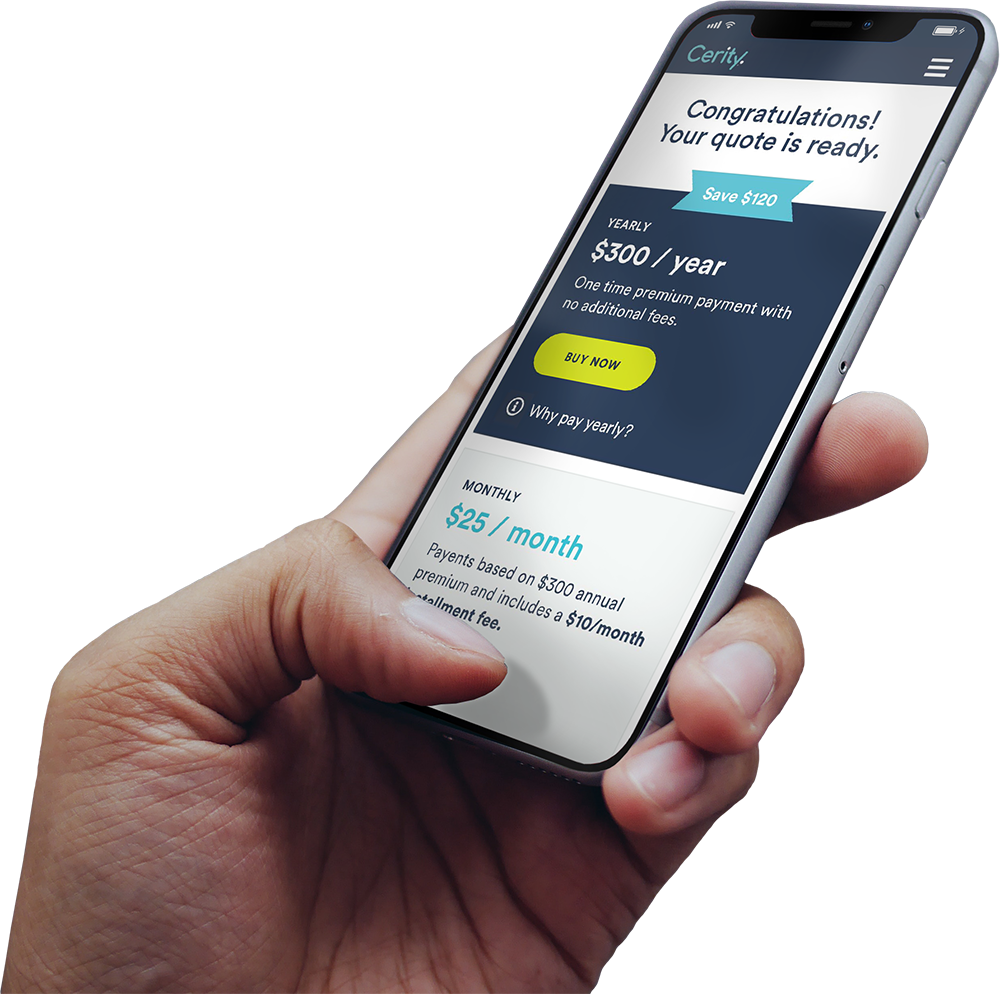 Grab your free quote today.
It only takes a few minutes, whether you're already covered or just getting started.