When Should You Use a Broker for Finding Workers' Comp Insurance?
There are many facets of workers' comp coverage, but as a business owner, the most important thing is that your coverage works for your employees and that it's affordable for you. Insurance premiums can definitely add up if you don't have the right partners in coverage. One partner that often goes overlooked when thinking about worker's comp is the broker. Knowing what workers' compensation brokers are and how they can help your business can help you take the best route for your business and get the best possible workers' comp premium. 
Here we'll discuss what a workers' comp broker is and how they can help you in your search for workers' compensation coverage. 
What is a Workers' Comp Insurance Broker?
Workers' comp insurance agents are the middlemen between your business and the workers' compensation market. They begin their partnership with business owners before workplace injury claims are filed by helping business owners find the right workers' comp coverage for their needs. They do so by having ample knowledge of the workers' comp industry and a wide network of insurance partners. 
Why Use a Workers' Compensation Insurance Broker?
Businesses who are looking for a low premium for workers' comp may find working with an insurance broker to be beneficial. Brokers offer advice to business owners and once a policy is chosen they help negotiate the terms of coverage with the insurer. For business owners who are unsure about workers' compensation, the benefits that coverage provides, and what the average workers' comp premium is for their industry, an insurance broker can help provide insight. Some brokers even help businesses educate employees on how to enroll in coverage and utilize their benefits. 
There are benefits and drawbacks to using a workers' comp broker. Some of the benefits include: 
Having a partner who can offer advice during your search for coverage.

Having an advocate to negotiate with insurance companies.

Potentially experiencing benefits like lower premiums, better coverage, and more.
Although sometimes the workers' comp insurance premiums can be lower through a broker, there is always the chance that your options of insurers are more limited due to the broker's business relationships, meaning your business has less to choose from. Insurance brokers make their money via commission, which is usually a percent of your premium that is paid to the broker by the insurance provider. This means they have a vested interest in your premiums being higher. All this said, by using a broker you can risk losing some autonomy when it comes to understanding your policy and the factors that go into your premium pricing. 
Can Businesses Get Workers' Comp Without a Broker?
Absolutely. Due to the drawbacks listed above many businesses choose to do their own research when looking for workers' comp insurance coverage. Previously, it was harder to get insurance on your own without a broker; however, the increase in private insurers available online have made access to more insurance providers easier than ever. By understanding the workers' comp laws in your area and looking online at insurers that are licensed to operate your state, you can find coverage that's right for your business without the help of a broker. The choice of whether or not to use a broker is completely up to you.
How Can Cerity Help?
Whether you choose to use a broker or not, Cerity is here for business owners who are looking to get workers' compensation insurance. We know the process can be confusing and complicated. That's why we dedicated ourselves to launching a new way to get workers' comp coverage online — without phone calls or a tedious process.
With Cerity's faster, more affordable approach to workers' compensation, you can get the coverage you need quickly and easily so you can get back to running your business. Simply go to our free online quote tool. Tell us a little bit about your business to get an affordable rate, and you can buy a policy online in minutes to cover you for the year ahead.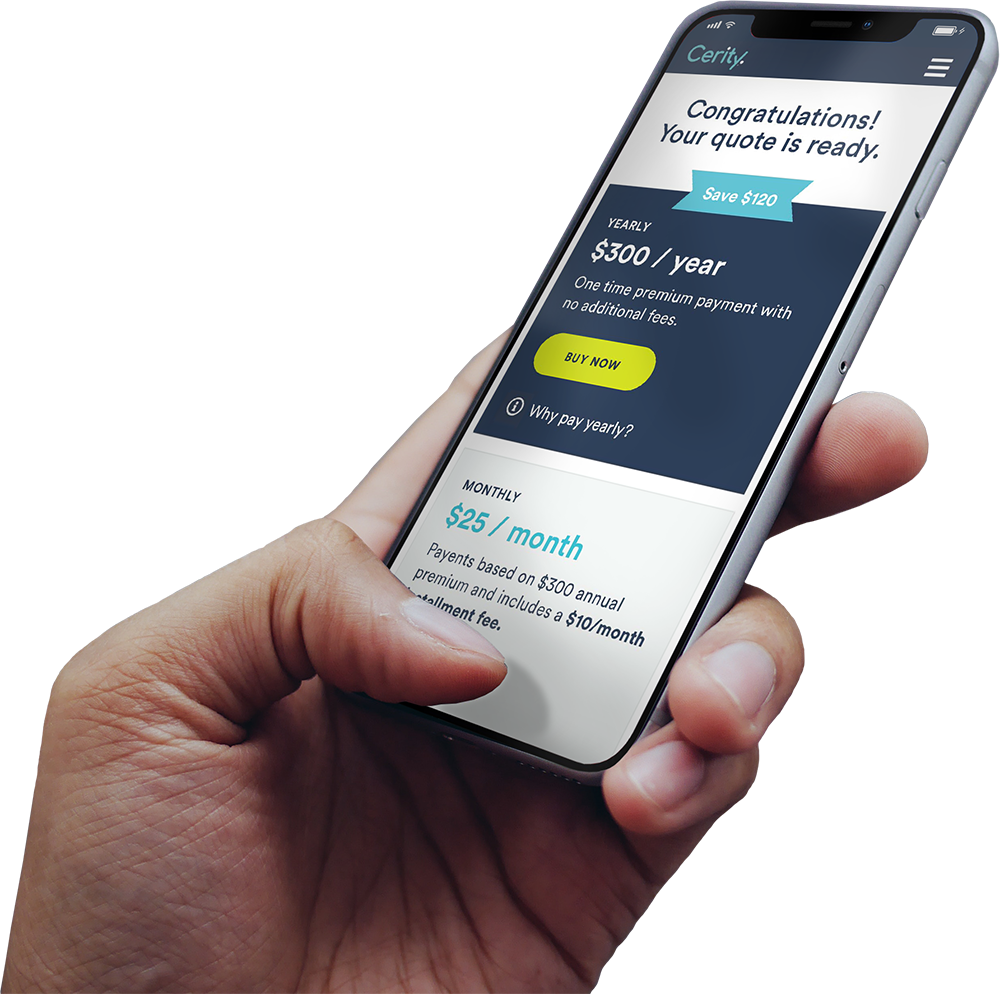 Grab your free quote today.
It only takes a few minutes, whether you're already covered or just getting started.