What Does It Mean to Be Licensed, Bonded, and Insured?
You've probably seen the words licensed, bonded, and insured among the fine print on many service agency ads, fliers, and commercials. Whether describing a bank, home builder, general contractor, or law firm, these words indicate that the person or business they describe is trustworthy and responsible.
But when it comes to hiring professionals, what is the actual meaning of insured, licensed, and bonded? And if you're starting a new business, why and how should you become bonded, licensed, and insured? Keep reading to go beyond the fine print!
Licensed
When a professional is licensed, it means they have the skill and capability to provide the service needed. But it's not always that clear. In some cases, getting licensed could mean little more than someone registering with the city and paying a fee. Other professionals may need to take exams and attend continuing education seminars to gain and maintain a license. Part of the reason for this variance is that requirements for a professional license are determined by factors like:
Type of industry/trade
Level of specialization
State license boards
Municipal rules
Becoming licensed is important, because it not only signifies that you are skilled but also ensures that you have the leverage necessary to perform the job for which you are hired. For example, in some states it is necessary for a general contractor to be licensed to gain permits necessary for home improvements.
If you are self-employed or starting a new business, getting licensed can help you gain the clientele you need for your company to thrive. Contact your local licensing agency to learn what steps you'll need to take to get and stay licensed in your area.
Bonded
When a business is bonded, there are two types of bonds this may refer to:
Fidelity bond. This bond says your business is true to your word. If you are a professional in the financial sector, it may mean that you have had an extensive background check and can be trusted with personal accounts and information.
Surety bond. A surety bond says you have access to financial resources in case of an accident. If you are a plumber, it may mean that you have access to funds to repair damages, should you make an expensive mistake on the job.
Bonding is vital for many service providers, because it gives clients the added assurance that they are protected should the relationship sour. Because the city or state may be on the line if a licensed provider causes harm, becoming bonded may be necessary to get a license. Check with your local licensing agency to find out about the bonding process for your profession.
Insured
While bonding and licensing are about protecting the interests of clients and the community, being insured is all about protecting your business. Every industry and profession has certain business insurance types that are required or highly recommended, like malpractice, liability, and workers' compensation. The insurance your business needs may depend on:
Number of employees
State laws
Services provided
Professional liabilities
Licensing requirements
Although insurance protects the company interests, it also ensures that employees, community s, and clients are protected. Because it's important to be properly insured, you may need to show proof of specific kinds of business insurance to become licensed and bonded.
Workers' Comp Insurance Is Just a Few Clicks Away
We make it easy to get your business on the right course at Cerity. Whether you're starting fresh, or taking your company to the next level, our innovative tools help you quickly and easily protect your business with workers' comp insurance. To get a free quote online, visit our workers' comp quote tool.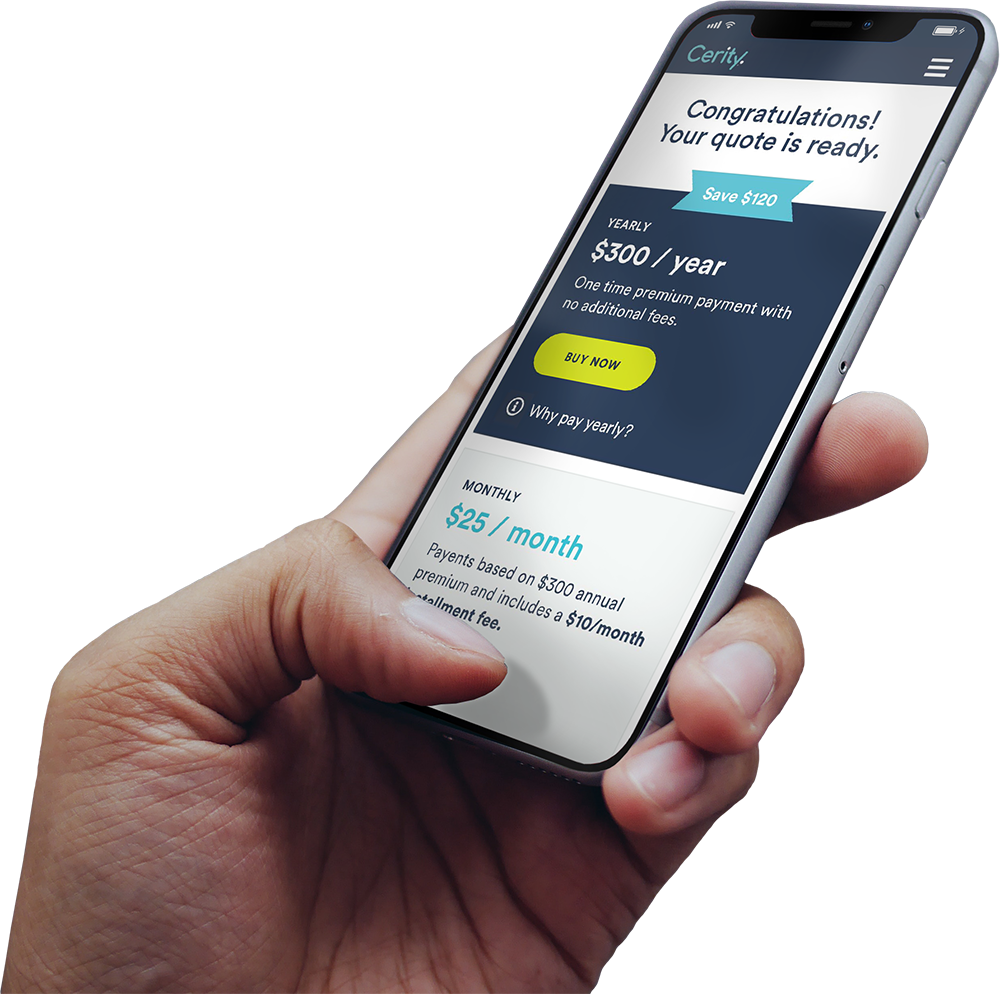 Grab your free quote today.
It only takes a few minutes, whether you're already covered or just getting started.