Steps to Getting Workers' Comp Insurance Yourself Online
Workers' compensation is one of the most important business insurance policies that you can have. It's a necessary form of insurance that helps provide coverage for costs related to on-the-job injuries or illnesses. By having a workers' comp insurance policy, you and your employees will receive help paying for medical bills, lost wages, death benefits, and other potentially expensive costs.
Let's dive into the world of online workers' compensation insurance, including why you should prioritize coverage and how to get the best policy possible by buying workers' compensation insurance online.
Why Workers' Comp is Essential For Businesses
Workers' compensation is a system of insurance created to make sure workers are taken care of if they get injured or sick while working and that employers are protected against significant financial losses related to the injury or illness. From serious injuries to minor accidents, workers' compensation helps protect workers and their employers. Contrary to popular belief, workers' comp isn't just for businesses that are high-risk for on-the-job injuries. In fact, even desk jobs pose risks that can be costly. That said, let's discuss a few reasons why workers' compensation is a must for every business.
It's legally required in most states. Although laws vary from state to state, most states require employers to get a workers' comp policy as soon as they hire their first employee. If found to be non-compliant with your state's workers' comp laws, you could face criminal and financial penalties.
It provides much-needed coverage for business owners and employees. To avoid having to pay for medical bills, lost wages, and more, workers' compensation is the best choice for business owners looking to protect themselves and their employees.
It provides peace of mind for employees. Creating a good relationship between you and your employees is important, and having workers' comp is a great first step to showing your team that you have their best interest at heart.
Getting Workers' Compensation is Easy Online
Deciding to get workers' comp insurance is simple, but the process of getting coverage can sometimes be more complicated. However, now more than ever business owners just like you are looking to buy workers' comp insurance online. This process is quick, simple, and provides great coverage.
To get workers' compensation online, all you have to do is a simple online search. There are many options to choose from, but you'll want to do your research to make sure you get coverage from a reputable and experienced company. Make sure any provider you look into is licensed to operate in your state.
Look for companies that have a good reputation, provide coverage that aligns with your needs, and that don't overcomplicate the process. In addition, look for coverage providers that don't just offer policies but also offer tools to help you stay educated every step of the way. This means having a great support team and a resource area for any questions you might have regarding coverage. For example, you can find a wealth of resources to help you run, manage, and support your business in our Learning Center.
Cerity Can Help
When you're ready, Cerity can help you get workers' comp insurance coverage in minutes — without having to pick up the phone. We offer quick quotes and instant coverage tailored to your business (without any sneaky fees).
To see how much you could save, go to our free online quote tool. Simply tell us a little bit about your business to get an affordable rate. If you like what you see, you can sign up or switch in minutes to cover you for the year ahead.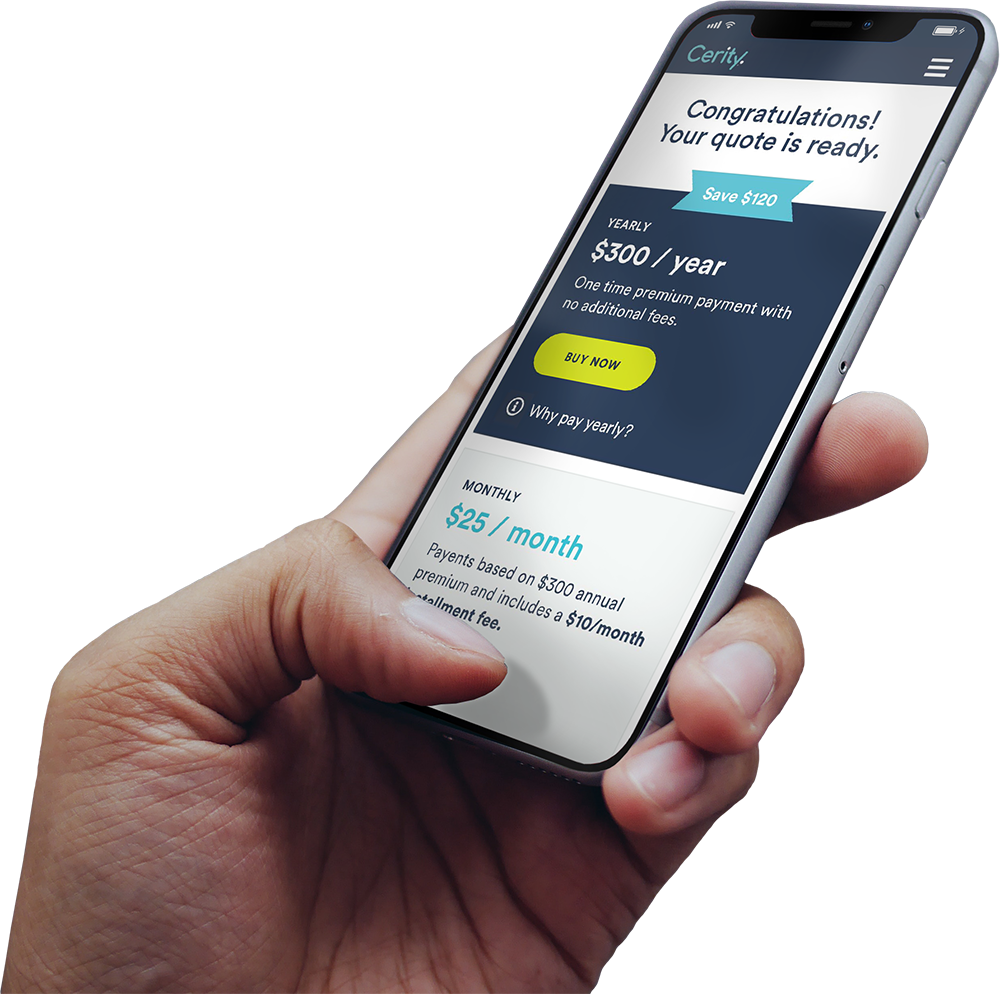 Grab your free quote today.
It only takes a few minutes, whether you're already covered or just getting started.