Required Reading for Small Business Owners
Starting a business is not for the faint of heart. It takes grit, forethought, and the perfect blend of optimism and realism. It's a demanding job, and the day-to-day grind can make even the most focused entrepreneur lose sight of their overarching vision.
Whether you've just hatched your business idea or your venture has already found its feet, it never hurts to hit pause and make sure your efforts are aligned with your goals. Here are a few pointers to help you calibrate and stay focused.
Always Be Aware of Your Place in the Market
Most brilliant business ideas are conceived when creative people realize something is missing. Maybe there's a hole in the market or a pain point in need of a solution. What makes a business special is offering something that no one else offers. But amid the thrilling chaos of starting a business and gaining momentum, it can be easy to lose sight of what makes your offerings unique.
Keep a narrow focus, and re to emphasize what sets you apart from your competitors. Why are you here, and why should customers choose you? When you lose sight of that, it's easy to lose direction.
Allow Yourself to Imagine the Worst Case Scenario
Idealism is a hallmark of success. People who dream big do big things. And yet there are so many factors outside of your control that can determine success, so it's vital to brace yourself for the worst case scenario.
That doesn't mean you have to dwell on the potential of failure, or let fear motivate your decisions. But you should always have a backup plan, even if you expect to never need it.
Be Flexible and Adaptable 
One thing you can count on in the business world is that plans go awry. New challenges crop up. If you rigidly cling to your business plan when the landscape is shifting around you, you're not going to survive. But if you constantly assess how to be more efficient, adapt, and grow, you'll always find a way to stay relevant.
Hire Like Your Employees Will Make or Break Your Business
When the pace picks up and you're trying to stay abreast of increasing demand, it's tempting to phone in the hiring process and just bring in warm bodies to do the job. Your time is precious, and sifting through resumes and conducting multiple interviews per candidate can seem like a poor use of it. But that effort is an investment in the future of your business.
In a large company, one bad hire is probably not going to make many ripples. A small company with a handful of employees, however, can find itself in dire straits when a new employee turns out to be unqualified or unreliable. If you can't spare the time to go through the rigorous process of hiring capable, driven employees, delegate the task to someone you trust.
Cultivate a Healthy Company Culture from Day One 
Not even the most level-headed entrepreneur is immune from the stresses of launching a business. Even when you're feeling the strain, it's important to make sure you're maintaining a professional, positive, safe workplace. Especially in a small businesses, the mood and demeanor of the leader trickles down and affects the whole company. The closer you work with your employees, the more impact your attitude will have.
It's one thing to express disappointment, discouragement, and frustration. It's another to cultivate a tense, unhealthy culture that will make your employees start hunting for new opportunities.
One trick for making sure your company culture stays positive is to pretend that your clients are sitting in on every internal interaction. Would you want them to see how you're treating your employees on your most stressful days? If the answer is no, it's time to make some changes.
Re: Even Small Businesses Need Workers' Comp Insurance 
Another way to protect your employees — and yourself — is to obtain workers' comp insurance coverage. In most states, you're legally required to possess a workers' comp policy from the moment you hire your first employee. There's a good reason for this: if an employee is injured in the course and scope of their work, workers' comp shields them from devastating medical expenses or loss of wages. And you, the employer, are protected from lawsuits and legal fees.
At Cerity, we understand that you're juggling countless moving parts as you run your business, and that workers' comp coverage may not be at the top of your mind. That's why we're here. We provide easy customer access and resources that are available 24/7. We calculate our premiums based on how many people work for you, your state regulations, and the nature of your business.
Contact us to get an instant quote for a policy that will protect your small business from workplace accidents.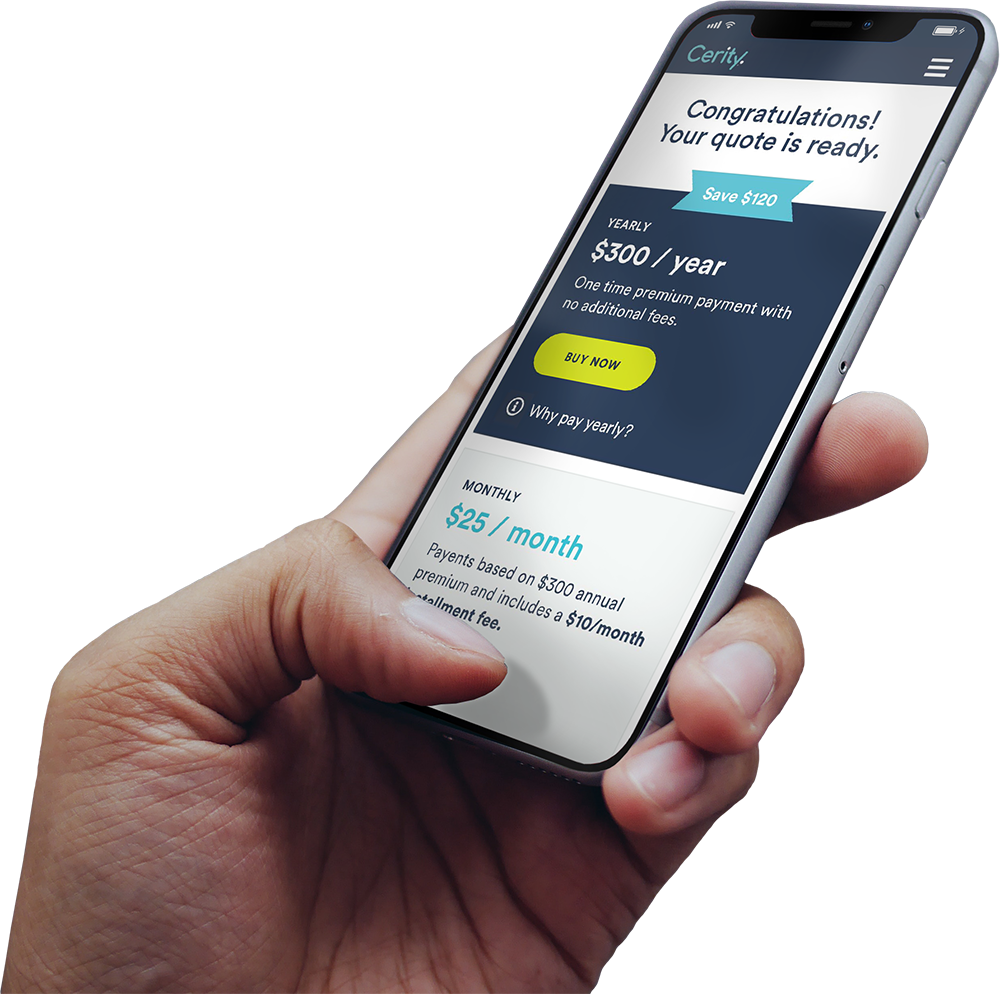 Grab your free quote today.
It only takes a few minutes, whether you're already covered or just getting started.