Remote and In-Office Employees — What Do Hybrid Offices Mean for Workers' Compensation?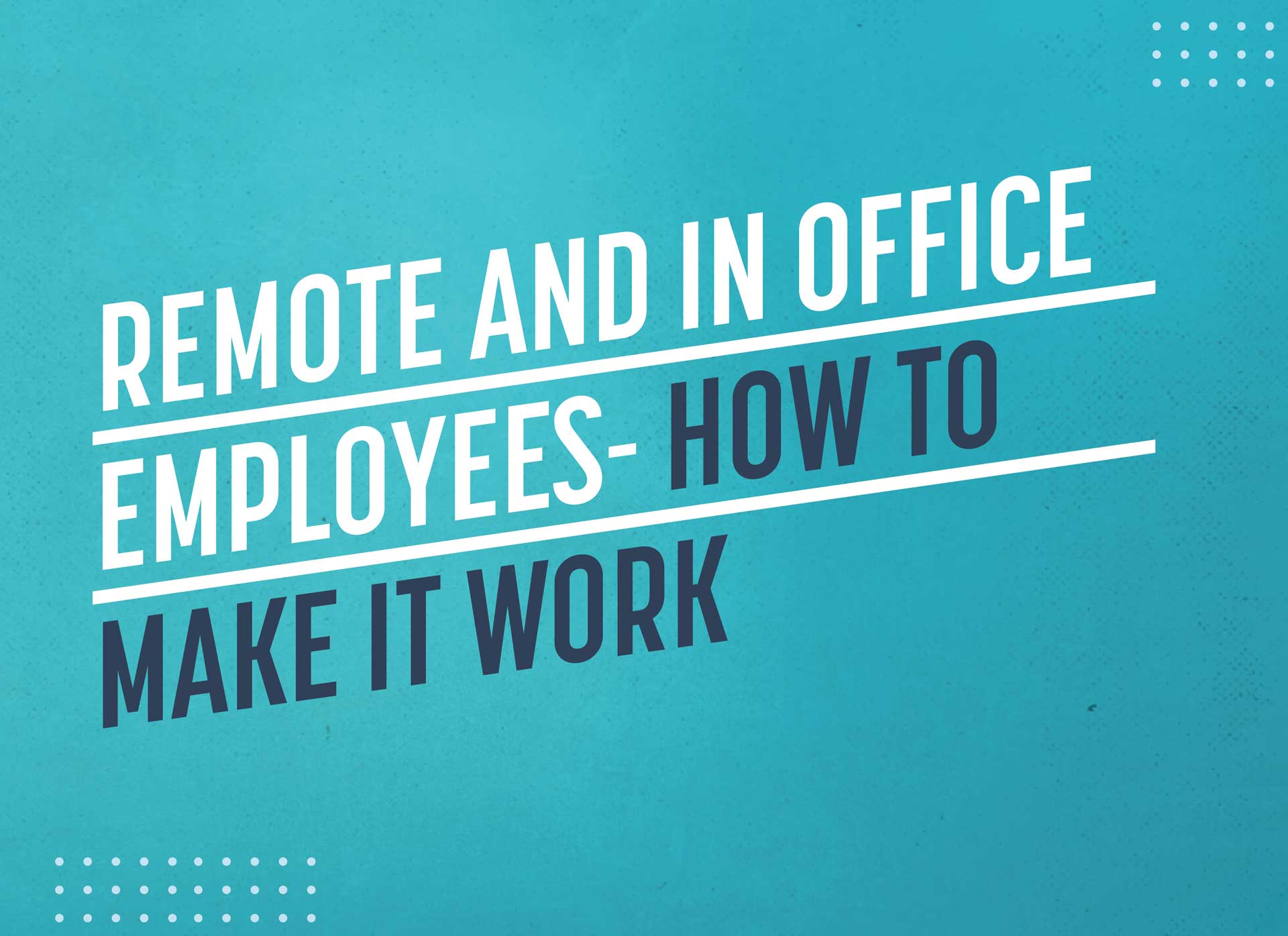 Since 2020, workers have really embraced the "working in bunny slippers from home" lifestyle. We can't exactly blame them. Work hasn't been this fun in a while, but while 50% of business leaders want teams back at work, 76% of employees want to hang onto the perks of working from home.
Since not everyone is on the same page, we can expect some compromise moving forward. Welcome to the hybrid office. Your hybrid office definition may depend on where you work. For some companies, a hybrid work model means having some workers remote and some on-site. For others, it can mean allowing all workers to work remotely some of the time and in the office part of the time.
No matter how your hybrid office meaning is defined at your organization, if you've adopted it you're moving away from the traditional 9-5 where everyone needs to be on-site. Those who love the hybrid office point out that it can boost productivity, make offices more accessible to workers living with disability, and reduce the yearly office flu. It can also save businesses money when it comes to real estate, heating, and all the overhead associated with keeping everyone in one spot day after day.
Sure, there are drawbacks. Leaders worry about office culture, and some feel uncomfortable with how much work is really done off-site. But naysayers may not have much choice but to stay flexible, with 39% of workers and 49% of Gen Z employees specifically saying they'd rather walk away from a job rather than return to on-site work.
The allure of working in PJs is strong.
Is it a Trend, Or is Remote Work Here To Stay?
It depends on where you work. Some workplaces need to keep workers on-site. Right now, you generally can't build a house or perform heart surgery remotely. But about half the jobs in the nation can be done remotely, at least part of the time. And in 2020, about 70% of people in these jobs worked entirely from home.
Lots of workers have discovered since 2020 that they can make working from home work, which can make the return to the office all the harder. As of November 2021, only a paltry 28% of New York office workers had headed back to the office. By early 2022, office occupancy was at 31% of 2019 levels in ten different cities.
What Does "Going Back" Look Like, Really?
While people are slowly heading back to the office in some cases, it's not the same office space you remember. Employees want at least some flexibility and many companies are finding that hybrid work can save them money on overhead while helping them attract good candidates. With tons of remote work technology we've all come to know and love, from content management systems to video conferencing platforms, it's also easier than ever to work from home.
Still, people are people. So while some say they want more flexibility and even the chance to decide when they work in the office and when they don't, others workers want structure. Companies and workers are both juggling to work out a system that works for, well, work. Stay tuned. Experts say this is the biggest change in the way we show up for employment since World War II, so you can expect a few more twists and turns on this road before we get a clear picture of what will happen in offices (and home offices) across the country long-term.
How Many Employees are Heading Back to In-Person Work?
As of February 2022, most people who could work from home were still staying home at least part of the time, with 39% working entirely from their home office and 42% adopting a hybrid work model. But not everyone is ready to close the door on the home office. By 2027, experts predict half the U.S. workforce will be working remotely.
And that's only part of the story. Many workplaces are offering flexibility for new hires, according to their own hybrid office definition, whether that means allowing work from home part of the time or offering fully remote positions for the right talent. Job ads that offer flexibility are getting more replies, and with many sectors still struggling to attract workers, every resume counts.
Do You Need Workers' Comp Insurance if Your Team is Working at Home?
Let's be clear: YES! If you have workers who should be covered by workers' compensation under your state's rules, it doesn't matter if they work at your office, at home, at a swanky hotel, or anywhere else. They need to be covered.
Here's an added challenge for companies, though: independent contractors. There's much confusion out there about contractors and employees. Some workplaces are hiring new remote workers as contractors, thinking that since they don't control the employee's workplace, this isn't an employee. And since contractors aren't covered by workers' comp, you don't have to get coverage, right?
Wrong.
According to the Internal Revenue Service, if a worker meets the definition of an employee, they're an employee, no matter how they are defined at your company, and that means you need to buy workers' compensation coverage. Misclassifying your workers (calling them contractors while treating them as employees) can mean tax complications and potentially fines from both the IRS and your state workers' comp. And if a claim happens while there's confusion about worker classification, you could face fines and end up paying for your worker's injuries and wage losses out of pocket. Ouch. This is something you need to get right.
1099 contractors can also still pursue workers' comp claims against your business if they're injured while doing work for you. Some courts have even awarded injured contractors damages for injuries they've sustained during work for vendors and clients. So even if you're 100% sure your freelance remote worker really is a contractor and not an employee, you may want to buy workers' comp coverage for these workers. Or at least require, as part of your contract, that your contractor buys insurance for themselves. Just make sure they're covered.
Remote Workplaces, Hybrid Work, Traditional Office Space — Does Workers' Comp Stay the Same?
Here's where it gets sticky. You have some control over your workplace if you're the owner. You don't have much control over your employee's home office. They could be happily completing projects while their house has Legos on the stairs or other major hazards.
This fact does make workers' compensation insurance different once your workplace goes remote or hybrid. At its core, coverage works the same: you pay premiums for insurance for your eligible workers and if there's a claim, insurance pays for an injured worker's benefits if an adjuster approves the claim. It's different if the injury happens in a home office because there may not be witnesses and sometimes the line between what's work and what's personal time at home blurs.
The good news is that claims are covered only if your employee is injured during the course of employment, so your insurance typically isn't covering any injury that happens when your worker is snacking, relaxing, or doing anything besides work. More good news: it's up to your employee to show that the injury happened during work duties.
So what can you do if you have a hybrid work setup now and don't want to see your premiums or number of claims go up? There are some ways to lower the risk, keep everyone productive and safer:
Get workers' comp coverage for any worker who qualifies, no matter where they work.
Double-check and then triple-check that your contractors are really contractors and that you're classifying everyone correctly.
Work with a workers' comp specialist who can get you good coverage at a price you can live with.
Create strong work-from-home policies to make it clear what is a work duty and what is not, so in the event of a claim you know what's covered and what isn't.
Create job descriptions that make it clear what job duties entail for every job and make sure these descriptions match your work-from-home policies.
Get serious about worker safety and help your workers stay safe while they work from home with additional training, tips, or recommendations.
You can't control how your team sets up working from home, but you can keep them safer with good information and policies that create structure. Being prepared lets you head into the brave, new work of hybrid work and can help you keep your workers' comp rates reasonable, too.
How Can Cerity Help You If You're Taking the Plunge Into Remote or Hybrid Work at Your Business?
If you've created a hybrid office, meaning at least some of your workers are working from home or offsite at least some of the time, your workers' comp coverage needs may be different from a traditional workplace or even your own office circa 2019. Your payroll may have changed if some of your team are scaling back to part-time as well as work-from-home or you may need a different number of workers if people are offsite. Or maybe you just need to figure out how workers' comp needs to be set up now that your office stands empty more often.
No worries. Cerity can help. Backed by over 100 years of experience and with a focus solely on workers' compensation insurance, we know a thing or two about keeping workers covered. You see, during the past two years, while some of us have been working from home part of the time, we've also been busy keeping up with all the court cases affecting workers' comp and all the state changes to the system. That means you don't have to read through reams of legal stuff because we understand it and have translated all that into policies that make sense for your business.
One added thing we're paying attention to lately: supporting the businesses that need it. That means small business. And women-owned companies. And minority-owned or LGBTQA enterprises. For too long, business leaders in diverse businesses have been left behind by insurance conglomerates who don't recognize that these businesses have unique needs and challenges. And it's just gotten worse over the past two years. At Cerity, we're listening and we're offering affordable and flexible workers' comp insurance options so all businesses have a fair chance to support and cover their teams.
At Cerity, we're the champions of small business. After all, we're a business ourselves. And that means we do everything we can to make getting workers' comp coverage for your team easy. With us, you can switch or sign up in three minutes. Really. And our policies start at just $20/month, so we work to save you money. Have any questions? Need flexibility in payments? Not a problem. Our specialists are here to help, and we use real, transparent English — never jargon — so you're empowered to make smart insurance choices for your company.
Check it out for yourself today. You may just be amazed at how relaxed and affordable workers' comp insurance can be. Simply go to our free online quote tool. Tell us a little bit about your business to get an affordable rate, and you can buy a policy online in minutes to cover you for the year ahead.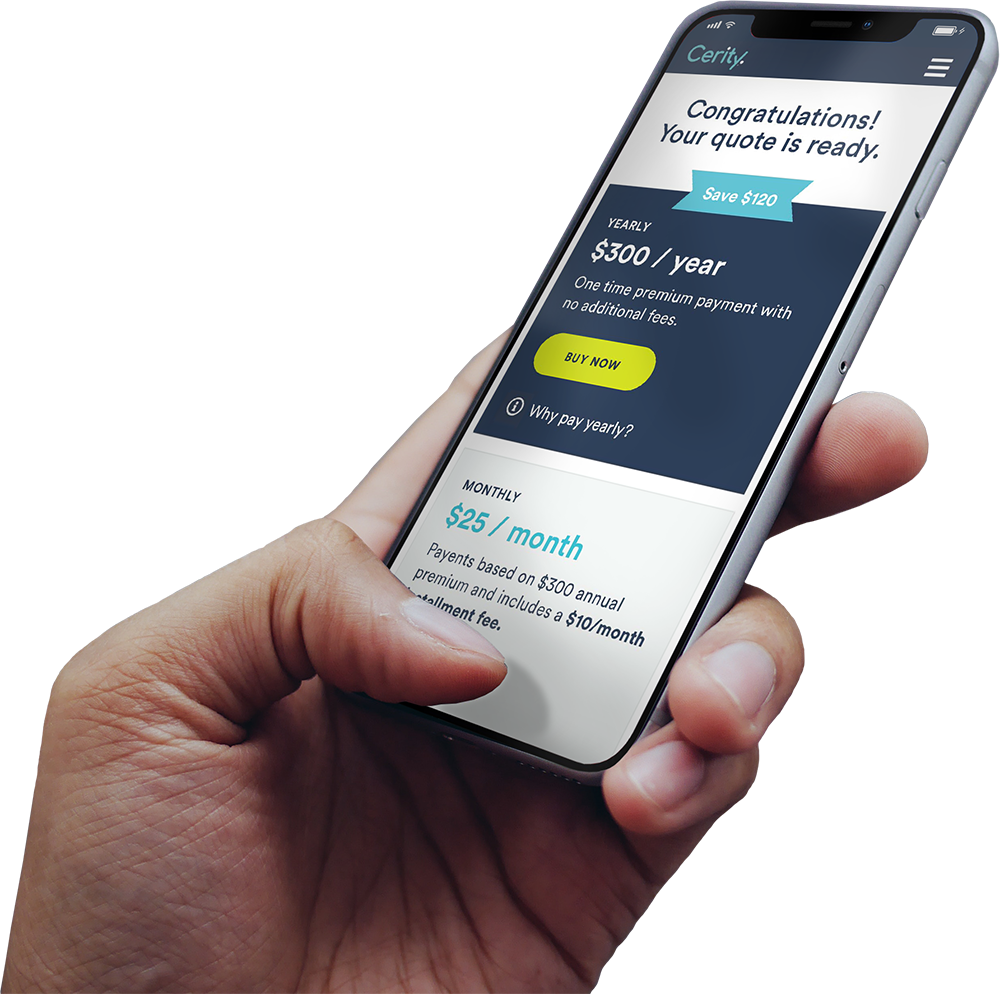 Grab your free quote today.
It only takes a few minutes, whether you're already covered or just getting started.