Recession-Proofing Your Company: Why smart businesses are embracing new tech to shave operational costs.
In the uncertain economic times created by the current coronavirus pandemic, people and institutions face a challenging future, where resources are stretched well beyond their limits. But many are meeting this challenge with creativity and grit. Healthcare providers have broadened their capabilities to serve additional patients. Neighborhood grocers have adapted inventory management and services to meet the essential needs of customers. Our communities are being kept afloat by the ingenuity and flexibility of everyday heroes.
Small businesses are especially vulnerable during times of instability. But some company leaders have taken innovative measures to shift the way they do business. As revenue streams dwindle, these scrappy businesses have strategically tapped into smart technologies to reduce costs and stay afloat. Small business superheroes come from diverse sectors, but they have at least one thing in common: the drive to survive.
Taking proactive steps now may allow you more options as markets settle. The three tactics described below can buy you critical time so your business is not caught in an irreversible financial predicament.
Utilize Online Software and Services to Alleviate Business Management Costs
Savvy start-ups have used free and low-cost online solutions to manage their businesses long before it became a necessity. The success of lean business practices—and the increased profit margins incurred as a result—demonstrate that online tools can give you a lead from the start. Thanks to these early adopters, many resources have been thoroughly tested and reviewed, allowing you to pick and choose which online software best fits your company.
Online business management services vary in cost. Some offer free pricing models with the option to upgrade to premium features to eliminate ads or access additional tools. Other services offer sliding costs depending on the number of users. Payroll programs typically allow you to assign users to various roles with different functions. You may also find options where the online utility has a function that can be adapted to serve multiple business areas, such as a productivity app that enables both scheduling and team management.
Every organization is different, and you know best where your company could stand to reduce costs. Here are three options to look into when slimming operations:
Payroll
With online payroll software, your company has an easy solution to reduce costs and provide a way for staff to access and update their payroll information. These services free up resources and streamline workflows, allowing employees to use their time more effectively. Additionally, an automated payroll service reduces the potential for human error, which tends to increase during periods of sudden change.
Having a payroll software you can rely on during this time can make or break your business. Free payroll software will help you reduce payroll management costs to next to nothing. Some online payroll companies also partner with insurance companies to offer additional ways to streamline costs, such as pay-as-you-go pricing models for worker's comp insurance.
Inventory
Keeping inventory up to date is always important, but in the current environment it's especially vital to be able to account for all assets. Online inventory software offers a resource that can be updated or accessed off-site, giving you a leg up if your business needs to be run remotely. Online software also makes it easier to shift from a physical storefront to e-commerce. Many online inventory management services integrate with other business software, so you may be able to do more in less time, which reduces your operational costs.
The right inventory software depends on your business model and resources. Capterra is a website dedicated to comparing office software that you can use to determine the right inventory management tool for your company.
Team and Project Management
Rather than relying on a dedicated staff or business leader to manage your team, many businesses now lean on online productivity software to eliminate the need for intensive staff monitoring. Scheduling, quality control, and project sharing can be set up on one platform, allowing your staff to focus on core objectives instead of reporting progress up a chain. In addition to reducing the drain on available resources, productivity software creates a clear picture of areas where teams are most efficient and those where streamlining is necessary.
If you are using a hosted business service account like G Suite or Windows365, you may have a project management application included in your service. Adapting this product for your needs can help you fully use the resources available to you. If you don't have access to those options, Business News Daily offers this list of its favorite productivity apps for small businesses.
Keep Your Office Lean
Your workspace is the next place you can look to reduce costs. Outdated machinery; incompatible systems; and equipment that requires regular servicing, back-ups, and updates are all problem areas that add to operations budgets. The following list highlights some items that are holdovers from old business models, with suggestions for leaner options.
Copier/Printer/Scanner/Fax Machines → Document Sharing. If your company is still doing most business on paper, you're losing cents that can quickly add up and bloat operational costs. Savvy businesses have long since gone paperless, eliminating from their budgets the time and machinery necessary for assembling and creating paper projects. Cloud applications allow team s to easily share and access files on personal devices, which reduces the need for physical documents.
Office Phone/Video Conference Equipment → Smartphone/Web Apps. As landlines grow more and more outdated, businesses are realizing that wired tech is an extraneous cost. This is especially true now that there are phone and web apps widely available at little or no cost that allow employees to make phone and video calls from their smart devices. This saves your company the cost of office work stations and phone service charges, while enabling employees to work remotely.
Pricing/Inventory Scanners and Credit Card Machines → Tablets. Using multiple systems for single tasks creates additional work for you and your employees. Tablets with multiple apps reduce your company's need to purchase additional equipment and allow for heightened traceability across systems. Integrating your apps on one device keeps all the information you need at your fingertips.
Physical Office Server → Cloud Server. While some offices require the bandwidth and security of an onsite server system, most find that on-premise servers are not cost-effective. The added expense of unnecessary server maintenance makes moving to the cloud a smart choice for small businesses. Working in the cloud allows for easier scalability and eliminates the need for physical server updates and dedicated IT staff.
Let Technology Increase Your Agility
One of the biggest revelations of the past few weeks is the importance of adaptability and being able to let go of how things have always been done. Few organizations will be able to float through this scenario untouched. For most, the way to survive is to learn how to swim. In the current market that means finding and utilizing technology that will move your company forward.
An example of this shift is the move to remote work. There may have been some hiccups as everyone adjusted to videoconferencing, messaging, and remote document sharing, but as businesses learn how to pivot, it's becoming clear that prior business models included unnecessary costs. Some companies may notice that the price of rent, utilities, toiletries, and office equipment is simply not worth it and may shift to an entirely remote workforce. They might even find that their staffing needs can be simplified by outsourcing administrative, human resources, and marketing needs rather than managing everything in house.
There is no doubt that the past weeks have been difficult for many small organizations. However, there are many examples of industries that have found creative ways to use technology to meet their business needs. Providers that regularly have typically conducted business onsite, such as attorneys, therapists, or personal trainers, have adapted to offer teleservices or conduct virtual meetings. Retailers and restaurants have found ways to use technology to arrange deliveries or carryout services, move business online or embrace a hybrid online/storefront model. Training and educational services have begun recording screencasts for virtual presentations and turning their lesson plans into online modules.
Companies have also found better ways to manage their accounts to allow for more flexibility as their organizational needs change. Businesses with a fluctuating employee roster have used Cerity's PayGo workers' comp insurance model to ensure that they are paying only for the actual number of staff on their payroll. This pay-as-you-go plan adjusts with each payroll cycle, allowing our customers to lower their premiums. Flexible services that accommodate your company's business model will protect you and your staff as you weather this difficult time.
Cerity Can Help Your Company Adjust to the Shifting Tides
In our line of business, we help companies like yours deal with the unforeseeable every day. While COVID-19 is not a business-as-usual situation, we've had the privilege of working with many teams who have met adversity with fortitude and found ways to rebound. As we face this unprecedented event together, we know that there are many of you who are paddling harder than you ever thought possible—and we can help take some of the weight off your shoulders.
At Cerity we're dedicated to protecting your business from unfortunate incidents, but we're committed to helping you find a policy that fits your unique situation. Whether you're a small grocer who wants to provide coverage if a staff gets sick or a tech start-up with a fully remote staff, we're here for you. Contact us today to learn how we can get you the coverage you need to protect your employees and your business.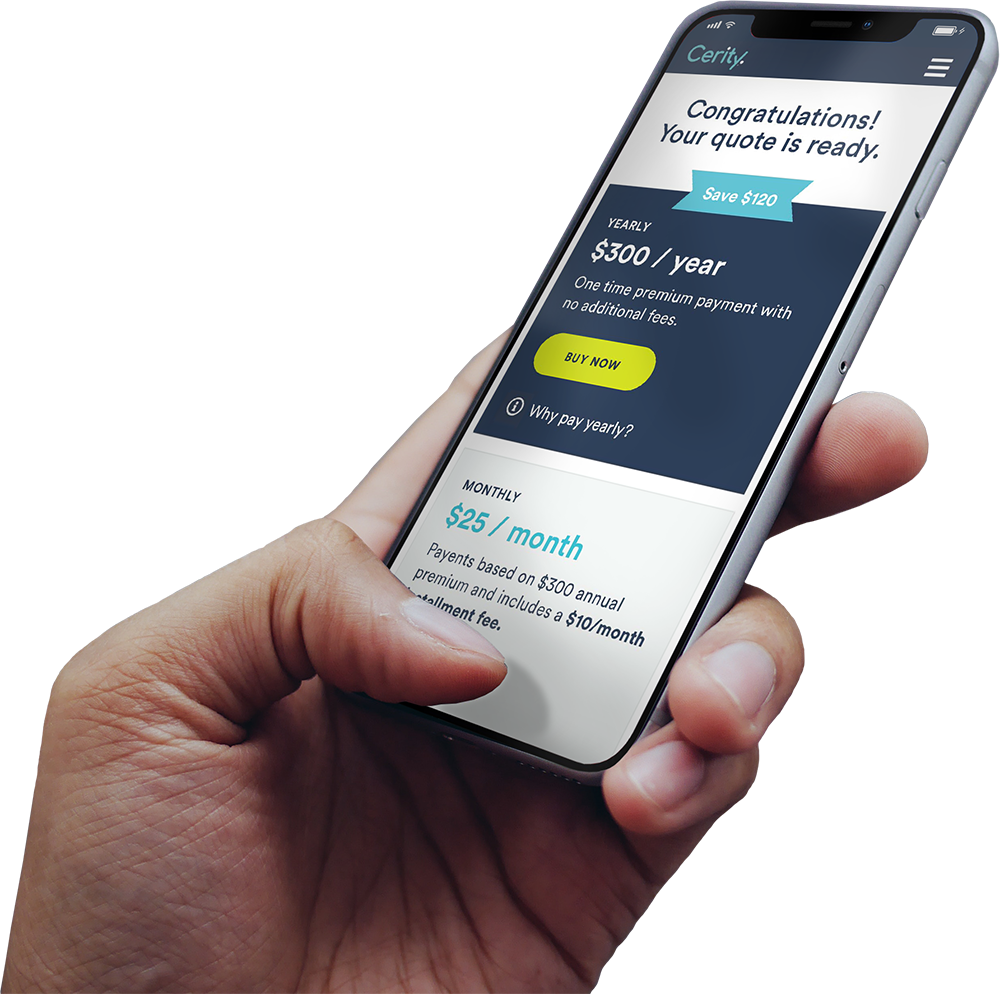 Grab your free quote today.
It only takes a few minutes, whether you're already covered or just getting started.