How to Create Well-Defined Remote Working Policies
Guide to Remote Working: Clear Policies Help Employees Work Better
These days, working from home is no longer just a perk for veteran employees. Workers have been asked to work from home in mass numbers in response to the "flatten the curve" initiative and social distancing requirements brought on by the spread of COVID-19.
However, the traditional workforce has already been going digital in recent years — and reports predict that 50% of US employees will be working remotely by 2027. Freelancers and the gig economy have led the way toward our deskless futures, but because so many of them are working for themselves, they don't have to adhere to the guidelines of a traditional workplace.
If you're a business owner or manager with a team of remote employees, it's critical to create clear policies so that employees understand what's expected of them in every aspect of their work. Here are some smart guidelines for kicking off your remote work policy.
Defined Hours
Of course, one of the perks of working from home is the beauty of a flexible schedule. But to maintain consistency and make communication reliable, you'll need to set some reasonable parameters for when people should be doing their work — especially since distractions from family s, pets, and necessary chores can add up. Depending on the nature of your business, you can implement a traditional nine-to-five workday or allow employees more flexibility and autonomy over their schedules. Whatever you decide, make sure your rules about the daily work timeline are crystal clear.
Productivity Metrics
Unlike a traditional office setting, it's difficult to see what folks are working on when they're telecommuting. A strong remote working policy is focused on what employers expect from their team and how that will be measured. Of course, each business and team is unique, so measures of success are different for every team.
Productivity can be measured numerically, via time logged on a project, number of calls or cases resolved, total client interactions, completed campaigns, and the like. Typically, the best way to measure employee work — and set your business up for success — is to focus on results-oriented metrics rather than time-based ones. No matter how you track your team's success, make sure you've implemented clear deadlines and goals for employees.
Consistent Communication
When your entire team is essentially invisible, it's easy for some to get lost in the mix. But clear and consistent remote working communication reduces the chance of missed deadlines or work that isn't up to snuff. It's critical for the success of your business to increase visibility as much as possible. Increase adoption of collaboration tools — think Slack, Zoom, Google Hangouts, Microsoft Teams, and more. Quick one-on-one meetings, periodic updates, and bigger team meetings are all more effective and more personal when the right collaboration tools are leveraged.
Some simple ways to maintain clear communication include:
Weekly all-team meetings to maintain focus and boost morale
Manager one-on-ones to discuss employees' work
Kickoff meetings for new clients and projects
Routine performance reviews
Employee learning and development activities
Tech Support
When employees are working from the comfort of their homes, they don't have access to an in-person IT team — but tech problems will still undoubtedly arise. Make it clear to employees what tech support is available to them and how they can access it when needed. If you don't have a dedicated tech support team or tool in place, consider offering an outline of FAQs and policies for common troubleshooting tactics. This way, employees will know what's expected of them and how to manage minor setbacks on their own.
Collaborating and Socializing
Of course, the drawback of working from home means employees don't get the face time that makes working on a team so rewarding. But that doesn't mean you need to go without it! Even when in-person interaction is not possible, there are creative ways to socialize. Institute a yearly remote holiday party with trivia and games. Or have a pet meet-and-greet over video, with pet-friendly treats sent in advance to get your employees and their furry friends excited. There are lots of possibilities.
We humans are social creatures — yes, even the introverts — and nothing builds camaraderie like face-to-face interaction. Schedule monthly or yearly time for all team s to meet up and enjoy each other's company. It can be focused on business planning and brainstorming, but it's also incredibly important that your team gets to hang out and have fun together. When assembling the crew in-person is possible, a company retreat is a perfect way to gather and enjoy shared activities that will foster a sense of culture and help everyone get to know each other in a way they just can't via video chat.
Need Workers' Compensation Insurance for Your Small Business?
Another integral part of any workplace policy — whether remote or traditional in-house office — is to have a strong professional insurance plan in place to protect your employees and your business, even when employees are working from home. At Cerity, we make it quick and easy to get the workers' comp insurance you need. Visit our workers' comp quote tool to get a free quote, and get moving toward a safer workplace for your entire team.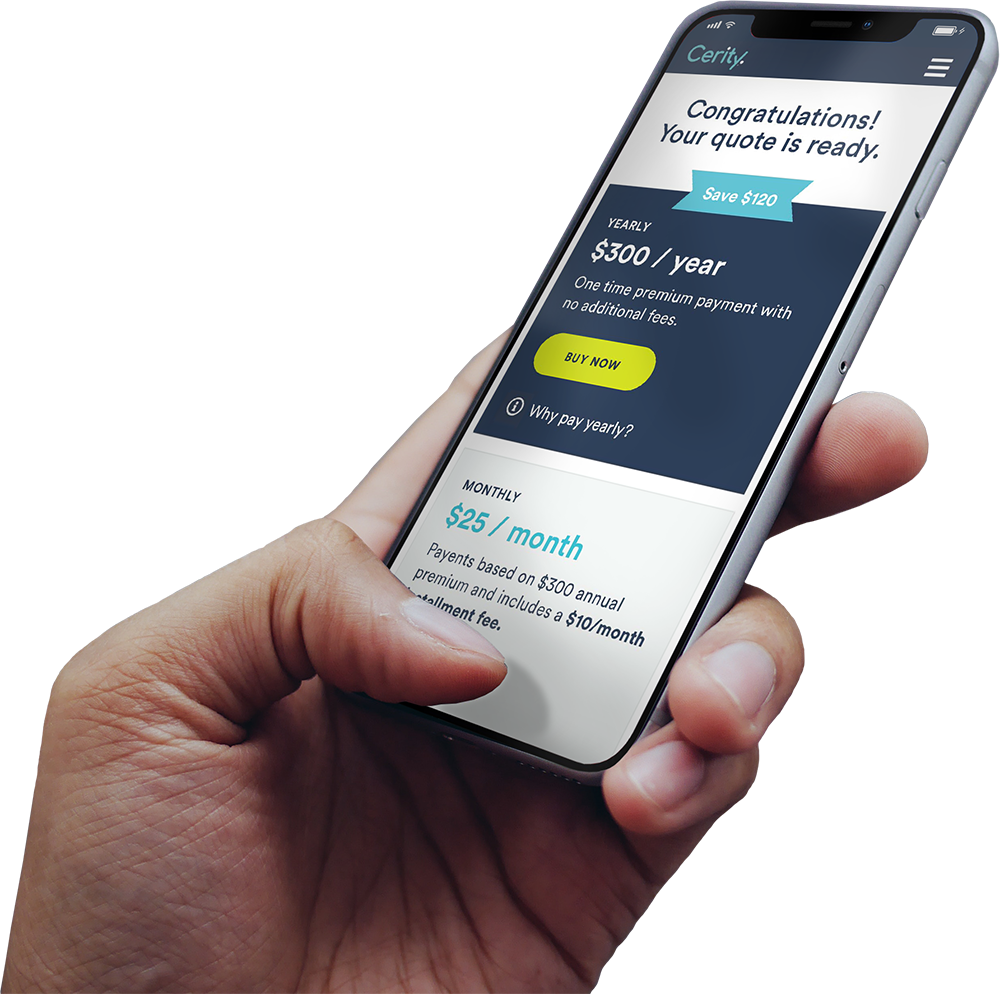 Grab your free quote today.
It only takes a few minutes, whether you're already covered or just getting started.