Industries with the Lowest Workers' Comp Costs
As a business owner, you have a lot on your plate at any given time, not the least of which is managing your business' budget regarding everyday expenses, operating costs, and important things like insurance premiums. When it comes to workers' compensation insurance you know that you need coverage. After all, it helps pay for expenses related to workplace injuries and illnesses and protects your business and employees. But you're likely also not wanting to overpay for coverage.
So, how can you know that you're paying an acceptable amount for insurance coverage? For starters, you should understand what factors affect insurance premiums and where your industry falls on the spectrum of insurance costs. Some industries are inherently less expensive to get workers' comp coverage for. Here, we'll go over all of that and more.
Factors That Affect Workers' Comp Costs
Many factors affect how expensive or inexpensive your workers' comp premiums will be. Those factors, which are unique to your specific business, include:
The size of your business.
The industry your business operates in.
Where the business is located.
The workers' comp claims history of your business.
Although many of those factors cannot be controlled, there are some additional steps you can take as a business owner to help lower workers' comp costs. For example, promoting a safe working environment and cultivating a culture that prioritizes safety can sometimes help. In addition, regularly verifying your employee's job duties and classifications can help make sure you're not overpaying for coverage. Most insurers will do an annual audit, but it can help to do your part to make sure there is nothing overlooked. Lastly, you can help manage your workers' comp rates by instituting a return-to-work program for employees who are injured or get sick on the job. It is better for your workers' comp claims history and your employee's well-being if they are returned to work as quickly as possible after being medically cleared to return to work.
By taking these steps, you're playing an active role in your business's workers' compensation and potentially helping to limit overpaying for coverage.
Lowest Workers' Comp Rates by Industry
When looking into premium costs, you should be aware that workers' comp rates vary by industry. This means that coverage for some industries will be more costly than others, even with the steps above being taken. If your business operates in an industry that has some of the lowest workers' comp rates, you'll likely benefit from lower costs. Some of the industries that typically have lower workers' comp rates include:
Administration
Real Estate
Personal Services
Public Services
Retail
Keep in mind that workers' comp rates can also vary by state, so while these industries listed above represent some of the lowest-rated industries in Washington, they don't necessarily reflect that of every other state.
Why are the workers' comp rates usually lower for these kinds of businesses? Usually, an industry has lower rates because it is considered "low risk", meaning there is less of a chance that employees will be injured or get sick while working because the environment they work in is relatively safe. For example, an administration position at an office is less dangerous than a job in construction. Fewer injuries mean fewer claims and, as a result, better workers' comp rates.
How Can Cerity Help?
Although it's helpful to understand what factors will affect your workers' comp insurance premium, the only way to know for sure what you should expect to pay is to get a quote. Many business owners find the process of getting quotes to be frustrating, but with the right provider, it doesn't have to be. Cerity has created a faster, more affordable approach to workers' compensation. We make getting a quote for workers' compensation insurance easy — all without phone calls and paperwork.
With Cerity, you can get an online quote and a certificate of insurance quickly and easily. Simply go to our free online quote tool. Tell us a little bit about your business to get an affordable rate, and you can buy a policy online in minutes to cover you for the year ahead.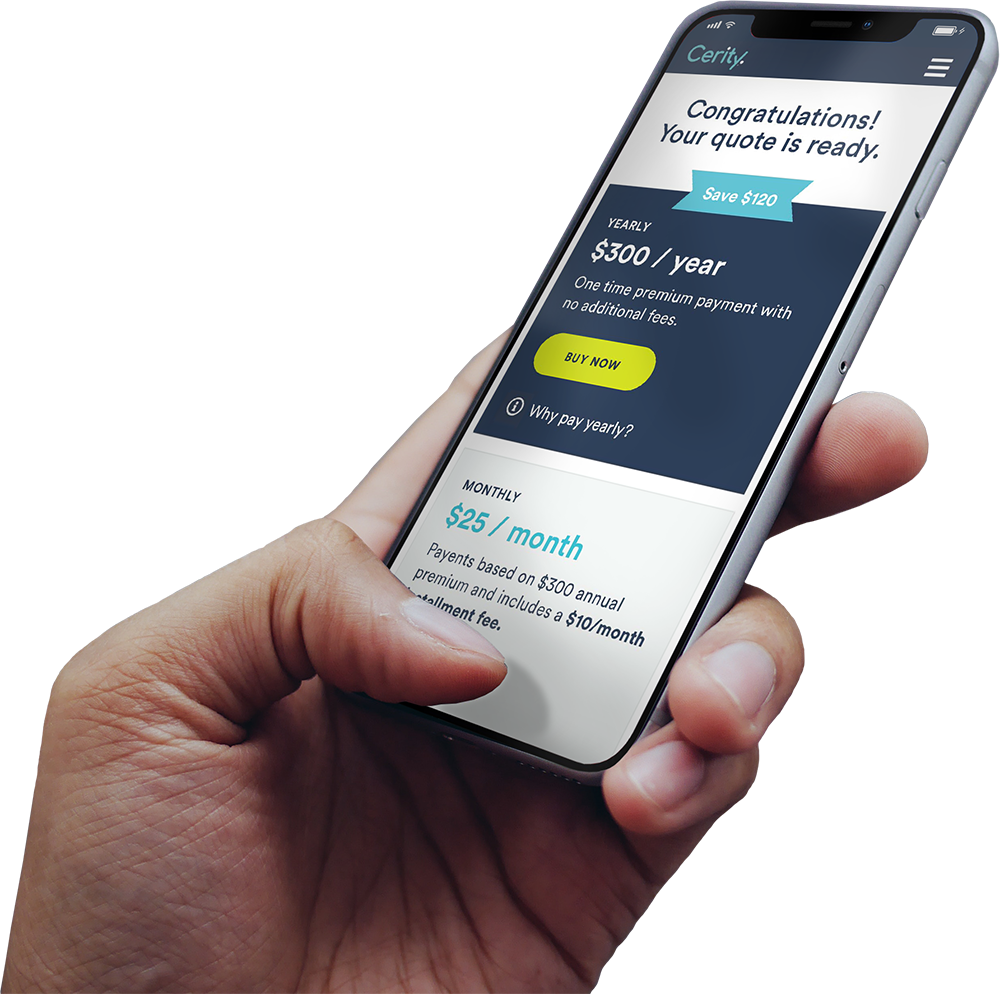 Grab your free quote today.
It only takes a few minutes, whether you're already covered or just getting started.