Industries with the Highest Workers' Comp Costs
It takes a lot of time and dedication to run your business. It also takes a lot of attention to detail, especially regarding your business's budget. There are many things to factor into your budget and one of the most important is insurance expenses.
Although it can be confusing and sometimes frustrating, insurance coverage is a necessary part of running a business. Things like workers' compensation insurance are needed to help protect your business from unexpected expenses. Workers' comp helps pay for expenses related to on-the-job injuries and illnesses. Having it is a must for your business and employees, but of course, you don't want to pay more than necessary to get coverage.
Understanding the factors that affect workers' comp costs can help you get a better idea of whether or not you're paying a reasonable amount for coverage. For example, some industries generally have higher workers' comp costs. Here, we'll go over why that's the case and what other factors should be taken into account regarding workers' comp costs.
Factors That Affect Workers' Comp Costs
Like any other form of business insurance, workers' comp premiums are based on a variety of factors. These factors are typically unique to every business. They include:
The size of your business
The industry your business operates in
The workers' comp claims history of your business
As you can see, many of these factors are out of your control. However, to help potentially minimize your insurance premium costs, there are some steps you can take. For example, you can prioritize safety in the workplace by creating safety programs, providing safety equipment, and overall cultivating a culture that makes safety a must for all employees.
In addition to risk mitigation techniques, you can do an audit of your staff to ensure they are all being classified correctly in terms of industry and job responsibilities. Another important thing you can do to potentially help lower workers' comp costs is create a return-to-work program that can get injured or sick employees back to work as soon as they are medically cleared to do so. This helps your workers' comp claims history and your employee's well-being. By taking the steps listed above, you can rest easy knowing you are doing your part to help limit your workers' compensation costs.
Workers' Comp Rates by Industry
When you're getting quotes for workers' comp coverage, remember that workers' comp rates will vary by industry. So this means that if your industry is in one of the categories that historically has higher workers' comp rates, you should prepare your budget accordingly. Some of the industries that often have higher workers' comp rates include:
Messengers and Couriers
Air Transportation
Wood Product Manufacturing
Animal Production
Nursing and Residential Care
Although these are some of the highest workers' comp rates nationwide, the highest-cost industries in your state may be different. It's important to check with insurers licensed to operate in your state to see what their quote is for your business.
So, why are the workers' comp rates typically higher for these kinds of businesses? These industries are considered "high risk", meaning there is a greater chance that someone in these industries will injure themselves or get sick while working. More workers' comp claims mean higher insurance costs.
How Can Cerity Help?
Knowing which factors about your business ultimately impact your workers' comp insurance premium is important. However, the only way to know how much you'll spend on insurance coverage is to get a quote from a potential insurer.
In the past getting a quote could be frustrating and time-consuming, but it doesn't have to be. With the right provider, it can be easier than you ever thought possible. Cerity has created a faster, more affordable approach to workers' compensation. We make getting a quote for workers' compensation insurance easy — all without phone calls and paperwork.
With Cerity, you can get an online quote and an instant insurance policy quickly and easily. Simply go to our free online quote tool. Tell us a little bit about your business to get an affordable rate, and you can buy a policy online in minutes to cover you for the year ahead.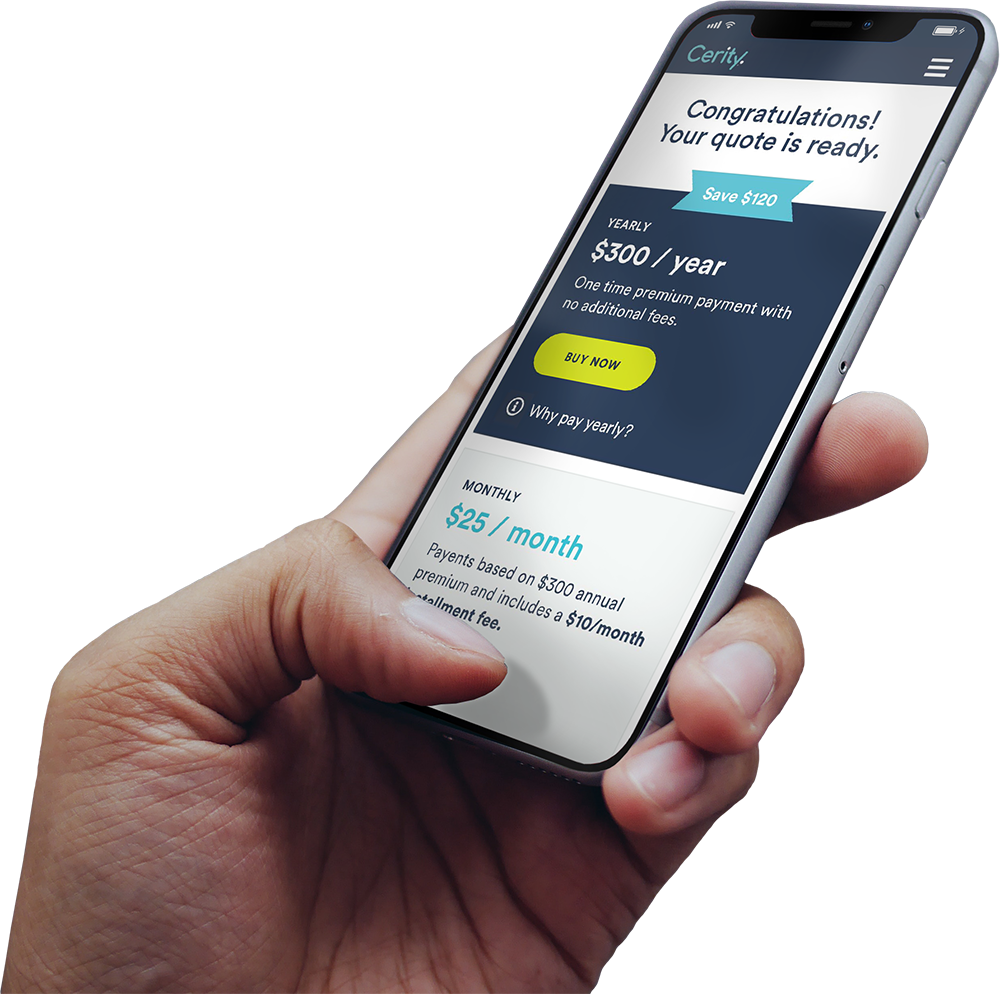 Grab your free quote today.
It only takes a few minutes, whether you're already covered or just getting started.