What Not Having Workers' Comp Can Cost Your Business
As a small business owner, your specialty should be your focus. Someone, however, within your organization needs to be aware of insurance requirements to protect what you have worked hard to build. That person may be knowledgeable already about such needed coverage. Other times, that person is trying to figure it out just as you would. That's where we come in to help!
One of the necessary insurance coverages for any business with employees is workers' compensation, also known as workers' comp. It may seem, at times, that this type of insurance coverage is too complicated and confusing to be worth your effort and finances, especially if you don't think any injury could happen to your employee on the job. That's hardly the case. Instead, this type of insurance is necessary for business and not as confusing as it may seem.
Why is workers' comp so important to have for businesses of all kinds and sizes?
Regardless of whether you have one employee or 10, workers' comp is required for your business. This type of coverage protects your business and provides for your employees who have been injured at work.
Even if you haven't had an injury yet, one is likely to occur. Employee injuries can result from overexertion, auto accidents, falls, slip, and trips, by other people or even animals, from objects and equipment, from substances, and even from fire and explosions. Workers' comp may even cover an employee who was injured while leaving a company happy hour event.
Regardless of how or why an accident happens "on the job," workers' comp coverage takes care of medical care, disability benefits, job displacement benefits, lost wages, legal fees, and even benefits if death occurs. Truly this coverage is workers' comp for your business and its long-term health.
Instead of coverage being dependent on the type and size of business, workers' comp for your business is determined by state rules. For example, in California and Louisiana, you need workers' comp even if you have just one employee. Now some exemptions apply depending on the type of employment; however, those vary by state as well.
What risks do companies run by not having workers' comp?
Not carrying workers' comp can be damaging to your business. When you don't carry the proper workers' comp coverage, you first face the possibility of fines, which vary by state. These can be costly and in the thousands of dollars.
Additionally, you open yourself up to lawsuits from injured employees who don't have workers' comp coverage to help them as well as potential insurance fraud. Insurance fraud comes into play when an employee's workplace injury is instead claimed under the employee's health insurance coverage. This often starts when a medical provider asks where the injury occurred. The simple response can have large implications if it is not truthful.
If the fraud is discovered, those medical insurance claims will be denied and someone is left paying the bill, likely your employee who turns next to you as their employer. This is where the lawsuit can occur and again range into the thousands of dollars and beyond.
What could be the potential fallout of not having workers' comp if a worker is injured? 
Any of the risks related to non-compliance of workers' comp can present potential fallout for your business. It can come in financial costs through fines, strained business relationships within your industry and your other employees, damaged reputation, lost business, lawsuits, and in some states jail time.
You have likely worked hard to build your business. Noncompliance regarding workers' comp can damage all of this with one slip or fall, one minor or even major accident, or a devastating lawsuit because you didn't have the proper coverage in place. Yes. This may sound scary, but it doesn't have to be that way. Just as you protect your business through liability insurance and your home, automobile, and life through insurance products, workers' comp is necessary insurance worth its cost.
How can Cerity help businesses in need of worker's comp?
We often hear concerns about potential workers' comp costs. While the premium, or cost, of workers' compensation insurance commercial insurance will vary depending on a variety of factors unique to your business, the value of finding the right workers' comp insurance provider is priceless.
Visit our free workers' comp quote tool for your free online quote and experience Cerity's faster, more affordable approach to workers' compensation insurance.
At Cerity, we pride ourselves not only on being a more affordable workers' compensation insurance provider but also on providing quick quotes so our clients can get back to doing what they do best. We use proprietary tools in combination with modern technology to provide business owners with policies that can begin nearly immediately. It's how we are able to help small business owners, like you, find the proper insurance coverage.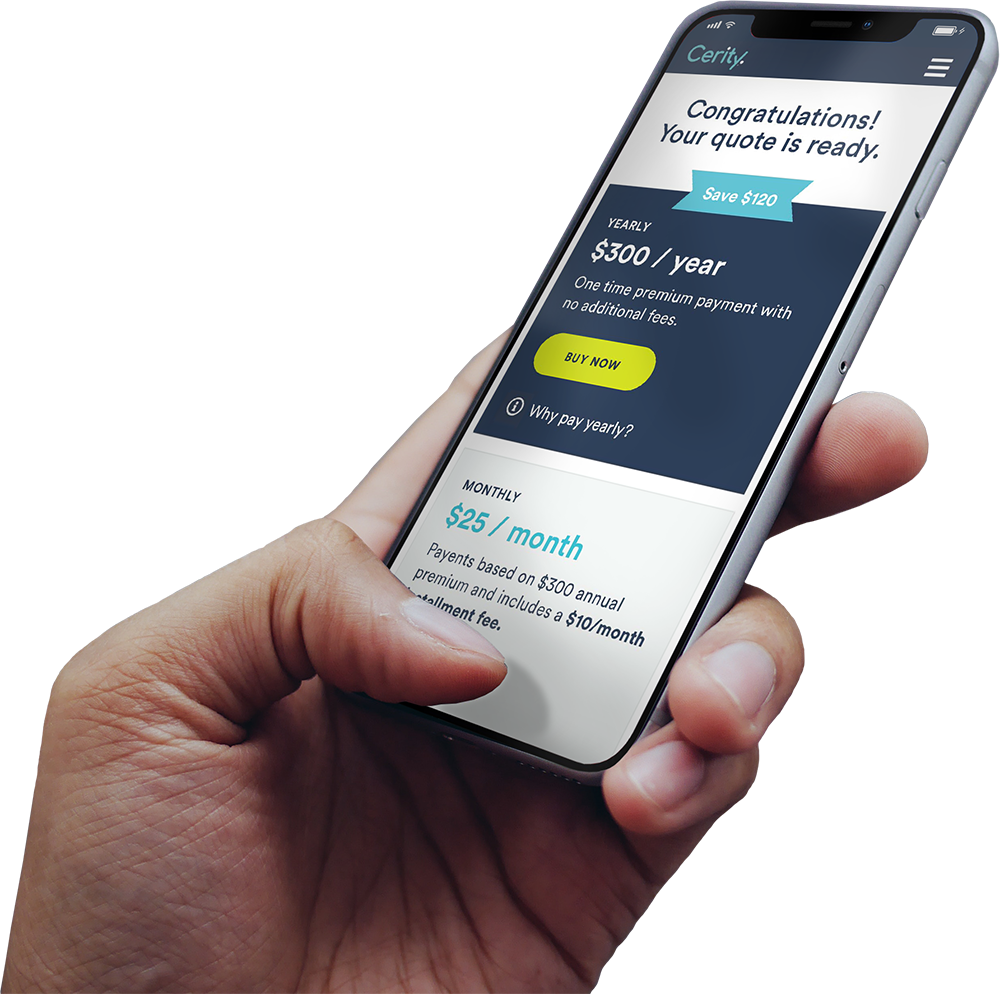 Grab your free quote today.
It only takes a few minutes, whether you're already covered or just getting started.