How to Get Business Insurance
From accidents and lawsuits to natural disasters and vandalism, there are many types of unexpected events that can have a serious impact on your business. If you don't have the proper protections in place, you could end up paying a lot of money out of pocket to fix everything.
That's where business insurance comes in.
Commercial insurance helps protect you from the unexpected costs that can arise when you're running your company. But not all insurance policies are "one size fits all." Every business has different needs and risks they need to consider when choosing the right types of insurance coverage.
Here are the steps you should take to get small business insurance.
Assess Your Business Risks
Every business faces different types of risks, which can depend on the type of business, number of employees, daily work tasks, industry, and more. Before you begin to look for commercial insurance coverage, you'll want to start by assessing your business risks.
Do you provide products or services that could injure your customers? Are you in an area that is prone to flooding, fire, earthquakes, or hurricanes? Do you have business vehicles that are used on the job? These are just a few of the questions you can ask yourself to help assess some of the risks and liabilities you may face as a business owner.
Identify What Types of Insurance Coverage You Need
Once you have a list of the risks that your business encounters on a regular basis, it's time to identify what types of insurance coverage you need. There are many different types of business insurance that cover different aspects of your business. Some of the most common types of insurance include general liability, product liability, professional liability, commercial property, home-based business, business owner's policy, and commercial auto insurance.
Do your research to discover what types of coverage you need to protect your business from the risks you've identified. It may help to speak with an insurance specialist who has experience with different types of commercial insurance to get guidance on what you need.
When thinking about the types of insurance coverage you need, don't forget to identify the types of coverage that are required by your state. For example, workers' compensation insurance is required for full- and part-time staff in most states in order to provide benefits for employees who are injured on the job.
Employers in California, Hawaii, New Jersey, New York, Puerto Rico, and Rhode Island are also required to carry disability insurance in order to provide partial wage replacement for eligible employees who experience non-work related sickness or injury. Failing to comply with federal and state guidelines for required insurance policies can result in significant penalties and fines for business owners.
Shop Around for Policies and Providers
After you have decided which types of coverages you want, it's time to shop around for policies. Most small businesses will work with an insurance broker to help them get the best deal on the insurance coverage needed. Make sure that you choose an individual who has experience working with small businesses, is knowledgeable about policies, and has a great reputation in the industry.
Based on your own research and the advice of insurance experts, you should evaluate your coverage options and choose the policy that best fits your needs. The best policy for you will be one that addresses the risks your business is prone to while still making sense within your company's budget.
Reassess Your Needs Every Year
As your business grows and changes, so do its liabilities. And as your liabilities grow, your insurance needs change. If you have made changes in the past year, it may be time to make updates to your policies.
You may need to make a change to your small business insurance if you have:
Purchased or replaced equipment
Moved to a new building
Expanded operations
Begun making new/different products or services
Branched off into new industries
Hired more employees
If you have taken any of the actions above or you plan to undertake one in the next year, you need to update your insurance policy to ensure you're still covered. We recommend reassessing your business insurance needs every year to make sure that your company's insurance is adequate and up to date. The end of the calendar year is a great time to reassess, as the past year will inform your business plans for the future.
Need Workers' Comp Insurance?
When you're ready to purchase a workers' compensation insurance policy, the team at Cerity is ready to help. We are changing the way small business owners shop for workers' comp insurance by making the process quick and easy. Simply answer a few questions about your business, and we'll come back with an affordable, competitive quote in just a few minutes.
So what are you waiting for? Get your free quote online today.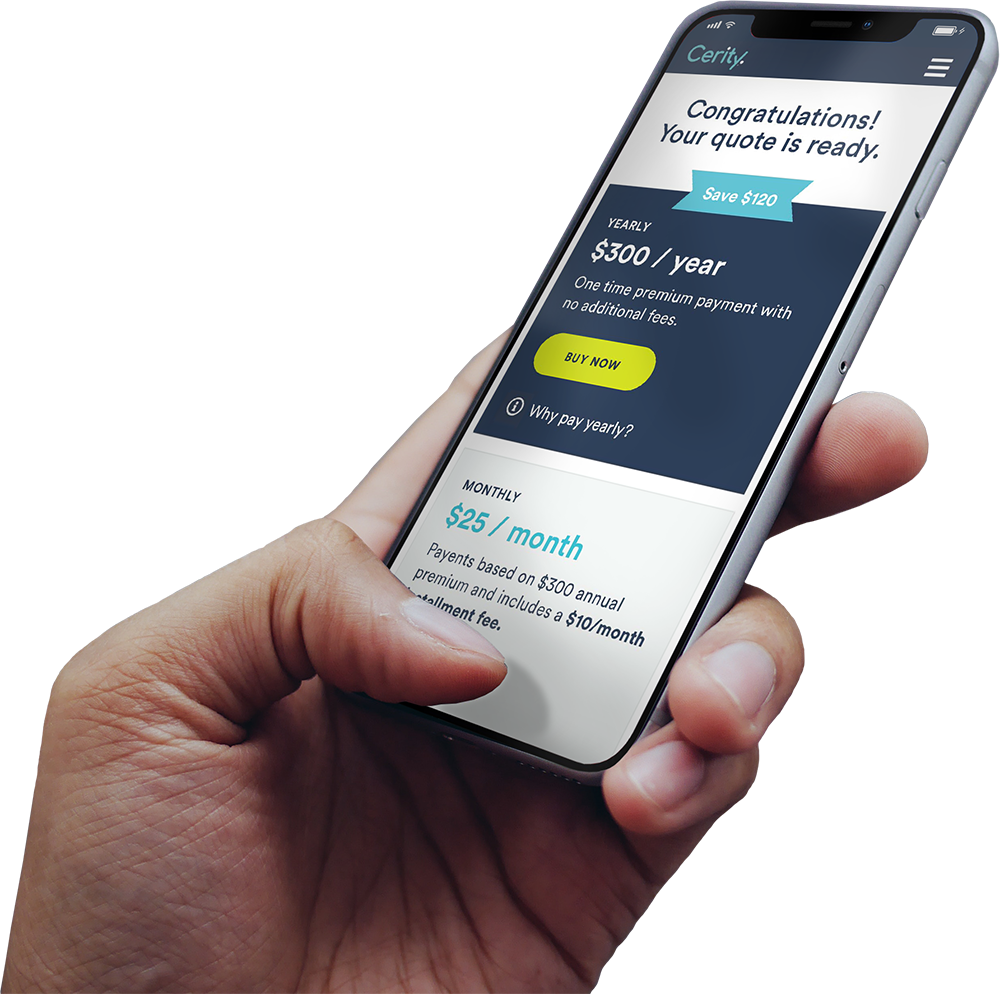 Grab your free quote today.
It only takes a few minutes, whether you're already covered or just getting started.