6 Types of Business Insurance You Need to Protect Your Business
The very first day you open your small business, you expose yourself to certain risks. While small business insurance is something you hope to never use, it's important to ensure you have comprehensive coverage to protect your business when something unexpected happens.
There are many different types of commercial insurance, and the right type for you will depend on the type of business, industry, size of the company, and other factors. Here are the six most common types of business insurance you need to protect your business.
1. General Liability
General liability insurance is recommended for every business, including those that are home based. This type of coverage provides defense and damages if you or your employees cause bodily injury or property damage to a third party.
Though every policy is different, most general liability policies cover lawsuits, investigations, settlements, medical expenses, and attorney fees. This type of coverage doesn't protect employee injuries, auto-related incidents, or intentional acts.
2. Professional Liability
Professional liability insurance, also known as errors and omissions (E&O) insurance, covers a business against negligence claims that arise from mistakes made by an employee or a failure to perform. For instance, if your consulting company gives faulty advice or makes the wrong recommendation that results in harm to others, professional liability insurance can protect you in judgment and pay for legal expenses.
It's important to note that many general liability policies do not cover professional liability, so you will want to make sure that you're properly covered. This type of insurance is applicable to a variety of professions including consultants, lawyers, accountants, real estate agents, and many others.
3. Property
Property insurance is a type of commercial insurance that protects your physical business assets such as your building, equipment, inventory, furniture, and outdoor signage from events like fire, vandalism, theft, lightning, wind, hail, or smoke damage.
Natural disasters that cause massive destruction like earthquakes, hurricanes, or floods are generally not covered under basic property insurance. So if your company's property may be impacted by these types of events, you'll need to make sure you have additional coverage.
4. Product Liability
If your company designs and manufactures products for sale to the general public, then you need to consider product liability insurance. Though your company takes every step to ensure that your products are safe to use, there is still a chance that your business will encounter a lawsuit due to damages caused by your products.
Product liability insurance will help protect your business in the event of injury or damage caused by your products. With this type of insurance, coverage is often tailored to the specific type of products you provide based on potential risks.
5. Commercial Auto
If your business has company-owned vehicles, they will need to be fully insured to protect your business against liabilities in the event that an accident occurs. Commercial auto insurance protects any company vehicles that may carry employees, products, or equipment, such as cars, SUVs, vans, or trucks. If employees are using their own cars for business, then their personal insurance will cover them if an accident occurs.
6. Workers' Compensation
Workers' comp covers an employee's medical expenses and a portion of their wages if they experience a work-related injury. If an employee sues your company after getting hurt on the job, workers' compensation insurance will usually cover the costs of defending the lawsuit as well.
Most states require companies with employees to have workers' compensation insurance. If this type of insurance is required in your state, then failure to purchase the right amount of coverage can result in fines and criminal penalties. It could also be devastating financially to your business if you don't have this coverage when one of your employees is hurt on the job.
If you're looking for workers' comp insurance, you can get a free instant quote from Cerity. We take the worry out of buying workers' compensation insurance by bringing you fast and affordable options with expert support.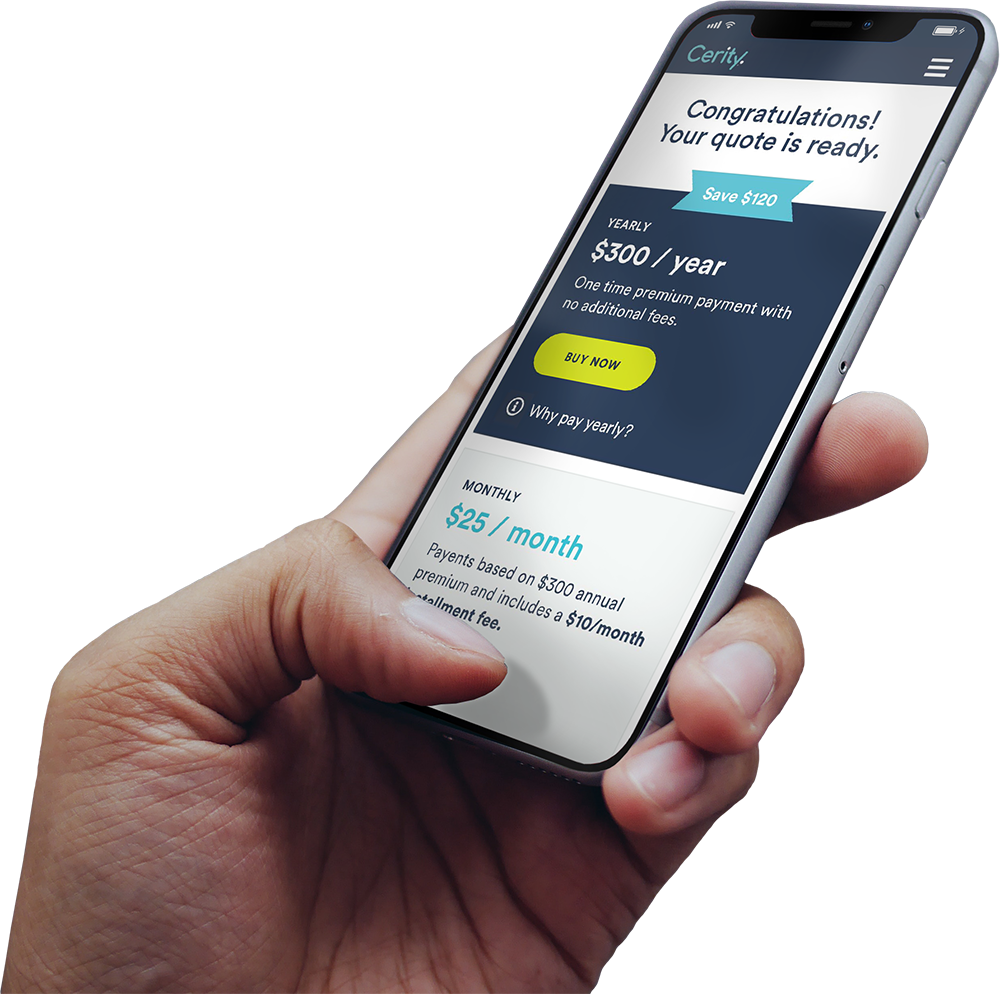 Grab your free quote today.
It only takes a few minutes, whether you're already covered or just getting started.