Do I Need Business Insurance?
When you first get started as an entrepreneur or business owner, there are a lot of things that you have to figure out. From hiring, training, and motivating employees to bookkeeping, payroll, and taxes — it's important that you understand the ins and outs of running a business if you are aiming for long-term success.
And insurance is no exception. Commercial business insurance helps protect your business from the unexpected. So if you're wondering, Do I really need to get small business insurance? The short answer is yes, you do need business insurance.
Why Do I Need Business Insurance?
Companies need business insurance because it helps cover costs associated with liability claims and damage. While commercial business insurance does require business owners to pay a monthly or yearly premium, the costs of not having insurance are far greater. Without business insurance, business owners have to pay for costly damages and legal claims out of pocket, which can be a devastating loss to the business.
For instance, let's say that your business experiences vandalism. With the right business insurance, you can get help paying to repair your storefront and replace any stolen property. Without business insurance, all of these costs would come out of the business's working capital. A business without insurance is responsible not only for vandalism and theft but also for lawsuits, cyber threats, and natural disasters that impact their business.
Is Business Insurance Required?
While not every business is required to purchase insurance, some states require businesses to have certain types of business insurance coverage. For example, businesses with employees are required to have workers' compensation insurance, which benefits employees who experience work-related injuries or illnesses.
Some states may also require other types of insurance coverage, such as unemployment and disability insurance. In states where there is a certain insurance requirement, your business can face legal consequences or fines if it doesn't carry the types of coverage that are required by that state.
What Types of Commercial Business Insurance Do I Need?
While every business owner should get small business insurance to protect their company from different risks, not all insurance needs and requirements are the same. The type of commercial business insurance that you need will depend on a variety of factors such as the type of company, industry, size of the company, number of employees, and much more.
That said, there are some general types of insurance that nearly every business owner should have:
General liability: Protects your business from liability claims revolving around bodily injury, property damage, libel, and slander.
Property: Protects the building your business owns or rents as well as business property like tools, equipment, inventory, and furniture.
Business owner's policy (BOP): Combines business property, liability, and income insurance into one policy for comprehensive protection.
Commercial auto: Covers the costs of an auto accident if you or an employee driving a company vehicle is at fault, including damaged property and medical expenses.
Workers' compensation: Provides benefits to employees for work-related injuries or illnesses, including compensation for medical care, lost wages, and more.
To make sure that your small business is protected from the risks you are most likely to face, you may want to work with an insurance specialist to determine which types of commercial business insurance are right for you.
Get Small Business Insurance
The first step to finding the right small business insurance for you is researching your options for both types of coverage and insurers. It's important that you work with an insurer or broker that has your company's best interests in mind and is committed to finding you the most affordable rate.
At Cerity, we are changing the way small business owners shop for workers' compensation insurance. With decades of insurance experience under our belts, we make it easy for small business owners to get a quick and easy online quote, providing support along the way.
Get your free quote online today.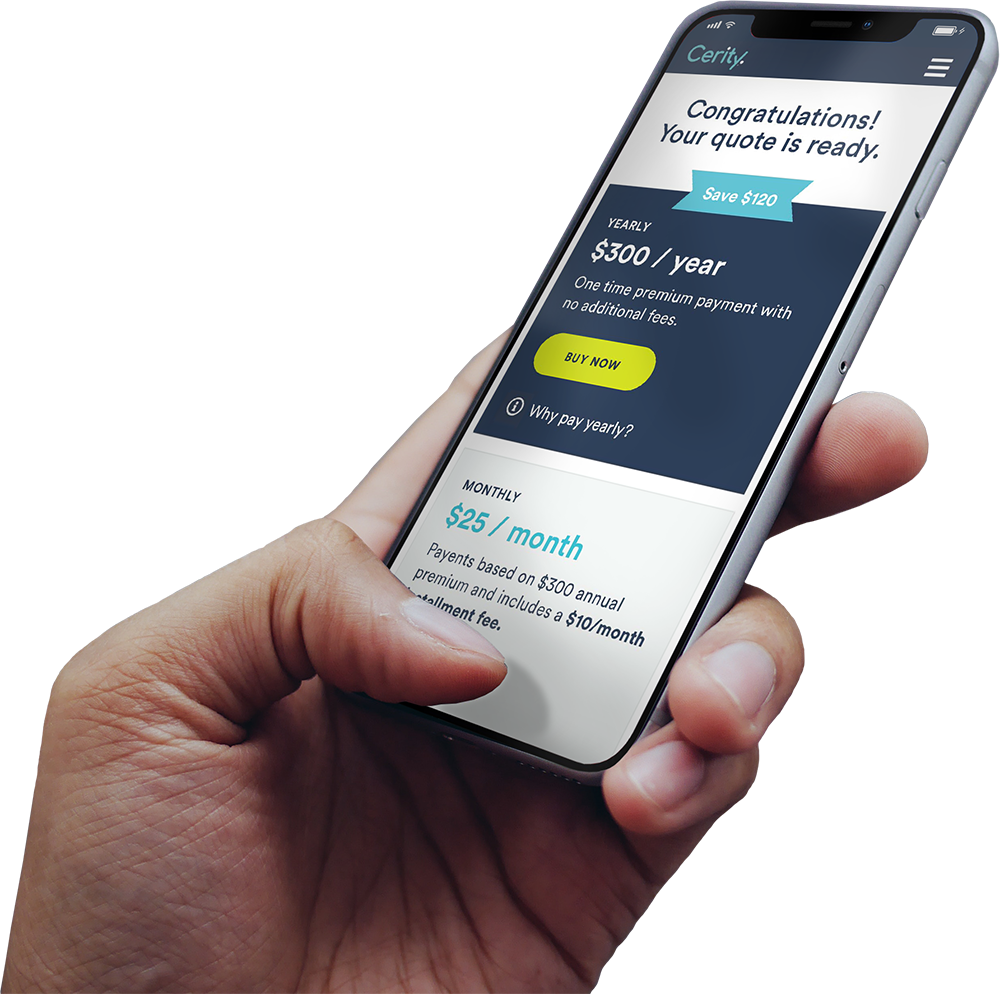 Grab your free quote today.
It only takes a few minutes, whether you're already covered or just getting started.