Best Workers' Compensation Insurance
Of course, your company deserves the best workers' compensation insurance for small businesses. After all, you care about your employees and want to make sure they have benefits if they're ever injured on the job or sustain a work-related illness.
Workers' compensation can do that. This type of coverage, required in most states, is paid for by employers on behalf of workers. In the event of a workplace injury or illness, this coverage can pay for an injured employee's necessary medical costs and can replace part of their income.
Workers' comp insurance does more than that, though. It saves you time with a comprehensive claims process. It also helps you attract and retain top talent by providing a benefit your workers can use. On top of that, it can allow your business to survive. Some policies include coverage for employers, too, protecting them from liability.
Workman's comp also gives you and your workers peace of mind. Let's face it — mistakes and accidents happen. In fact, a U.S. worker is injured every seven seconds on average. When you have the right policy in place, you and your team can work on serving customers and growing your business, knowing you have a layer of protection in case a work injury does happen.
But what takes workers' compensation to the next level? The best workers' comp is easy to sign up for, so you save time. It should also be easy to understand, so you have a good working knowledge of your coverage. The best workers' comp also uses AI to right-size your quote and to understand your business. That's what Cerity does, to make sure you have the right fit when it comes to insurance.
The best workers' comp also comes from an insurer like Cerity, who lets you take care of many insurance needs online, any time. For example, you can get a certificate of insurance (COI) 24/7 with EMPLOYERS, just by signing in online.
How to Find the Best Workers' Compensation Insurance
Finding the best workers' comp insurance for your small business means finding the right policy for your team. The right coverage for your competitor or even the business down the street may not be the perfect match for you. Finding the best workers' compensation insurance means:
Understanding your needs. Every state has different workers' compensation rules, and you need to understand what you need to stay compliant. If you're not required by your state to have worker's comp, you should still want a policy to keep yourself or your workers covered. In that case, consider what you need from a policy. A way to keep your business open in case of a lawsuit? A way to attract top candidates to your workplace? Knowing what you're looking for can help you find the right coverage.
Evaluating your risks. Every workplace has risks, even the quietest bookshop. Take a look around you to determine the most common likely injuries for your staff. Is there anything you can do to reduce the risks? Doing so can help you curb your workers' comp costs by potentially preventing injuries and claims.
Finding the right insurance provider. If you really want to find the best workers' comp insurance for your business, you need to start with the right insurer. An experienced, reliable insurance company understands your industry, knows the rules in your state, and can answer your questions and guide you to the right coverage.
Factors to Consider When Reviewing the Best Insurance Companies for Workers' Compensation
One of the best ways to find the best workers' compensation insurance for a small business is to work with an insurance provider who can lead you through the ins and outs of workman's comp coverage. A good company is obviously experienced, trustworthy, and works with businesses like yours. What else? Here are some other factors you might want to look for.
Flexible payment options. Control cash flow better with flexible payments. Cerity, for example, lets you pay for your workers' comp with month-to-month payments.
Financial ability to pay claims. Look for an insurer who's been in the business for a while and has the financial stability to pay your workers benefits if they're injured.
Customer and third-party reviews. What do other businesses have to say about the insurer? Do others consider them the best workers' compensation insurance option?
The Best Workers' Compensation Insurance: FAQs
You've got questions. Cerity has some answers. Don't see your question answered here? You can always ask us and we'll be happy to help out.
How Do Insurers Determine What Benefits Workers Get?
If a member of your team is injured on the job and they're covered by workman's comp, your insurer will determine what benefits your worker may be eligible for. The calculations vary state by state, but in general the insurer will determine the average weekly wages for your employee and then work out the percentage your state's workers' compensation benefits allow for that wage. Your employee's injury and its severity, as well as other factors, can also play a role in the benefits offered. No need to worry, though. Your insurer and their claims adjuster will help you sort out the numbers.
How Much Does Workers' Comp Insurance Cost?
Workers' comp prices depend on your business location, your history of claims, your payroll, and the type of business you have. Who you're insured with matters, too. Since even the business next door may have different workman's comp premiums than you, what really matters is how much you're going to pay for coverage. And with Cerity, you can get a quote in just three minutes. So no more guessing games.
How Do I Get Workers' Compensation Insurance?
Here's another way Cerity can make a difference: with us, signing up can be the easiest thing you do all day. Get a quote or reach out to us to get started. We'll walk you through the process. We'll get you signed up for the right policy and make sure you have a certificate of insurance to prove you're compliant.
What Are the Most Common Claims for Worker Compensation?
Injuries can vary by industry. If you're working in a restaurant kitchen, near hot ovens and gleaming, sharp knives, burns and cuts are most common. If you're a window washer, falls are a big risk. In general, though, fall injuries, fractures, contusions, strains, sprains, and head injuries are risks in most sectors.
According to the National Safety Council, the top workplace injuries in 2020 were exposures to dangerous substances and environments, overexertion, falls and trips, contact with objects and equipment, transportation-related injuries, and violence. Of these, the number one cause of injuries, exposure, accounted for 36.1% of injuries. Overexertion represented 21.7% of injuries.
What Is the Best Way to Keep Workers' Compensation Costs Low?
The first thing you'll want to do is to keep your risk of workplace injury low. Creating a safety program, making sure your workers have the right safety gear and offering safety training are all great places to start. Nobody wants to see an injury in their workplace. In addition to causing pain, injury claims can cause your workman's comp costs to rise.
The other thing you can do is get choosy about your insurance provider. A great insurer works with you to get you a policy you can afford. At Cerity, for example, we're passionate about matching you with the right workers' compensation insurance to cover you, without a lot of extras you don't need.
We have more than 100 years of industry experience. We've learned a thing or two in that time about keeping prices competitive for just about every industry. It's just one reason small businesses turn to us when they need no-nonsense coverage that lets them get back to work. The other is that our policies start at $20 a month.
Want to see how much you could be saving with Cerity? Simply go to our free online quote tool. Tell us a little bit about your business to get an affordable rate, and you can buy a policy online in minutes to cover you for the year ahead.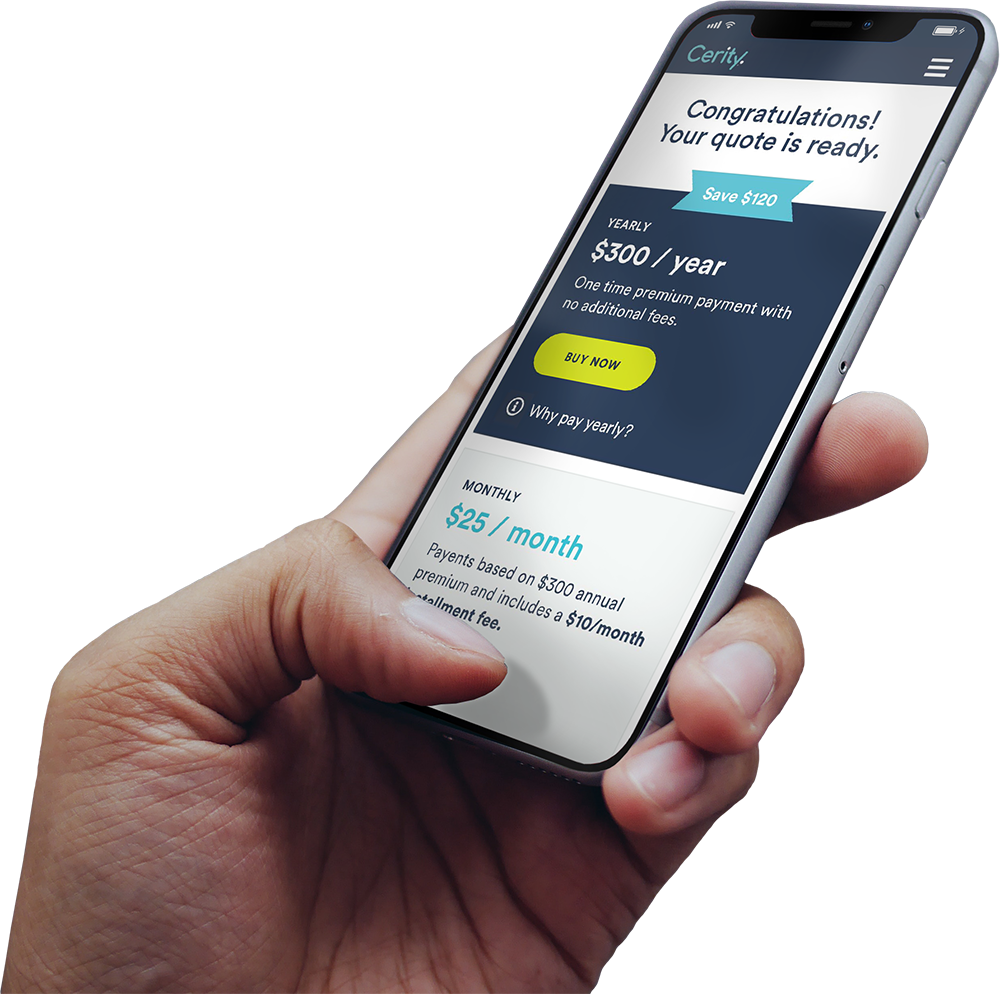 Grab your free quote today.
It only takes a few minutes, whether you're already covered or just getting started.