Workers' Compensation for Healthcare Professionals
Medical and healthcare-focused businesses can range from hospitals and doctors' offices to medical transcription companies to physical therapy practices. If you spend your time protecting and taking care of your clients, workers' compensation insurance helps ensure that someone is taking care of you and your business in the event of a workplace injury.
Workers' Comp Insurance for Healthcare Businesses
An on-the-job injury to a member of your healthcare staff can do more than just leave you with one less staff member. It can cause financial strain that could be devastating to your business, whether large or small.
Workers' comp insurance helps alleviate that strain and get you back to taking care of your patients and clients.
Healthcare Employee Injuries
A workplace injury can heavily affect your business financially, so it's best to be prepared with quality business insurance before an injury occurs.
Should one of your employees suffer a workplace injury, such as strain from heavy lifting or chronic conditions caused by repetitive motions, your business could be held liable for the costs of that employee's medical care, lost wages, and more. Regardless of whether the state in which you operate your business requires commercial insurance such as workers' comp, the value of having protection against a potentially damaging accident is priceless.
With workers' compensation insurance, your business is protected with assistance in covering costs related to workplace injuries, including:
Initial medical care (ER visit, ambulance, etc.)
Ongoing medical care (medication, physical therapy, etc.)
Lost wages
The need for comprehensive workers' comp insurance is not limited to large hospital networks. Even small businesses in the healthcare industry can benefit from business insurance to cover costs associated with workplace injuries. Find out more about workers' compensation insurance for small businesses here.
Healthcare Liabilities
Beyond being held responsible for medical expenses and lost wages, healthcare business owners can also be burdened with additional costs should the injured employee choose to file suit against their employer.
From legal fees to settlement payments, healthcare businesses of all sizes can be negatively impacted by a liability lawsuit. Workers' compensation insurance helps cover the costs associated with an on-the-job injury lawsuit, such as:
Court costs
Legal fees
Attorney fees
Settlement payments
Even if your business already has commercial insurance coverage for employee medical expenses, you may not be covered in the event of a lawsuit.
For example, workers' comp insurance offered through monopolistic state funds in states such as North Dakota, Ohio, Washington, and Wyoming often do not include liability coverage. The same is true for many private coverage providers. If your current workers' comp policy doesn't cover liability, your business could ultimately pay the price as a result of this coverage gap.
Risk Management for Healthcare Businesses
As a healthcare business owner, you understand the importance of prevention when it comes to staying healthy. The same can be said for preventing on-the-job incidents. It is always best to prevent workplace injuries before they occur.
By cultivating a culture of safety within your business by instituting safety policies and employee safety training programs, you can lower the chances that an employee will suffer a workplace injury.
Taking precautions such as these can be helpful not only in protecting your employees, but also in lowering your workers' comp insurance premiums as well. This is because providers often utilize risk management tools to assess a business's likelihood of employee injury.
Cost of Workers' Comp Insurance
One of the biggest factors when selecting a workers' compensation insurance plan is cost. For healthcare businesses, the premium is determined by a variety of factors, including the location, jurisdiction, and type of business, as well as other factors that are unique to your business. An insurance provider's process of assessing these factors can make getting a quote a long and frustrating process.
At Cerity, we believe in a faster and more affordable approach to workers' comp insurance. We use proprietary tools in tandem with modern technology to provide healthcare business owners with quick quotes and policies that can take effect immediately.
Visit our free workers' comp quote tool to get a free online quote and experience our no-nonsense approach to workers' compensation insurance.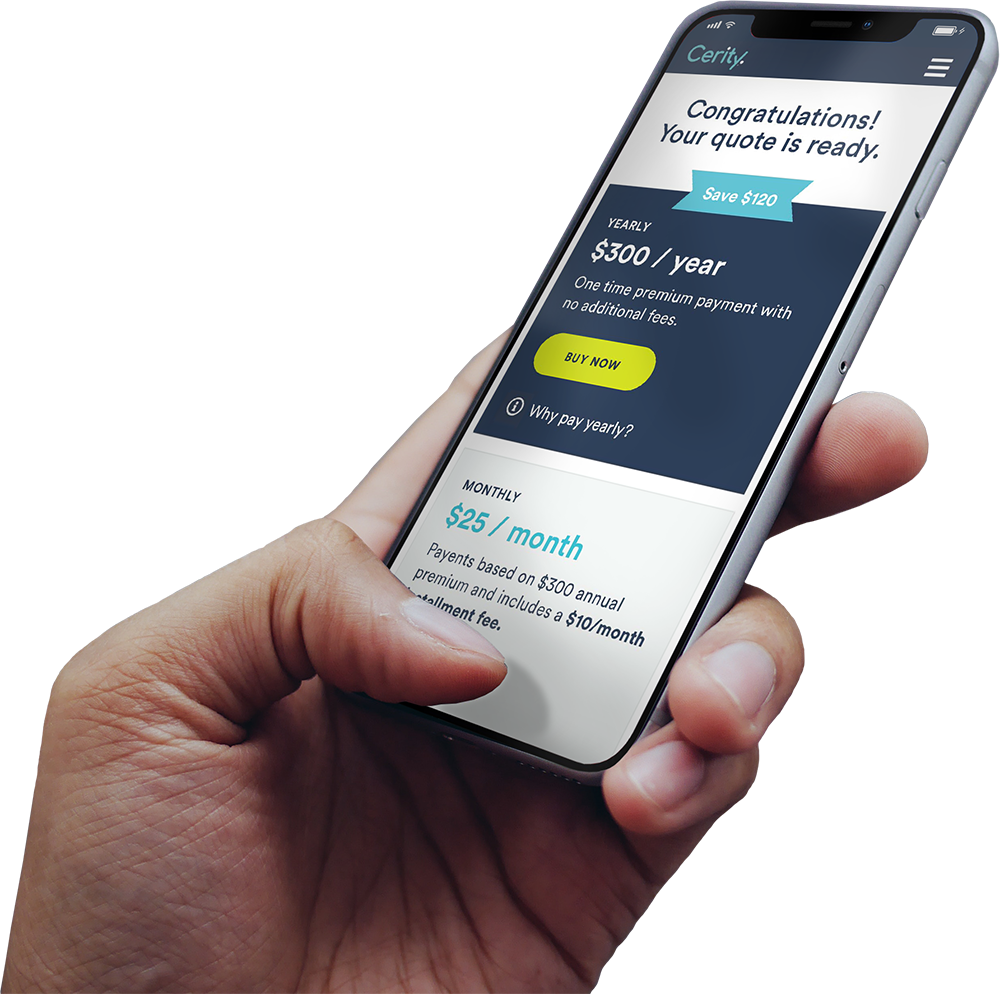 Grab your free quote today.
It only takes a few minutes, whether you're already covered or just getting started.