Workers' Compensation for Engineering Companies
From a chemical burn or fire in the lab to an injury from heavy machinery or electrical shock, engineers of all backgrounds are at daily risk for serious accidents. Therefore, having adequate workers' compensation insurance is a must for engineering contractors and engineering firms. Workers' compensation insurance helps protect engineering business owners from potentially devastating financial consequences that can result from workplace accidents.
Workers' Compensation Insurance for Engineering Professionals
If an employee from your company suffers an on-the-job injury, your business could be held responsible for covering their medical costs — which can have a significant impact on your bottom line. Should the injured employee file suit as a result of the injury, the additional expense could be financially devastating.
Considering that engineering professions are rife with potential dangers, engineering firms simply can't afford to do without workers' comp insurance. Engineering insurance protects businesses by covering an injured employee's immediate and ongoing medical costs, as well as lost wages. It will also help cover legal fees in the event that the practice is sued.
Workers' compensation insurance for engineering businesses eases the financial stress related to injured employees, high medical costs, and lawsuits. That way, you can focus your attention on what matters most — pursuing innovation.
Engineering Injuries
The field of engineering poses a greater risk for employee injuries in the workplace than many other industries. From slips and falls to chemical exposure, fires, and electrical accidents, engineers from all backgrounds are routinely exposed to a variety of potentially dangerous situations in a single workday.
In the event that one of your employees is injured on the job — whether out in the field, on-site, or even traveling between locations — your business could be held liable for the costs of that employee's medical care, lost wages, and more. Such risks make it imperative that you have workers' compensation insurance to protect from the many expenses your business could face in the event of an incident.
Workers' compensation coverage includes:
Immediate medical expenses for injured employees, including ambulance services, emergency room visits, surgery, etc.
Ongoing medical care needs such as physical therapy, medications, etc.
Portion of lost wages while the employee is unable to work
Engineers Professional Insurance Liability Coverage
Steep medical expenses for injured workers aren't the only thing that can be damaging to an engineering firm. Should an employee decide to file a liability lawsuit for an injury — even if your business is not at fault — the additional expense of legal fees and settlement payments can have a devastating impact on your business.
Business insurance provides liability coverage for your engineering firm, which will cover your business in the event that an employee pursues litigation due to a workplace injury.
This type of commercial insurance helps cover the costs associated with an on-the-job injury lawsuit, such as:
Attorney fees
Settlement payments
Court costs
Other related legal fees
Even if your business already has commercial insurance coverage for employee medical expenses, you may not be covered in the event of a lawsuit. For example, workers' comp insurance offered through monopolistic state funds in states such as North Dakota, Ohio, Washington, and Wyoming often do not include liability coverage. As a result, you may still need to purchase additional private coverage from a private insurer in order to be fully protected.
Lower Engineering Insurance Premiums with Risk Management 
In order to safeguard your business from the financial devastation that workplace injuries can cause, obtaining workers' comp insurance is critical. However, risk management is the best way to prevent injuries and accidents from occurring in the first place. Because engineering is a high-risk industry, it's important to assess your level of risk and implement workplace safety policies, procedures, and training that will create a safer and healthier work environment, whether on-site or in the field.
Besides protecting your employees, risk assessment can also potentially reduce your insurance premiums. That's because many providers utilize risk assessment tools to help determine the cost of coverage for engineers.
How Much Does Workers' Comp Insurance Cost for Engineers?
When it comes to choosing a workers' compensation insurance plan, cost is often one of the top considerations. For engineering businesses, the premium is determined by a variety of factors. The nature and jurisdiction of your business as well as business payroll records and history of workplace accidents may all affect the cost of your workers' compensation insurance plan. However, the process an insurance provider uses to determine these factors can be long and arduous, which often makes for a frustrating experience.
At Cerity, we believe in clear and intelligent pricing for workers' comp insurance costs. With our proprietary technology and innovative online tools, we make shopping for affordable and comprehensive workers' compensation coverage quick and easy — and our policies take effect immediately. When you partner with us, you're working with engineering insurance brokers who have your back.
Use our free online insurance quote tool to get a free workers' comp insurance quote for your engineering business.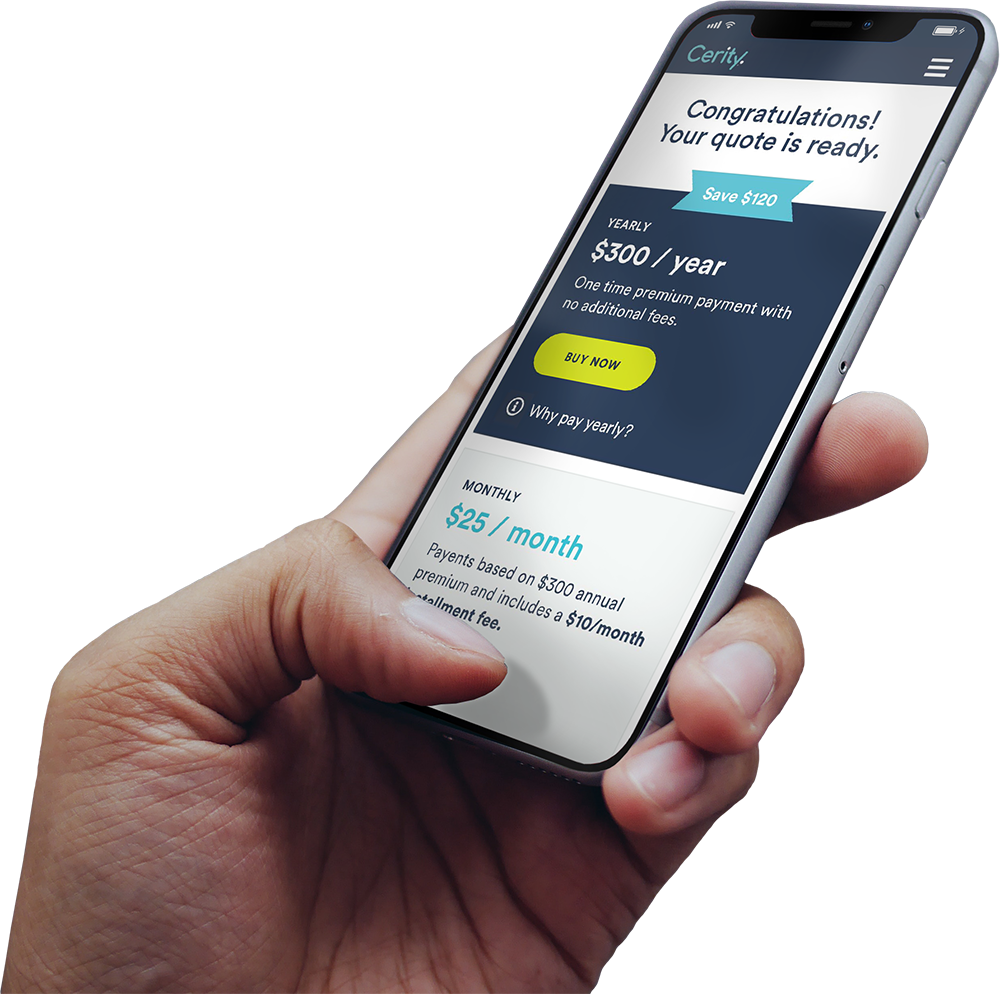 Grab your free quote today.
It only takes a few minutes, whether you're already covered or just getting started.