Company News: 2 New Products Announced & Expansion into California
This is a full transcript of a recent national news announcement from Cerity. To view the release in its original format, click here.
On April 3, 2020, Cerity Insurance Company (Cerity), a direct to small business workers' compensation carrier, launched their fully automated and affordable online purchasing platform in the state of California. Small businesses can now take advantage of the lower prices and affordable billing options provided through direct purchase. This increases the number of states served by Cerity to thirty-nine, with two additional states scheduled to launch later this quarter.
"Businesses across the U.S. are facing unprecedented challenges. We're excited to bring our digital insurance platform to California businesses during this critical time as our products directly reduce business expenses and increase billing flexibility. Cerity offers complete protection at an affordable price, with a team of licensed agents and 24/7 online access to important policy documents," said Tracey Berg, President of Cerity. "We're seeing more and more business owners looking to quickly reduce expenses, increase flexibility as their payroll fluctuates, and use online insurance platforms like ours."
The company received written approval to sell in California on April 2, and launched the next day. Berg continued, "Our team moves quickly. Every piece of our tech stack is modern and scalable, which guarantees we can move faster and offer more features than traditional agents and carriers."
Cerity also recently released two new products designed to help small business owners.
The first, PayGo™, is a fully automated pay-as-you-go billing solution that works with all major payroll platforms. Unlike traditional workers' comp plans that require annual payroll estimations, large up-front fees, and painful year-end audits, PayGo relies on real-time payroll calculations, resulting in more accurate monthly payments that adjust automatically to a changing small business. With no money down, cash flow advantages, and automated payment processing, PayGo has rapidly grown in popularity with small to medium sized businesses.
The second, PIX™, or Partner Insurance Exchange, is available to business professionals, affiliate platforms, and associations who work with and advise their clients and s. Enrolled partners gain access to Cerity's Business Growth Engine™, a suite of tools designed to quickly and easily educate their clients about the benefits of Cerity. These tools enable partners to offer a digital workers' compensation option for their clients and s, with Cerity serving as the licensed agent. "Payroll and accounting professionals are in a unique position to educate their clients and help them save money on insurance, but most are not licensed," said Dennis Dix, SVP, Chief Operating Officer at Cerity. "We currently fill that void for independent payroll providers and are excited to expand our PIX program to affiliations, associations, and franchises to help them continue to add value and grow ship."
More about our company:
Founded with a bold vision to reimagine small business insurance, Cerity empowers business owners to quickly and easily protect their team, their assets and their livelihood through an online workers compensation solution. With its digital-first approach, Cerity is transforming the entire process – from purchasing and maintaining coverage, to filing a claim – to be simple, fast, and easy. The company's proprietary pricing model produces tailored quotes within seconds, and can deliver a new policy in five minutes or less, enabling leaders to get back to what matters most – growing and scaling their operation. Cerity Services, Inc. is a subsidiary of Employers Holdings Inc. (NYSE:EIG), an industry veteran, with over 100 years of experience in workers' compensation.
NEXT UP
Cerity Partners with California Restaurant Association to Provide Customers More Ways to Protect their Businesses
Learn more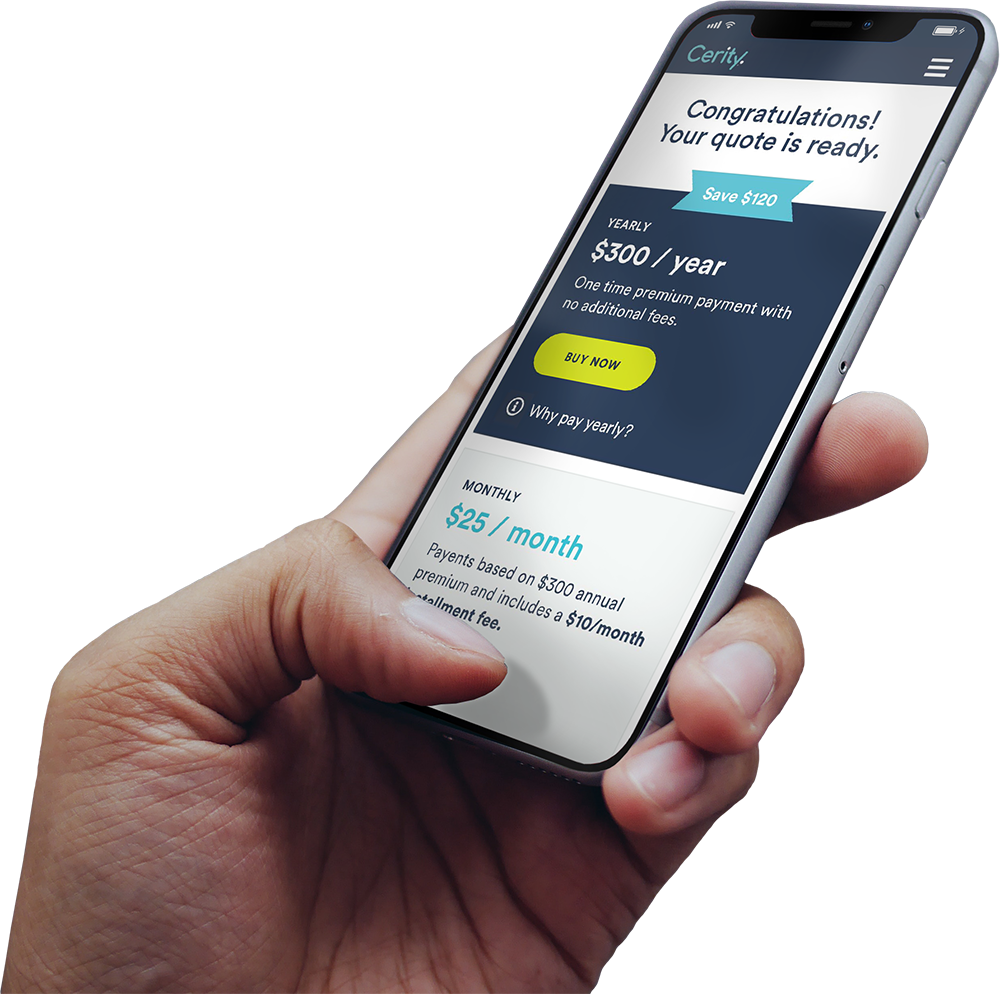 Grab your free quote today.
It only takes a few minutes, whether you're already covered or just getting started.