Workers' compensation is a type of business insurance that is required by law in many US states. This insurance covers the cost of medical expenses, lost wages, and potential legal fees associated with an on-the-job injury or illness. Although the law protects the majority of businesses and employees, certain entities can opt out of workers' compensation insurance if they choose by applying for a workers' comp exemption.
What Is a Workers' Comp Exemption?
A workers' comp exemption means that a business or a worker does not legally have to secure workers' comp coverage. For businesses, this means that they are not responsible for providing workers' compensation coverage to certain employees, like independent contractors. For employees looking for a workers' comp exemption, such as a subcontractor, this means that they are not covered in the event of an on-the-job injury or illness.
Who Qualifies for Workers' Comp Exemptions?
Workers' compensation insurance is regulated by state governments, and every state is different in terms of what types of businesses and employees qualify for workers' comp exemptions. However, there are some types of businesses and employees that are generally exempt, such as:
Independent contractors
Sole proprietorships
Partners
Customers of LLCs
Employees who work few hours or make little each year
Volunteers
Again, it's important to re that exemptions vary by state. For a complete list of who qualifies for workers' comp exemptions, visit our detailed state-by-state workers' comp exemptions guide.
What If I Don't File for an Exemption?
If you choose not to file for a workers' comp exemption, you have two options — find an insurance provider who can offer workers' comp coverage or risk noncompliance penalties from the state. Because workers' compensation insurance provides much-needed protection for both businesses and employees, states take noncompliance very seriously. Failure to secure coverage without an exemption could result in fines, criminal charges, and state-ordered closure of your business.
How Do I Apply for a Workers' Comp Exemption?
Each state's process for screening and approving workers' compensation exemption is different. You will need to contact your state's workers' compensation office to determine the exact steps. Typically, filing for an exemption involves filling out forms and providing information about yourself and your company. Proof of business information may be required, including business licenses, contact information, proof of ownership documents, and the like. Once you file these documents, your state will either approve or deny your exemption.
Should I File for a Workers' Comp Exemption?
For many small business owners, the idea of not having to pay workers' compensation premiums can be appealing. However, there are some important factors to consider before applying for an exemption, as there is inherent risk in not having workers' comp coverage.
For example, the idea of filing for a workers' comp exemption for your sole proprietorship may mean spending less on insurance premiums, but if you are injured while on the job, it could mean devastating financial consequences for your business. Even a basic trip and fall can result in expensive medical bills and lost wages.
With workers' comp coverage, you would have comprehensive benefits that could support you financially while you recover. However, if you applied for an exemption, you could find yourself paying for these expenses out of pocket.
Cerity — Affordable Workers' Comp
At Cerity, we understand that it's important to have the coverage you need while not breaking the bank. That's why we've created a faster, more affordable, and more flexible way to get workers' comp insurance. Our innovative online quote tool provides instant quotes and immediate coverage so business owners can get comprehensive coverage quickly and easily. To get a free quote online, visit our workers' comp quote tool today.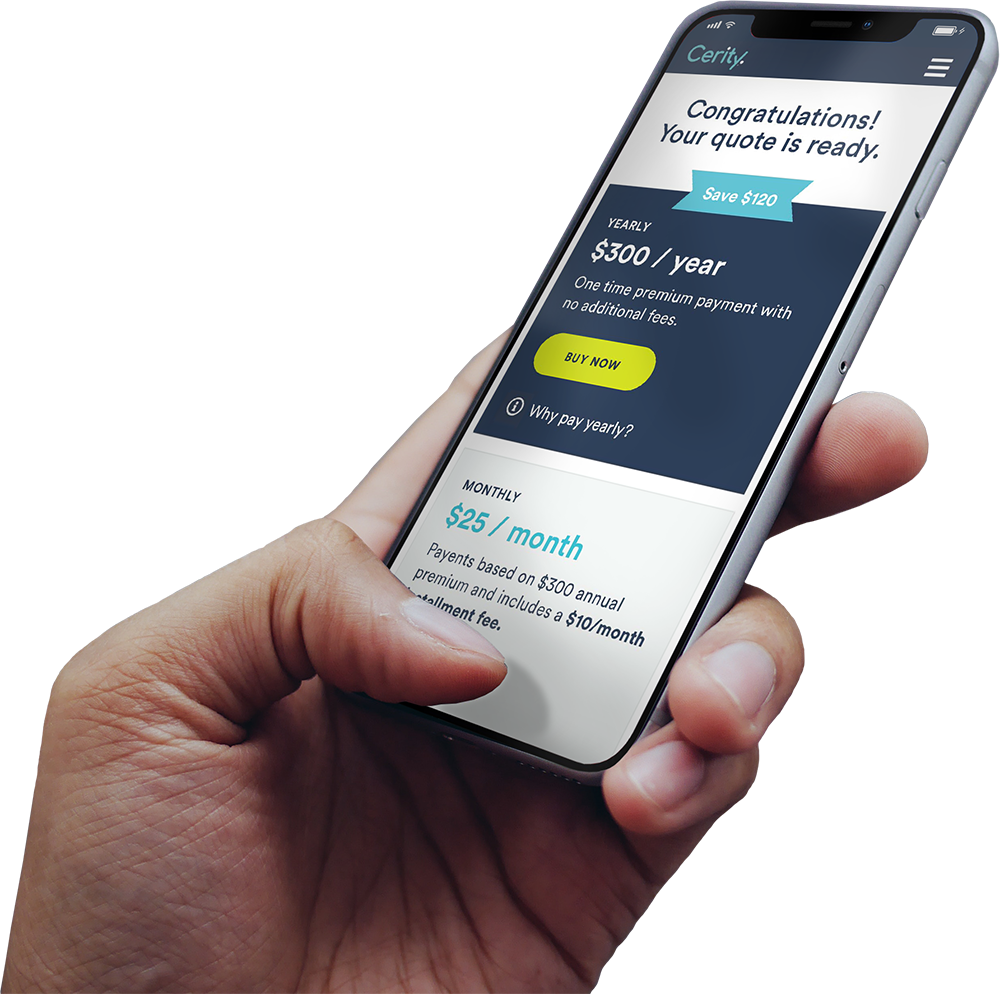 Get protection for your business baby.
It only takes a few minutes, whether you're already covered or just getting started.