What Is a Certificate of Insurance, and Why Do I Need One?
What is a Workers' Compensation Certificate of Insurance?
A workers' comp COI is just what it sounds like — a single-page document that proves your business has workers' comp insurance coverage. A COI details your specific policy as outlined by your insurance provider. Why would you need such a thing? Good question.
Why Would a Business Need a Workers' Comp COI?
Most states require that any business with employees have workers' compensation insurance coverage. A certificate of insurance provides the necessary proof of coverage required by most states. Basically, it keeps you from adding more hassles to your already hectic schedule.
In addition to proving your compliance with state laws, a workers' comp COI is often required by clients, businesses, or the government in order for your business to book specific jobs. This is because a certificate of insurance helps ensure the client is held responsible for extra costs or potential litigation if someone on your team is injured or gets sick while on the job. Many clients require this peace of mind in order to work with businesses even if the state they're in doesn't require workers' comp coverage. So generally speaking, having coverage and a workers' comp COI is a good idea for any business.
Some businesses, such as sole proprietors and businesses that have independent contractors and subcontractors may wonder if they need a certificate of insurance. The answer depends on a variety of circumstances, most notably where your business operates and what the state laws are regarding workers' comp in your area. In addition, it will depend on the kind of work you do and whether or not your clients require a workers' comp COI.
What Information Does a Certificate of Insurance Provide?
A workers' comp COI outlines the details of your business's specific insurance policy. That said, it will include information unique to you, such as:
Provider information
Business name
Policyholder information
Policy details including policy number, coverage information, and effective dates.
The information provided on a certificate of insurance shows the government, your clients, and your employees the kind of coverage your business has.
How Can Businesses Get a Workers' Comp COI?
To get a certificate of insurance, your business will need to buy a workers' compensation insurance policy. There are many ways to get coverage, including online carriers that offer great rates and easy online quote processes. If you get a policy online, you can often get proof of coverage, or a workers' comp COI, the same day.
How Can Cerity Help?
In need of workers' compensation coverage? Get a quick quote and an instant policy without the phone calls or paperwork using Cerity's faster, more affordable approach to workers' comp. While you work hard perfecting your business, we work hard perfecting workers' compensation insurance.
With Cerity, you can get an online quote and a certificate of insurance quickly and easily. Simply go to our free online quote tool. Tell us a little bit about your business to get an affordable rate, and you can buy a policy online in minutes to cover you for the year ahead.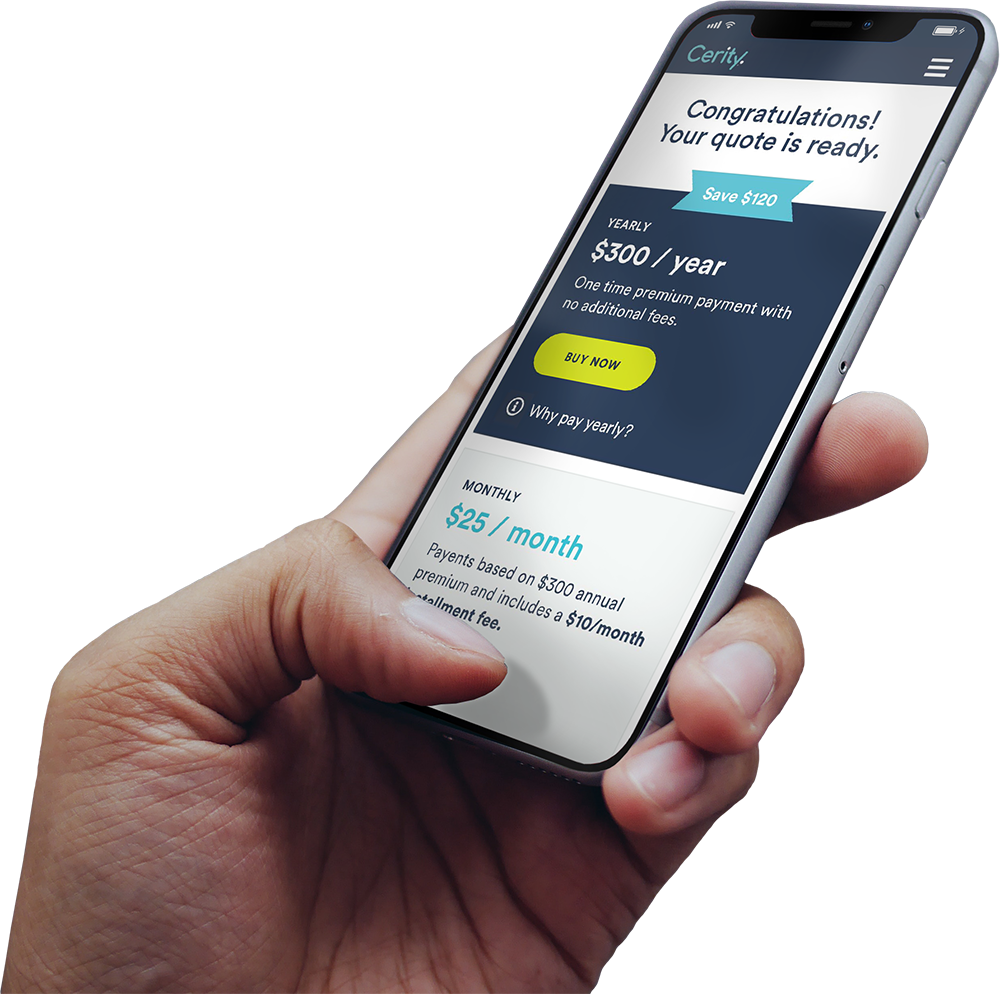 Grab your free quote today.
It only takes a few minutes, whether you're already covered or just getting started.