Should You Change Your Work-from-Home Policies After Coronavirus?
Before Covid-19 shelter-in-place orders forced businesses to shutter their offices, many employees across the world yearned for the comfort and convenience of working from home. But even though employees may generally be more productive working remotely, adapting to mandatory work-from-home policies is a whole new ball game. The pandemic has forced people to work from home whether they want to or not, and the fear and anxiety it causes loom over our isolated lives every day. That means that no matter which way you spin it, productivity is simply not going to be the same as it was pre-pandemic.
Wondering how to embrace these new changes for your business? Here's how to adapt to the new remote workplace while also keeping your business running smoothly.
Establish a Remote Leadership Team
Switching from a traditional office setting to remote work is a fundamental change and can trigger confusion in how teams function. To help ease the transition, begin by evaluating current managers and assemble a team of experts who have previous remote work experience. They'll be able to effectively communicate the nuances of virtual working and can serve as a go-to for employees who will undoubtedly have questions along the way.
The role of this team can also be to document challenges in real time, clearly prioritize those challenges, and assign team s who will be able to find the best solutions. This may even mean that administrative staff, such as executive assistants, may need to step up to a more significant role, documenting all internal communications and helping ease the transition as teams adapt to a new normal.
Creative a Positive and Supportive Virtual Culture
Not having the option to go into the office and see familiar faces is taking a toll on us across the globe. In fact, a recent Canadian poll found that 54% of people surveyed felt lonely and isolated as a result of physical distancing during the crisis. The feeling of camaraderie and productivity we feel when we're surrounded by our team and working toward shared goals is hard to achieve when we're stuck in isolation. That's why communication should be a top priority these days — and not just around business topics.
Create ways for coworkers to engage with each other in a more casual context. This can be an informal Slack or Skype water-cooler chat room or a weekly video call meant for sharing stories, life updates, and/or cute cat videos. Socialization is an important part of mental health, so no matter what type of informal communication works best for your company, make sure that employees have an outlet for it.
Offer Flexible Work Hours
Sticking to a routine is often cited as a recipe for productivity — but that applies to normal days, when we aren't experiencing the anxiety and isolation of this crisis. What's more, stay-at-home orders make it even more difficult for employees to reap the benefits of professional mental health assistance when they need it. The crisis has affected our moods, our sleep, and our diets — all important factors for good health — which makes it more important than ever to be flexible with your expectations.
If your team is largely self-sufficient and doesn't need daily input or interaction from others, consider making a deal with them: you'll provide reasonable, clear objectives and expectations as usual, and they can work during the hours of their choosing as long as they log their agreed-upon hours each week or are actively completing milestones/deliverables. For businesses that lack this flexibility, consider padding your deadlines, if possible, to offer employees a bit of wiggle room and help ease situational anxiety.
Redefine What Supervision Means
During uncertain times, it's easy for employees to lose sight of why their work is important. A strong supervisor will be able to remind them, and create a renewed sense of purpose and togetherness for the team. After all, when people focus on the meaning of their work, they're more inclined to become personally invested as well as explore creative new strategies and ideas.
Protect Your Team and Your Business when They Need It Most
Another important part of any workplace policy — whether a remote or traditional in-house office — is to have a strong insurance plan in place to protect your employees and your business. At Cerity, our goal is to help organizations find more nimble solutions to meet their business goals. That's why we make it quick and easy to get the affordable workers' comp insurance you need to keep your team healthy and safe.
Get a free quote for worker's comp insurance via our online quote tool, and get moving toward a safer workplace for your entire team.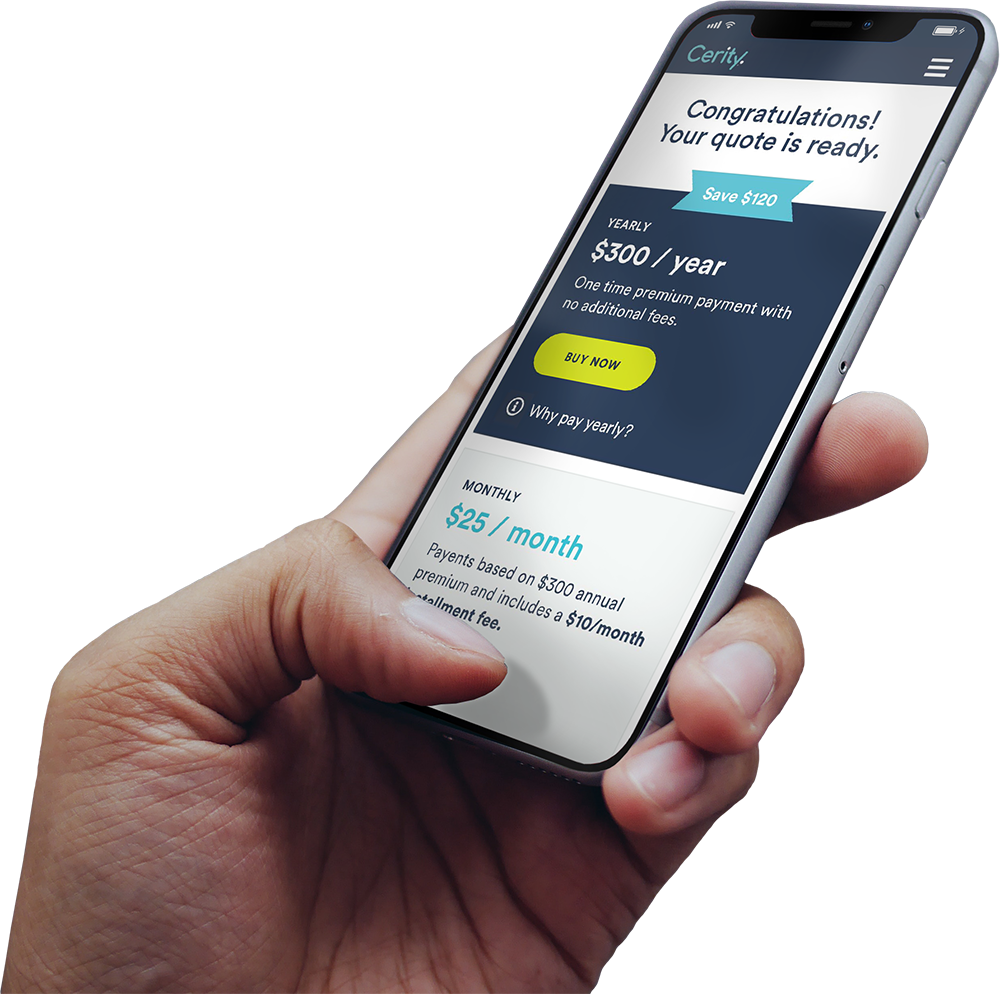 Grab your free quote today.
It only takes a few minutes, whether you're already covered or just getting started.