Can an Employee File a Claim for an Injury Sustained While Working from Home?
Today's digital workforce has revolutionized the way employees get their work done — or, more specifically, where they get it done. However, what the COVID-19 pandemic has shown us is that working from home is not just a "nice-to-have." During the pandemic, when stay-at-home and shelter-in-place orders have necessitated remote work, it's become clear that, for many organizations, work-from-home policies are a must-have in order to continue operations in an emergency situation.
As workers grow more comfortable and accustomed to working from home, allowing remote work may be a key way to retain and attract talented employees. In short, working from home is not likely to go away anytime soon.
When employees are working from their cozy couch or home workspace, it might seem like they couldn't possibly be safer — but the truth is that an injury can happen anywhere, at any time. So what happens if one of your work-from-home employees is injured while working?
Work-Related Injuries Are a Risk, Even at Home
A home office may not seem as inherently dangerous as other workplace environments, but that doesn't mean that employees can't hurt themselves there. And if one of your workers is injured or suffers a health condition while on the clock, is your business legally responsible?
The answer is "most likely yes" — individuals who work from home are legally entitled to the same workers' comp benefits as traditional office employees. As an employer, your lack of control over the conditions of your employees' home-based work space is irrelevant – workplace injuries should always be reported to your insurance carrier, where a licensed adjuster will make a determination on coverage and benefit eligibility. According to the Occupational Safety and Health Administration (OSHA), as a small business owner, you're responsible for providing your employees with a safe work environment — both traditional office employees and telecommuters.
The top causes of workplace injuries are things like repetitive motion in microtasks (which result in stress or strain) or slips, trips, and falls — all of which can happen at home just as easily as they can in the workplace.
How Does Workers Compensation Work?
Once an employee files a claim for injury, a licensed adjuster will determine if the injury or condition occurred "within the course of and arising out of" their employment. "Arising out of" refers to what the employee was doing when the injury occurred, and "within the course of" refers to when the injury happened.
A license adjuster will investigate the claim whether or not it happened in a traditional workplace, or a home office. In addition to investigating the proximate cause of the alleged injury, the adjuster will also need to know the precise location where the injury occured. Did it happen in a home office, or while away from home? In a chair, or while driving? All these facts will help inform a licensed adjuster's compensability determination.
How to Protect Your Business
As an employer, you can protect your business by implementing practices that may limit workers' compensation liability for home-based employees. These practices may include:
Developing a work-from-home policy that outlines your expectations for remote employees.
Creating guidelines for a home office, including a specifically designated work area.
Offering training related to work space setup and safety measures, focusing on ergonomics.
Establishing fixed work hours and meal and rest periods for telecommuting employees. This effort can help determine whether or not an injury occurred "within the course of" employment.
Most importantly, protecting your business against lawsuits resulting from workplace accidents with a comprehensive workers' comp insurance policy.
Looking to Purchase Workers' Compensation Insurance Online?
Accidents happen, but workers' comp insurance protects your business against the unexpected. What you pay is more than just a premium — it's an investment in the health and safety of your business and your people. At Cerity, we make searching for workers' comp insurance simple by offering free, immediate quotes for your business. To get a free quote online, visit our free workers' comp quote tool and get started protecting your business.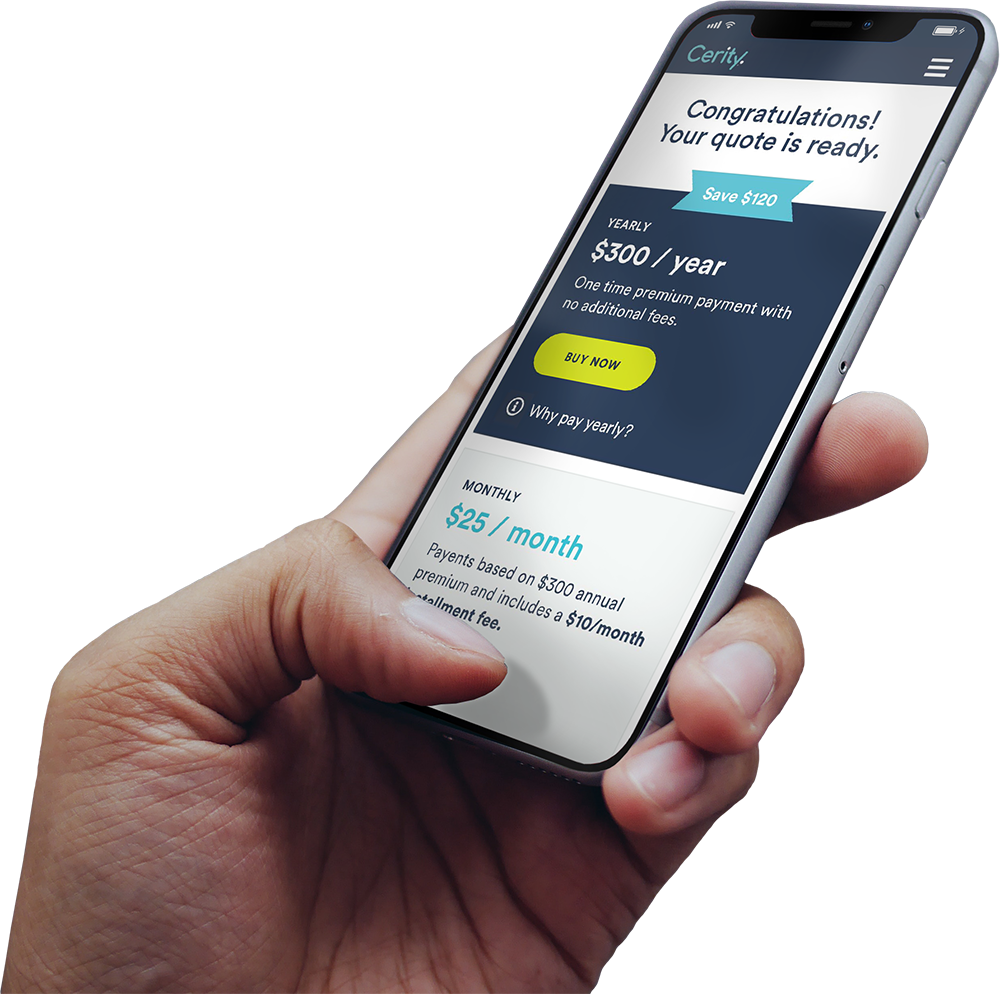 Grab your free quote today.
It only takes a few minutes, whether you're already covered or just getting started.