8 Tips for Starting a Small Business
Starting your own business can be exciting, but it comes with lots of daunting questions. There are many requirements to becoming a small business owner. Whether you are an experienced entrepreneur or you're just getting started, following a detailed plan to build a solid foundation will be important for your short and long-term success. Here are a few essential tips for opening a small business:
1. Plan your business. Once you've completed your initial research, write a business plan. It can be a simple one-pager to set and clarify goals, or it can be extremely detailed across many pages like a traditional business plan. The U.S. Small Business Administration offers a great template.
2. Know your finances. Whether you have financing already or you need to secure additional backing, it's never too early to put an accounting plan in place. It will add understanding about what funds you currently have available to start your business, what funds you'll need to put aside moving forward, and help you make your case for when you need more. Small business funding sources vary widely, from small business loans or grants, to angel investors and crowdfunding. Each has their own pros and cons, so weigh your options carefully. Consider hiring a professional accountant or consultant if it becomes overly complicated.
3. Choose and register a name. Consider your customers, your competition, and even your location. Think about what you want to inspire in others. Your name should reflect that. Sit down, write down a bunch of names, narrow it down to the strongest contenders, run them past those you trust, nail down a final list, then see if any are taken. Once you find the one, register your Web domain and social media pages, and file for copyrights and trademarks.
Naming your company is important and can be an intensely personal exercise. It may even keep you up a few nights. If you haven't landed on a name yet, or if you have a name and just need some strategic confirmation it's the right one for your business, start by reviewing your initial research and business plan.
4. Apply for an EIN. An Employer Identification Number is required for any business with employees other than yourself. Even if you are starting out as a solo act, getting an EIN can protect your personal identity and online privacy because you won't need to use your social security number. Plus, when you start hiring employees, you'll already have this step handled. And it's easy to apply for and receive your own EIN.
5. Secure licenses and permits. You will need a number of different small business licenses and permits depending on your type of business and where you will be based. Each state has different requirements, so take time to see what you need and complete them fully.
6. Find the right location. Some businesses may be able to operate out of a home office or a co-working space. But if you need a storefront or office space, it's important to find the right one at the right terms. Learn what each type of space means for your bottom line, make sure it fits your current needs and allows for appropriate growth in the near future.
7. Assemble the right team. If you plan on hiring, make sure you're recruiting the strongest team possible. It can sometimes take longer than you'd expect to find the right people or entities you can trust, so it's okay to get started now. Maybe you need a full-time staff, or maybe you want to work with independent contractors. Each option has advantages and disadvantages. Write detailed job descriptions with clear expectations about responsibilities and performance, put the word out, and start interviewing.
8. Secure your insurance. Once you've got everything in place, find the right insurance partner. Whether it's general liability, property, auto, or workers' compensation insurance, you want to be fully covered. At Cerity, we specialize in small businesses and all their workers' compensation insurance needs. So if you have questions about premium costs, what sort of coverage you need, when you will need it, we're here to help.
As your company grows, Cerity is here to help you grow responsibly. Learn more about small business and workplace coverage in our Learning Center and how Cerity helps protect you for the long-term.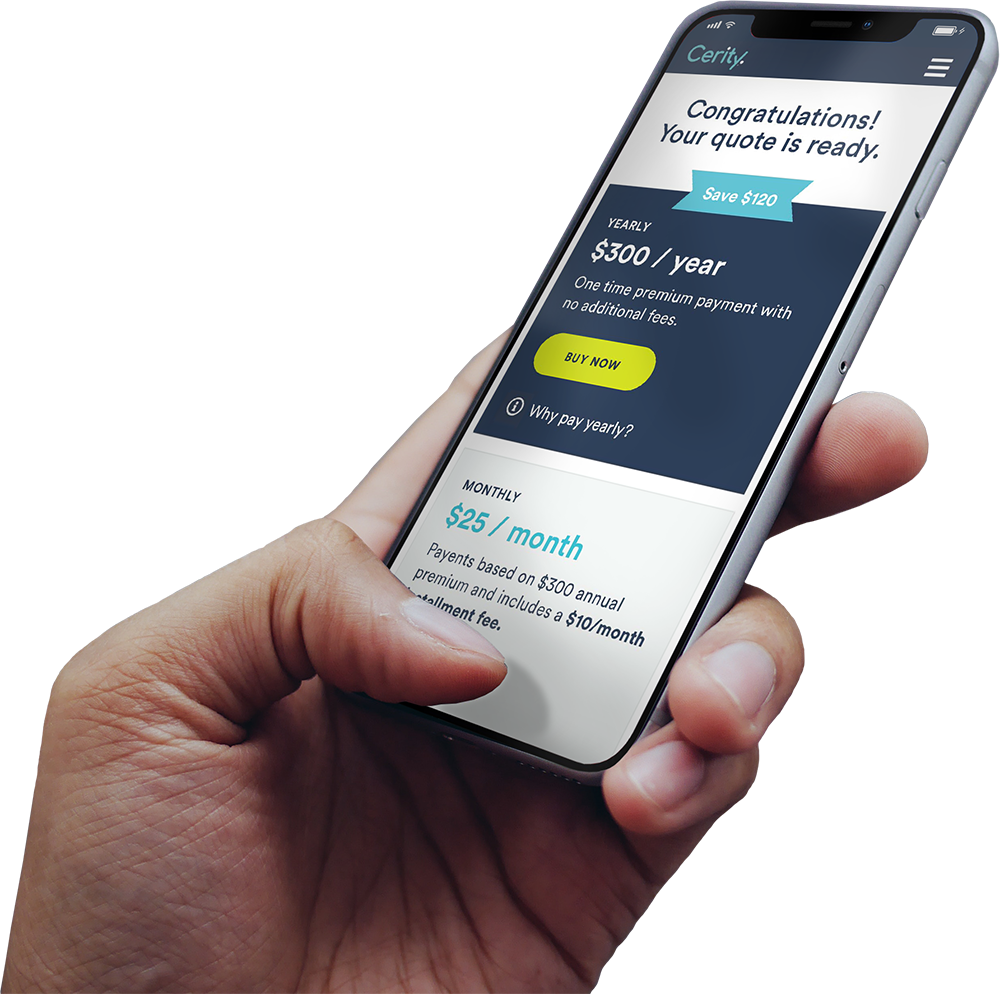 Grab your free quote today.
It only takes a few minutes, whether you're already covered or just getting started.