Workers' Compensation for Plumbers
Plumbers work with heavy, dangerous equipment in wet, cramped spaces. It's a tough job that requires manual dexterity and attention to detail. Cerity takes pride in providing workers' compensation plumbing insurance to all of the hardworking plumbers in the industry.
Regardless of how safe an employee is on the job, there is always the chance that an accident will occur. Not to worry, though. Workers' comp will help to protect your staff and your business when injuries happen.
Yes, Plumbers Need Insurance, Too
Do plumbers need insurance? Yup. Even if most states didn't require companies to carry plumbers' insurance, it would still be a smart move to have policies for your staff. Workers' compensation insurance protects the worker by providing wage, injury, and death benefits to those who have suffered on-the-job accidents.
Not only does workers' compensation insurance help employees, but it also acts as a shield against potential lawsuits. Workers' comp gives you the peace of mind to concentrate on your clients' needs.
Minimizing Costs
Keeping your insurance premiums low is something every business owner is concerned with. There are a few different ways in which you can achieve this.
Have your employees take regular safety training classes. Insurance companies often offer lower rates for those that can show a certificate of completion from a safety training class.
Make sure that management is following all best practices in regard to safety. Employees look to management to see what is and is not acceptable on the job. If management is engaging in unsafe practices to hurry a job along, you can bet that other workers will follow suit. It's better to just take your time and do the job as safely as possible.
Understanding Workers' Comp Classification Codes and SIC Codes
The National Council on Compensation Insurance uses a coding system to organize workers by what they do. Different codes will be insured at different rates by plumbing insurance companies. It's a good idea to make sure that all the codes match your employees' jobs accurately. You could end up having an over or under-insured employee. There is a chance you might be paying too much for an employee's coverage.
SIC or Standardized Industrialized Classification codes are used to determine the primary function of your business by the U.S. government. Commercial insurance providers use the SIC — as well as workers' comp classification codes — to determine insurance premiums. The more dangerous an industry is determined to be, the higher the insurance premiums. Just like with workers' comp codes, it is important to make sure your SIC codes are accurate.
Cerity covers many different industries. For information about your specific industry, take a look at our industry page.
There are two workers' comp codes and one SIC code those who work in plumbing-related industries will need to be concerned with. They are:
Workers' comp codes
5183 (plumbing, NOC, and drivers)
Plumber SIC codes:
Now what might you need these codes for? Let's take a look at the common threats and injuries plumbers might face.
Common Plumbing Injuries
While many might think being a plumber is a relatively safe profession, there are many risks associated with it, and many potential injuries they might face. These might include:
Plumbers will undoubtedly come in contact with asbestos at some point in their careers. Asbestos is used heavily in construction for insulation purposes. While it is an effective heat-resistant material, it is highly toxic. Asbestos causes mesothelioma, lung cancer, and other cancers. If you suspect that asbestos has been used on a worksite, it is best to wear a respirator or mask to protect yourself.
Plumbers often work in confined spaces. Boilers, storage tanks, and sewers were not designed to sustain the oxygen levels needed to keep plumbers safe. A lack of oxygen or exposure to toxic gasses can result in serious injury or death.
Temperature-related injuries. Working around pipes containing hot water or steam can cause serious burns. Sometimes plumbers must work outdoors in inclement weather. Cold weather conditions can lead to frostbite if the plumber isn't careful.
Hearing loss. Noisy pipes and power tools can cause hearing loss. According to the W.H.O., almost 50% of plumbers have experienced varying degrees of hearing loss and inner ear damage. Using ear protection can greatly reduce the chances of experiencing a hearing-related injury.
Toxic mold can hide underneath sinks and inside paneling. Depending on the type of mold, exposure could result in anything from being asymptomatic to death. Just like with asbestos, using a mask is a terrific precautionary measure.
Get Protection for Your Business
Whether you're already covered or just getting started, it only takes a few minutes to get your business protected.
At Cerity, we're dedicated to a faster and more affordable approach to the workers' compensation insurance needed for tutoring businesses. We use proprietary tools and modern technology to provide plumbing companies just like yours with quick quotes and instant coverage.
Visit our workers' compensation quote tool to get your free online quote and experience the Cerity approach to workers' comp insurance.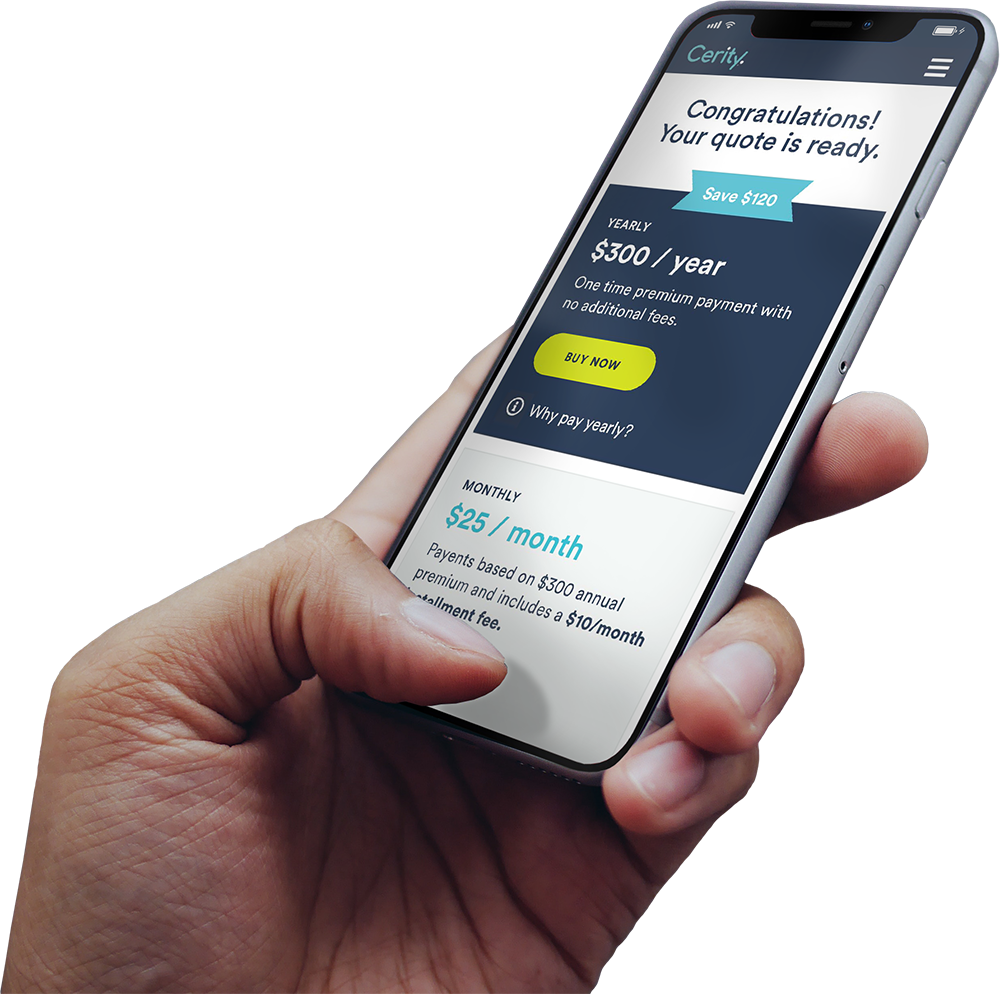 Grab your free quote today.
It only takes a few minutes, whether you're already covered or just getting started.