Plumbing is hard work, so we work hard to protect plumbing businesses
Affordable workers' comp insurance for plumbing businesses, with no hassle
Whether you run a residential or commercial plumbing business, you need workers' compensation protection that works just as hard as you do. 
Being a plumber is one of the toughest jobs there is. Not only is the work physically demanding, repetitive, and meticulous, but it often takes place in some of the most confined, wet, and hazardous places. To put it mildly, being a plumber is a tough job.
Because of the high risk and rough conditions, plumbers and plumbing businesses need the protection of great workers' comp insurance. But great protection doesn't have to cost a fortune. 
Workers' Comp Insurance for Plumbers and Plumbing Businesses
Workers compensation insurance (sometimes also called "workers comp" or "workman's comp") is business insurance that specifically protects employees when they are injured on the job. Workers compensation plumbing insurance covers a wide range of expenses, including:
Medical costs for treatment of a workplace accident or injury

Loss of income for plumbers who are temporarily or permanently unable to return to work
Workers comp insurance does not cover expenses when an injury is not work-related. In addition, if a plumber or other employee has been using drugs or alcohol, violating company safety policies and practices, or engaged in other hazardous behavior, they may not be able to claim workers' compensation benefits. 
What are the Most Common Workplace Risks for Plumbers?
The most common workplace hazards in the plumbing industry are:

Working at high heights

Repetitive motion

Eye injuries

Hearing loss

Working in extreme temperatures

Hand tool injuries

Exposure to biological hazards like mold and/or parasites 

Exposure to hazardous chemicals from adhesives, flux, and other compounds 
The most common workplace injuries for plumbers are:

Slips and falls.

Plumbers may need to work in wet or slippery conditions or may need to work at elevated heights. Even a short height can cause significant injury during a fall, especially if the impact is to the back or head  

Eye injuries.

Even with safety glasses, plumbers are often exposed to eye injuries in the case of a pipe burst, trench collapse, or equipment malfunction. Plumbers also are at risk of touching or rubbing their eyes on the worksite and exposing themselves to infections. 

Hearing damage.

A staggering

38% of plumbers and pipefitters

suffer from work-related hearing loss. Hearing damage among plumbers is a growing risk, due to the number of power tools used on a worksite, and tighter construction schedules that require multiple jobs to be performed simultaneously, increasing noise levels for all workers.  

Heat and cold injuries.

Plumbing and pipefitting work often takes place in extreme temperature environments. Working in damp and moist areas when cold increases the risk of hypothermia and frostbite, and plumbers are also at

elevated risk for scald and burn injuries

.  
How Can Plumbers and Plumbing Businesses Mitigate the Risk of Injury?
For plumbing contractors and businesses with employees, the best way to mitigate the risk of injury (and possibly lower your workers' comp business insurance premiums), is to implement a workplace safety program. It's also important to review workplace guidelines for confined spaces and chemical hazards.
For plumbers and pipefitters who want to avoid injury and stay safe on the job, always follow workplace safety guidelines like using appropriate PPE, including eye and ear protection, using standard safety procedures when handling chemicals and hand tools, and maintaining good hygiene at the worksite. 
Is Workers' Compensation Insurance Required?
Yes. While each state has slightly different rules governing worker's compensation, workers' comp insurance is required for virtually all plumbing businesses with employees. This kind of business insurance is important for protecting employees in case of workplace accidents or injuries, but also for reducing financial risk and liability for your business. 
Cerity specializes in protecting employers with workers' comp insurance that is fast, easy, and affordable. We offer same-day coverage with simple payment options, and you can cancel any time. Cerity can help plumbing and pipefitting businesses get the best rates on workers' comp insurance, with no hassle. To get a free quote in just minutes, visit our workers' comp quote tool.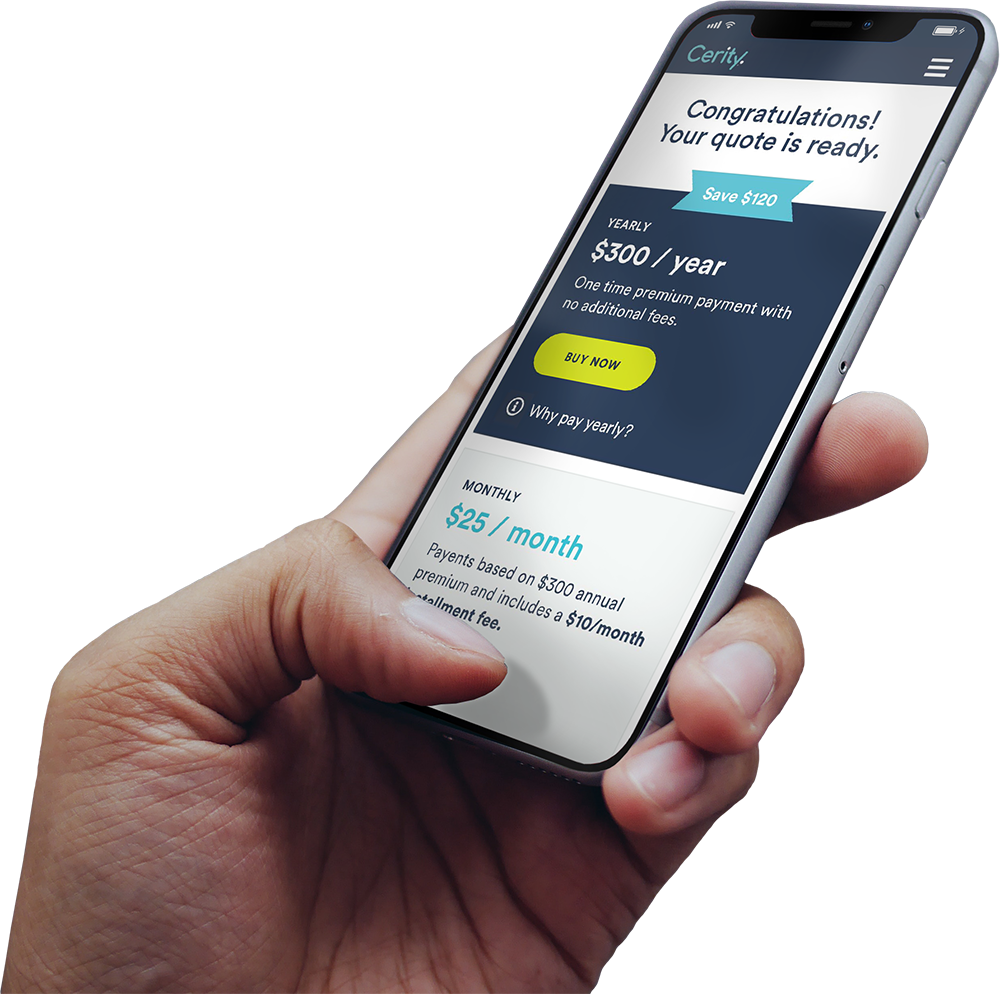 Get protection for your business baby.
It only takes a few minutes, whether you're already covered or just getting started.