Workers' Compensation for Photographers
As a photographer, you'll do anything to get the perfect shot — and that means that you and your crew have an increased risk of being hurt on the job. Whether on-set, in the studio, or on location, there are countless occasions for potential accidents. Should a crew member be injured on the job, you could be held liable, potentially resulting in financial devastation.
Fortunately, as a photography business owner, you can enroll in photographer insurance as a preventative measure to keep your business protected.
Workers' Comp Insurance for Photographers
If an employee or member of your crew  is injured while on a shoot or at your studio, you could be responsible for the costs of their medical expenses — both initially following the accident and on an ongoing basis.
Professional insurance for your photography or videography business can help cover the costs of such financially complex situations, protecting your business and your employees. As a result, you can focus on what matters most — capturing extraordinary memories with your camera.
Photography Employee Injuries
Shooting photo, video, or film on location might seem like a glamorous profession, but it's not without risk. A crew member could experience a fall from a ladder while setting up a shoot. A gaffer could suffer back problems from carrying heavy equipment — and require ongoing treatment or surgery as a result. You and your crew need to take risks to get the perfect shot, but you also need to ensure that everyone is safe while doing so. If you don't have photography insurance, you could be financially liable for all medical costs stemming from on-the-job injuries, whether on-location or in the studio.
Photography business insurance can be a financial lifesaver in the event of an on-the-job injury. Enrolling in coverage protects you and your employees, whether they're freelance photo assistants, studio employees, or independent contractors. Learn more about workers' compensation insurance for independent contractors here.
Workers' comp insurance can help cover the high medical costs associated with:
Emergency care (ER visit, ambulance, etc.)
Ongoing care (physical therapy, medication, etc.)
Lost wages
Photography Insurance Liability Coverage
While on-the-job injuries are a major contributor to the need for worker's comp, business owners are also vulnerable to high litigation costs, should an injured employee choose to file suit.
The high costs of potential settlements and attorney representation can be financially damaging for your photography business — which makes it crucial to ensure that your workers' comp policy offers liability coverage as well as medical.  Liability coverage helps fitness professionals pay for:
Court fees
Attorney costs
Settlement payments
Additional legal costs
Laws vary by state, but most businesses are required by law to have  some form of liability coverage. For states that require photography insurance coverage through monopolistic state funds (North Dakota, Ohio, Washington, and Wyoming), additional private coverage may still be necessary to fill gaps in liability coverage, which some monopolistic state funds do not offer.
Risk Management for Photographers
Photographers and videographers who frequently work on location are vulnerable to numerous accidents. To ensure that everyone is working safely — and to minimize the chance of injury in an often hazardous industry — it's important to focus on managing risks and preventing injuries before they occur.
Risk management precautions such as implementing employee safety trainings and policies help protect your employees from injury and your business from financial ruin. They can also reduce your commercial photographer insurance premiums, since many insurers utilize risk management tools to determine a business's likelihood of employee injury and assess the cost of business insurance for photographers.
Cost of Workers' Comp Insurance
The cost of workers' compensation insurance depends on a variety of factors. Your premium is determined based on the type of business, jurisdiction, and even employee payroll records and history of workplace accidents.
At Cerity, we believe in a quick and stress-free process for obtaining workers' comp insurance. Using proprietary tools and intelligent pricing, we offer instant quotes, with policy options that can begin immediately. To get a free quote online, visit our workers' comp quote tool.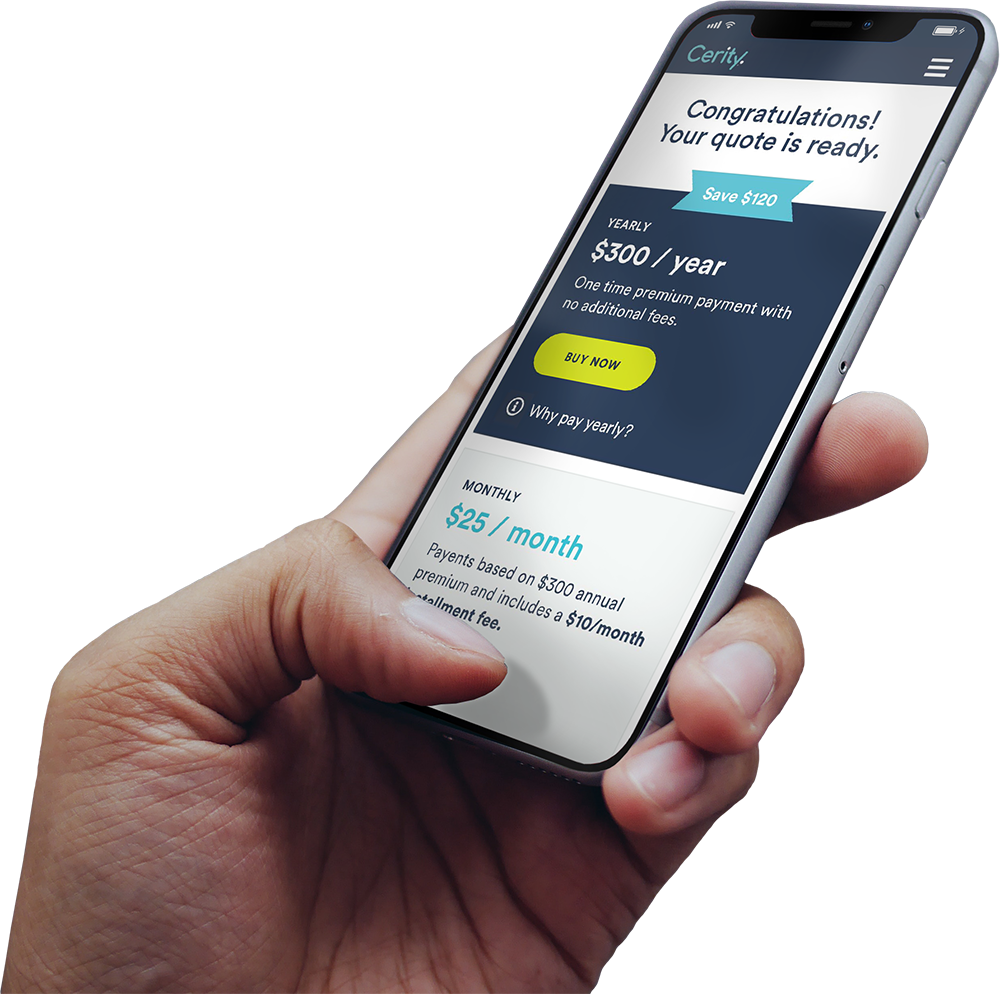 Get protection for your business baby.
It only takes a few minutes, whether you're already covered or just getting started.