Workers' Compensation for Personal Trainers
Affordable workers' comp insurance for personal trainers — without phone calls or paperwork.
While you keep your clients fit and healthy, we protect your business.
Teaching fitness to others and working around exercise equipment will always come with a certain level of risk. If you are an independent personal trainer or own a fitness business with trainers and teachers, it's important for you to understand these work-related injury risks and what they mean for your business.
Workers' compensation insurance can help protect your business when an employee is injured. This type of commercial insurance can pay for the injured employee's medical expenses and part of their lost wages.
Workers' Comp Insurance for Personal Trainers
Despite your best efforts, workplace accidents cannot be avoided. If one of your facility's personal trainers or fitness instructors suffers a work-related injury such as back or neck strain or a slip-and-fall incident, they may need medical care. And the cost of this medical care can be damaging to your business if you don't have the right protections in place.
Workers' comp insurance gives your personal training business that protection. This type of business insurance covers the cost of medical bills resulting from workplace injuries as well as costs related to workplace injury lawsuits.
Personal Trainer Injuries
Given the physical nature of personal training, it should come as no surprise that fitness professionals are at risk for injuries while working. Showing a client a difficult lifting exercise, demonstrating a yoga position, or spotting a client can all result in injuries that may require medical attention and missed time from work.
That's why it is essential for personal training and fitness companies to have a comprehensive workers' compensation insurance policy. Most states require businesses to carry this type of professional insurance to cover medical expenses related to employee injury or illness.
Workers' compensation insurance will help cover the following for employees who experience work-related injuries:
Costs incurred from ambulance services and emergency room care
Medical costs associated with ongoing care, such as physical therapy appointments or monthly medications
A portion of lost wages while the injured employee is unable to return to work
Personal Trainer Liabilities
In addition to medical care costs, an injured employee may also be entitled to additional compensation. That is why many workers' compensation insurance policies also include liability coverage to protect your business from employee lawsuits that can have a devastating impact on your company's finances.
Most workers' compensation insurance policies that offer liability coverage can help cover:
Attorney fees and other court costs
Settlement payments to injured employees
Any other related legal fees incurred during the process
Laws vary across the country, but most states require businesses to have some type of liability coverage as part of their professional insurance. States that require businesses to purchase workers' comp coverage from monopolistic state funds may not offer liability coverage, so personal trainers may need to purchase additional private insurance to ensure that they are protected.
Risk Management for Personal Training Businesses
Risk management is an important part of reducing the chances of workplace injury at your fitness facility. Personal trainers should carefully consider the risks that are inherent in their industry and work to develop practices and employee training that help prevent these risks. For example, trainers and fitness professionals may want to stretch and warm up before working with clients or check equipment thoroughly before demonstrating exercises.
Risk management can help you not only avoid workplace injuries but also lower your workers' compensation insurance premiums. Insurance providers use risk assessment tools to determine a company's insurance costs, so they may incentivize certain risk management policies or procedures that lower your business's risk of workplace injuries.
Cost of Personal Trainer Workers' Compensation Insurance
A number of factors impact the cost of personal trainer workers' compensation insurance. Insurance providers will determine costs based on the following:
Nature of your business
Company payroll records
Business jurisdiction
Facility's history of workplace incidents
It's important to remember that when you purchase a workers' comp insurance policy, you aren't just paying a premium. You are investing in protection for your business and your employees.
At Cerity, we aim to make the workers' comp insurance buying process simple and straightforward. Powered by proprietary tools and new technology, our online quote tool offers you a free, quick workers' compensation insurance quote for your personal training business without tedious phone calls and paperwork. Get your free online quote today.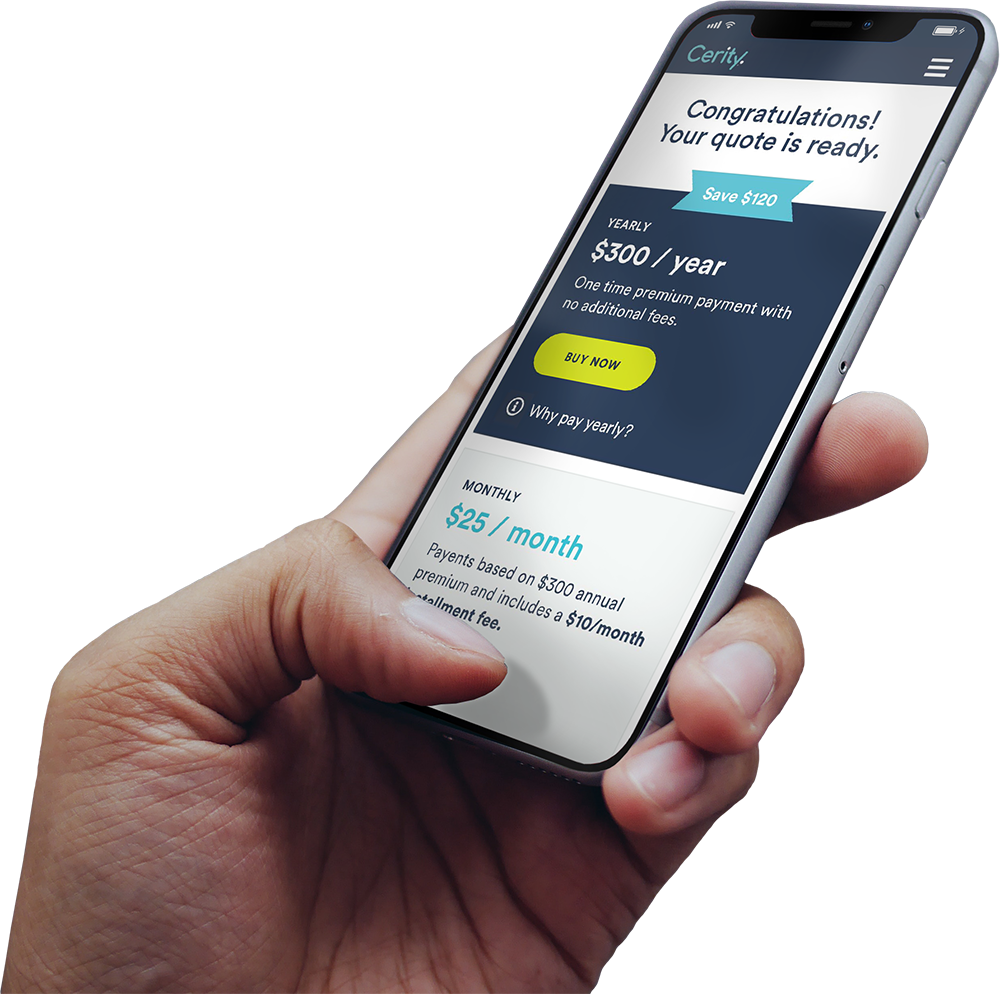 Grab your free quote today.
It only takes a few minutes, whether you're already covered or just getting started.