Workers' Compensation for Nail Salons
Working in a nail salon around chemicals and sharp tools puts nail technicians and other salon employees at risk of injury. Even employees who do not work directly with customers can experience injuries from hazards like a wet floor or tangled cables blocking their path.
While putting preventative measures in place to lower injury risks in the workplace is important, there is always a chance that injury or illness will strike. Workers' compensation insurance helps protect your nail salon from significant financial losses by paying for injured workers' medical expenses and part of their lost wages as they recover.
Workers' Comp Insurance for Nail Salons
While you may put a lot of effort into preventing accidents in your nail salon, these types of unexpected incidents cannot always be avoided. If one of your employees slips and falls on a wet floor or sustains a neck or back injury from long hours serving clients, the medical costs from these injuries can be damaging to your salon.
Workers' comp insurance can help protect you from the devastating impacts of costly injuries. This type of commercial insurance helps cover the costs of medical bills resulting from workplace injuries as well as related lawsuits.
Employee Injuries
While working in a nail salon may not be seen as inherently dangerous, employees can still be at risk for injury or illness, especially those that develop over time. Salon employees are often bent or hunched over a client's nails working hard to make them perfect. The job requires them to sit in the same position for long periods of time, which can cause stress on the back and neck.
Additionally, there is always the risk of an unforeseen accident such as a slip and fall or injury from lifting a heavy item. If an employee experiences one of these types of injuries as a result of working in the salon, they may need to seek medical care.
Workers' compensation insurance protects your nail salon from the financial strain that can result from these types of incidents by covering medical expenses related to the employee's injury or illness. Most workers' comp insurance policies will pay for:
Ambulance services and emergency room care costs
Ongoing medical costs from follow up visits, physical therapy, medication, etc.
Part of the lost wages incurred while the injured employee is unable to work
Nail Salon Liabilities
Your salon can still be held liable for a workplace injury even if your business is not at fault. That's why workers' compensation insurance offers liability coverage to protect your business from the financial hit of employee lawsuits.
Most workers' comp insurance policies offer liability coverage that helps pay for:
Attorney fees and court costs
Settlement payments
Other related legal fees
While laws will vary depending on your state, most states require nail salons to have some type of liability coverage as part of their workers' compensation policy. If your state requires your business to purchase a workers' comp insurance policy through monopolistic state funds, you may need to purchase additional liability coverage through a private insurer.
Nail Salon Risk Management 
While risk is inherent to owning a business, there are ways that you can work to reduce the risk of injury in your salon. It's important for every nail salon owner to establish policies and procedures that help maintain a safe workplace for all. Not only does risk management help you reduce the chances of employees experiencing serious injuries, but it may even lower your workers' comp insurance premiums.
Business insurance providers use risk assessment tools to determine the costs of insurance like workers' comp. That means that implementing risk management procedures in your nail salon can have a direct impact on your insurance costs.
Workers' Compensation Insurance Costs
Workers' compensation insurance costs depend on a number of factors, including the nature of your business, business jurisdiction, business payroll records, and your salon's history of workplace incidents. The only way to determine your insurance costs is by getting a free quote from a quality provider.
You invest so much time and money into making your nail salon a success — so why wouldn't you invest in insurance that can protect your business from devastating financial losses? It's time to find a workers' compensation insurance policy that works for you.
Cerity is changing the way that nail salons think about workers' compensation insurance. We make the policy buying process simple and easy by offering free, straightforward quotes powered by our proprietary tools and technologies. With Cerity, you can get started with your policy today by using our free workers' comp quote tool to get a free online quote.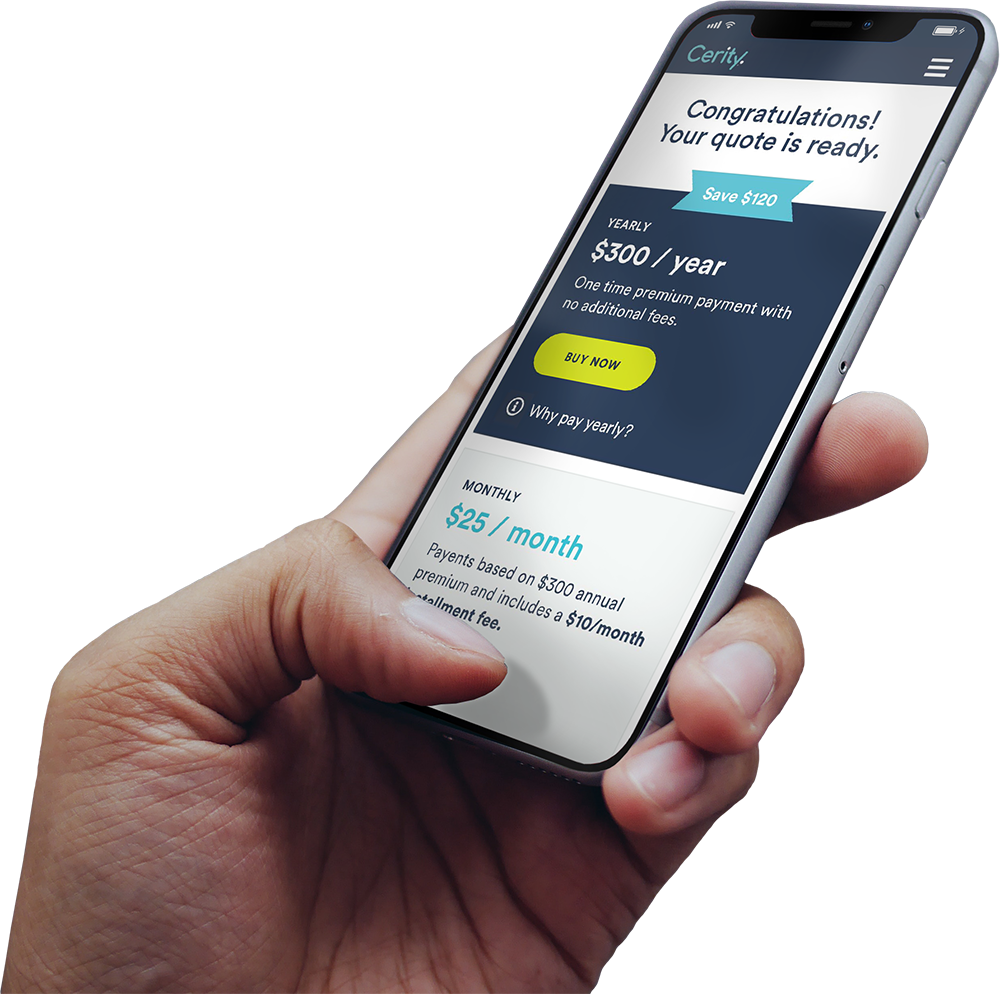 Grab your free quote today.
It only takes a few minutes, whether you're already covered or just getting started.