Workers' compensation insurance for hairdressers and barbers — without the hassle.
No matter what your client needs — cuts, coloring, blowouts, or extensions — you're prepared to do it all. But are you prepared to deal with workplace injuries and accidents?
From studying your craft, getting licensed, establishing clients, finding qualified employees, and selecting a space to conduct business, you've worked hard to build up your business. That's why it's critical for you to protect everything you've struggled to create for yourself.
Part of this protection is making sure your hairstyling business has all of the necessary insurance it needs to be covered against the surprises that life throws at you. Workers' compensation insurance for hairstylists and barbers is an important way you can protect yourself, your business, and your employees.
Workers' Compensation Insurance for Barbers & Hairdressers
Your focus as a hairstylist is learning new skills, providing for your clients, and managing your business. When it comes to things like business insurance, you might not have all the answers. And that's okay!
The reality is that hair salons and barbershops need insurance like workers' comp to protect the business and employees from the financial impact of workplace injuries, so it's important to understand what coverage is needed and why. In many states, hair salons and barbershops are legally required to have coverage. Some exemptions exist, but generally, all businesses with full-time, part-time, or even temporary employees will need to carry workers' comp.
Even if your state doesn't require workers' compensation for barbers, many hair and beauty professionals find that having a quality insurance policy offers protection and peace of mind. Without workers' compensation insurance, if you or an employee is injured while working, you could be held responsible for paying the associated expenses, including:
Medical treatment, services, and medications
Lost wages
Death benefits
Court costs, fees, and legal expenses in the event an employee files a lawsuit in relation to an injury or illness
These costs can add up. According to The National Safety Council, the average cost for burn-related injuries in 2017-2018 was $49,521. As a hairdresser who works every day with hot tools that can cause skin burns or start fires, you should prioritize having workers' comp coverage.
Hairstyling and Barber Business Risks
Regardless of how dangerous a business is, it's important to have insurance coverage for the unexpected. Unforeseen accidents happen every day, and these events can be extremely serious.
Insurance is especially important for barbers and hairstylists because of an increased risk for injury. Whether an employee is burned by a hot curling iron, experiences an occupational illness from chemical exposure, or cuts themselves with sharp scissors, workers' compensation helps protect you and your business against the financial burdens associated with the incident. With workers' comp, your haircutting business will be protected against costs like:
Emergency medical care including ER visits, ambulance services, or medical treatment
Continuing medical care including primary care physician visits, medication, or physical therapy
Lost wages due to an inability to work
Barbershop and hairdresser insurance like workers' comp is a helpful tool for both larger businesses as well as small businesses that have a handful of employees.
Risk Management for Hairstylists and Barbers
In your line of work, one wrong move can mean a disastrous hair day. A slip of the scissors or mixing the wrong color can be devastating for your clients. That's why you prioritize honing your skills and being proactive to ensure the right result for your clients every single time. This type of attention to detail is what makes you great at what you do. But are you spending the same kind of effort to ensure your business isn't vulnerable to the damaging effects of workplace injuries?
When it comes to protecting yourself, your team members, and your staff, workers' compensation is key in shielding yourself against the costs of on-the-job injuries; however, in addition to insurance coverage, being proactive about safety is critical.
Taking preventative measures to limit workplace injuries can include following industry best practices, using proper techniques, and holding safety training sessions. Not only can these steps help limit the number of workplace injuries in your hairdressing business, but they may even help lower your insurance premiums. Insurance providers favor businesses that prioritize safety in the workplace.
How Much Does Hair and Beauty Insurance Like Workers' Comp Cost?
As a business owner, you have a lot of expenses to manage, so it's understandable that when considering cosmetology insurance policies like workers' comp, cost is a factor. How much does barber insurance like workers' compensation cost?
Unfortunately, the answer varies dramatically based on a myriad of factors unique to your business. Among many things, insurance providers take into account the size of your barbershop or hairdressing business, how many employees you have, and where you're located to determine how much you'll pay for coverage.
Due to the convoluted nature of this process, getting various hairdressing insurance quotes from providers is the best way to determine how much you'll pay for workers' comp. But many business owners find the process of getting quotes to be confusing and frustrating. But, if you find the right provider, the process will be simple.
At Cerity, we created a faster and more affordable approach to workers' compensation insurance for hairdressers. We paired proprietary tools with modern technology to provide hair and beauty professionals the insurance they need. Every day we help beauty pros just like you get quick quotes and instant coverage.
Visit our workers' compensation quote tool to get your free online quote and experience the Cerity approach to workers' comp insurance.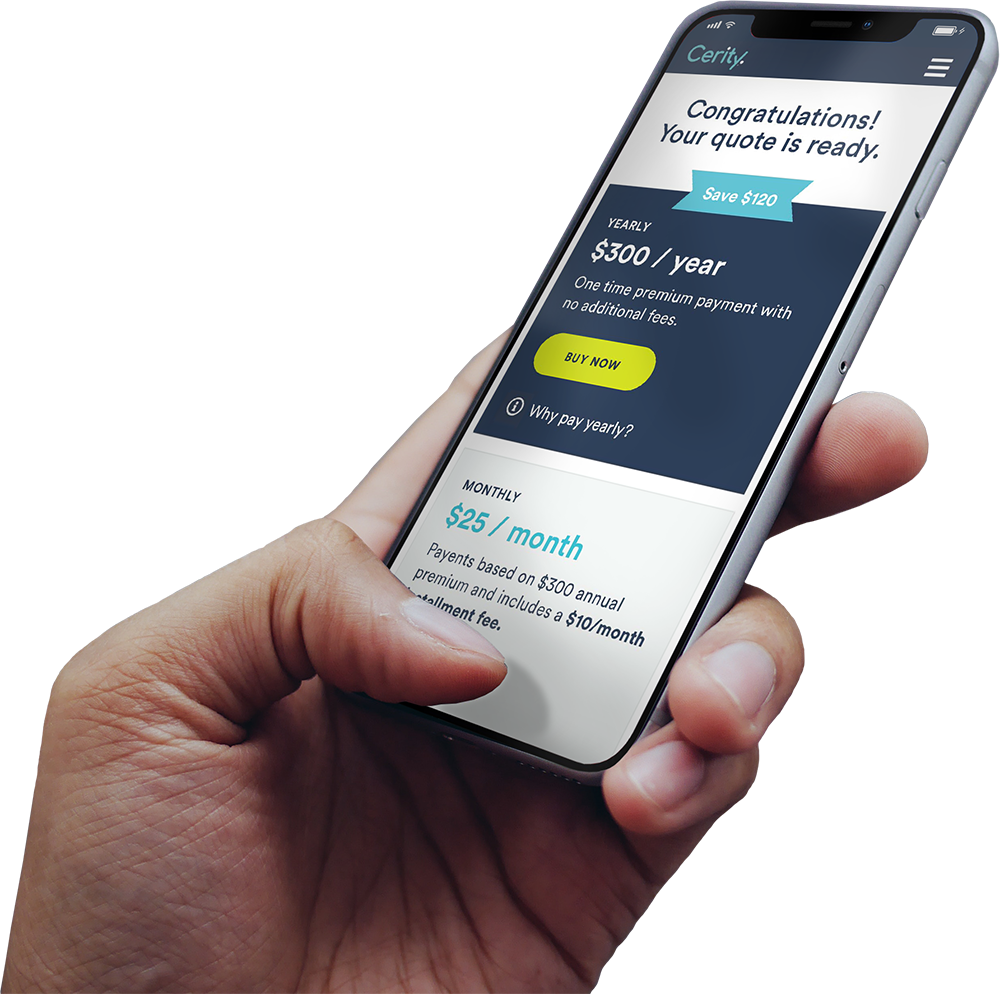 Grab your free quote today.
It only takes a few minutes, whether you're already covered or just getting started.