Workers' Compensation for Cosmetology Business
From styling hair to providing makeup design, facials, and nail care, your salon or cosmetology business is dedicated to helping your clients look and feel their very best. But what happens when an employee is injured on the job?
Strong chemicals, slippery floors, cosmetic tools and equipment: all of these can contribute to workplace accidents in salons or cosmetology businesses. This makes implementing preventative measures such as workers' comp insurance a top priority for all cosmetologists and salons to defend against those risks. When you enroll in beauty insurance, you're investing in the peace of mind that even in the event of an emergency, your business will stay healthy and protected.
Workers' Comp Insurance for Cosmetologists
The field of cosmetology includes many different professions — from hair stylists and barbers to estheticians and nail techs. But they have something in common. They're all exposed to significant hazards in the workplace on a daily basis. The cosmetology industry is full of potentially dangerous equipment and treatments that can pose a risk to the employees who work with them. Should an employee be injured on the job, your business could be held financially liable for all medical expenses — and even related lawsuits.
Fortunately, as a cosmetologist or salon business owner, you can enroll in hair salon insurance or nail salon insurance. This preventative measure protects your business by providing financial assistance to cover medical care and partial wages for employees who are injured on the job. That way, you can skip the stress and worry, and focus on your clients instead.
Cosmetology Employee Injuries
The cosmetology industry is full of potential hazards during a typical workday. Burns from chemicals or hot wax, back injuries from standing for long hours, and even equipment malfunction are all threats to your employees' safety. If you're responsible for covering the costs of those employees' medical care and lost wages, it can wreak havoc on your bottom line. That's why professional insurance is a must-have for cosmetologists or salon owners looking to protect their business.
Business insurance for cosmetologists and salon owners is often required by law, depending on the state. But regardless of state laws, workers' comp insurance is invaluable in the event of an employee injury. With commercial insurance, you're protected with assistance in covering costs related to workplace injuries, including:
Emergency medical care (ambulance, ER bills, etc.)
Continuing medical care (physical therapy, medication, specialist visits, etc.)
Potential lost wages
Cosmetology Liabilities
Even if your business isn't at fault for an employee's workplace injury, your salon or cosmetology business can still be held liable for more than just medical expenses. If an employee files suit against your business for an on-the-job injury, you could be held responsible for steep legal fees, potential settlements, and other litigation-related costs. So it's critical to ensure that your workers' comp policy offers liability coverage, in addition to medical.
Many workers' compensation policies that include liability coverage offer financial protection from:
Attorney fees and court costs
Settlement payments
Other related legal fees
Laws vary depending on your state, though most states require cosmetologists to have some type of liability coverage as part of their workers' compensation policy. If your business is located in a state that requires cosmetologists to purchase their workers' comp insurance through monopolistic state funds (North Dakota, Ohio, Washington, and Wyoming), you may need to purchase additional liability coverage through a private insurer.
Risk Management for Cosmetologists
Although risk is a natural part of any business, there are certain steps your business can take to prevent injury risks in the workplace. Cosmetologists should carefully consider the risks that are inherent in their industry and work to develop practices and employee training that help minimize these risks. Implementing safety policies and employee training programs in the workplace helps reduce the chance that an employee will suffer a workplace injury. It can also decrease your workers' comp insurance premiums, since most insurance providers use risk assessment to determine policy costs.
Workers' Compensation Insurance Costs for Cosmetologists
Whether you're looking for skin care insurance or hairdressing insurance, there is no one-size-fits-all workers' compensation insurance policy for cosmetology businesses. The cost of your workers' compensation insurance will depend on a number of factors, including the nature of your business, business jurisdiction, business payroll records, history of workplace incidents, and much more.
Cerity believes that buying your barber shop insurance or beauty salon insurance should be fast and hassle-free. That's why we offer quick, clear pricing that's easy to understand. Our signature use of proprietary tools and innovative technology provides cosmetologists and salon business owners with quick quotes and policies that can take effect immediately.
Workers' compensation insurance is so much more than paying a premium. It's an investment in business protection that can keep you safe from potentially devastating financial loss. Get started with your policy today by using our workers' comp quote tool to get a free online quote.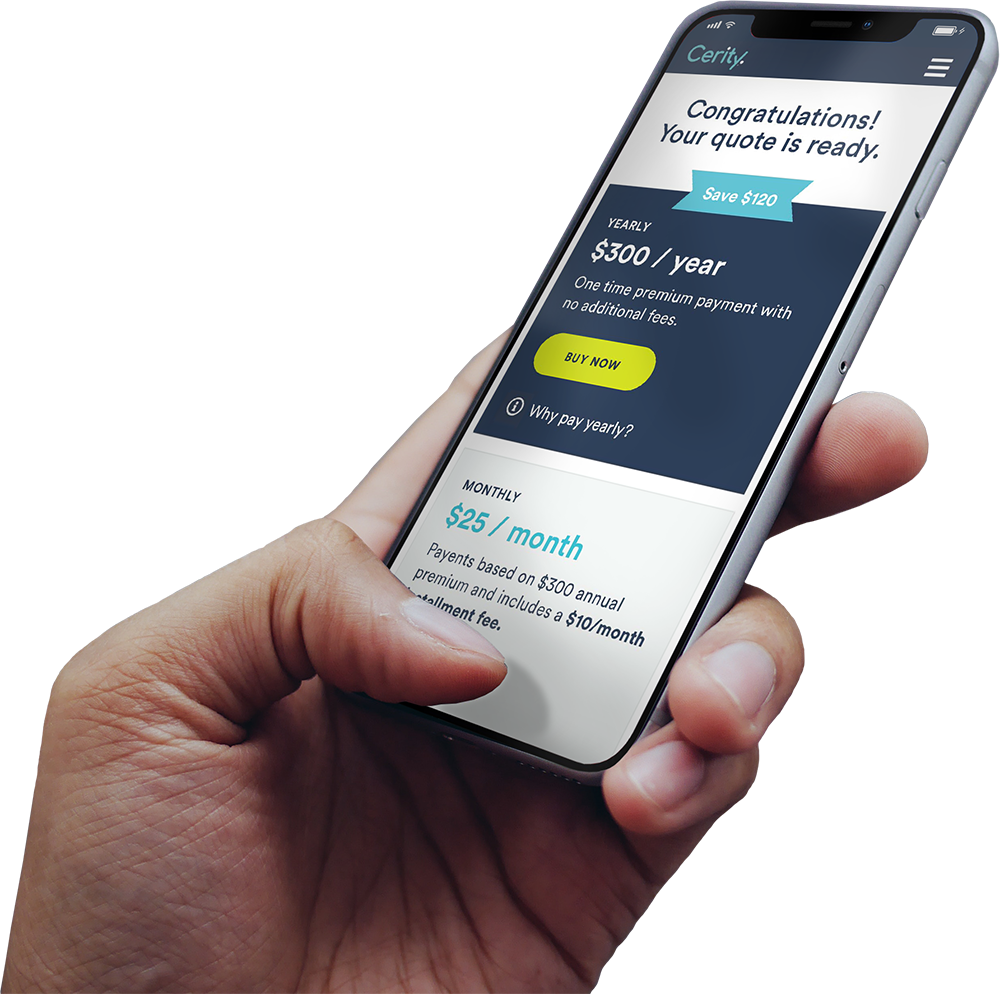 Grab your free quote today.
It only takes a few minutes, whether you're already covered or just getting started.