Flooring installers and workers' comp.
Flooring is a tough job, and we at Cerity take pride in making sure flooring installers are well protected with workers' compensation insurance.
No matter how careful you are or how long you've been in the flooring industry, accidents happen. But there's no reason to worry. Workers' comp flooring insurance takes care of your business when an on-the-job injury occurs.
Do flooring installers need workers' compensation insurance?
Murphy's law states that anything that can go wrong, will go wrong. While this is a pessimistic take, there is some truth to it. Most states require workers' compensation, and for plenty of good reasons.
A lot can go wrong on a job site. It's important that your business is protected with flooring installers' insurance. It gives you the peace of mind needed to concentrate on the job at hand, instead of constantly worrying about what accidents might occur and how much it will cost the company.
Workers' compensation insurance allows you to concentrate on your clients' needs while we protect your company.
No one can do everything or be everywhere at once. That's why Cerity exists — to make sure your business is safe while you tackle all of the problems that come with running a flooring installation company.
Workers' compensation insurance is the safety net all companies need should an accident occur.
We make workers' compensation insurance easy and painless, without phone calls or a tedious process.
Business and employee protection.
Optics play an enormous role in today's business world. In the unfortunate case of an employee being injured on the job, other employees will absolutely be observing how the claim was handled. Having workers' compensation insurance that takes care of all of an employee's needs will inspire confidence and loyalty in the rest of the staff.
Without workers' comp, you could be gambling with your company's future. Paying out-of-pocket for lost wages and medical expenses can cause a company to go belly up very quickly. Should an injured employee file a lawsuit, court costs and settlement payments can end up being the final nail in the coffin.
Minimizing costs
Cutting corners will cost your company more in the long run. Employees look to management to see what is and is not acceptable on the job. If an employee sees a supervisor working in an unsafe way, they will assume that is an acceptable way to work at your company. This will inevitably lead to more accidents. It's better to work in the safest way possible, even if it takes more time.
Another way to keep your insurance costs low is to have regular safety training sessions. Insurance companies will often offer lower prices for companies that can show their employees have received a certificate of completion from a training program. The fewer insurance claims your company has, the better the rate offered will be.
The number of claims your company has filed isn't the only way that workers' comp insurance rates are determined. The location, company payroll, and number of employees are all factors.
Understanding workers' compensation classification codes
The National Council on Compensation Insurance uses a coding system to organize workers by what they do. Different codes will be insured at different rates by flooring insurance companies. It's a good idea to make sure that all the codes match your employees' jobs accurately. You could end up having an over or under-insured employee. There is a chance you might be paying too much for an employee's coverage.
Cerity covers many different industries. For information about your industry, take a look at our industry page.
Examples of flooring installer classification codes
5478 — carpet, linoleum, and vinyl installation
5438 — Tile floor installation
5437 — Hardwood floor installation/refinishing
5645 — Residential construction
5651 — Commercial carpentry
5436 — California hardwood floor installation
The most common flooring installer injuries
Back and shoulders. Heavy lifting and repetitive motion can lead to serious back and neck injuries. Obviously, the better shape you are in the less likely it is that you will injure yourself. The use of support belts and back braces will greatly reduce the likelihood of having an accident.
Exposure to toxic chemicals. 80% of wood finishes contain toxic chemicals. Laminate flooring contains formaldehyde, aluminum oxide, cyanuric acid, and other chemicals known to cause kidney damage, asthma, and cancer.
Using gloves, masks, and eye protection will help reduce exposure. Making sure to work in well-ventilated areas with windows open and fans blowing should be added to your list of best practices.
Knee injuries. Flooring installers spend a lot of time on the ground. Using knee pads and shock absorbers will help protect your knees. Wearing proper footwear, as well as taking frequent breaks to keep stress on the knee at a minimum, will help protect installers' knees from being injured.
Get protection for your business with Cerity
Whether you're already covered or just getting started, it only takes a few minutes to get your business protected.  Get a free Workers' Comp insurance quote today using our free online quote tool.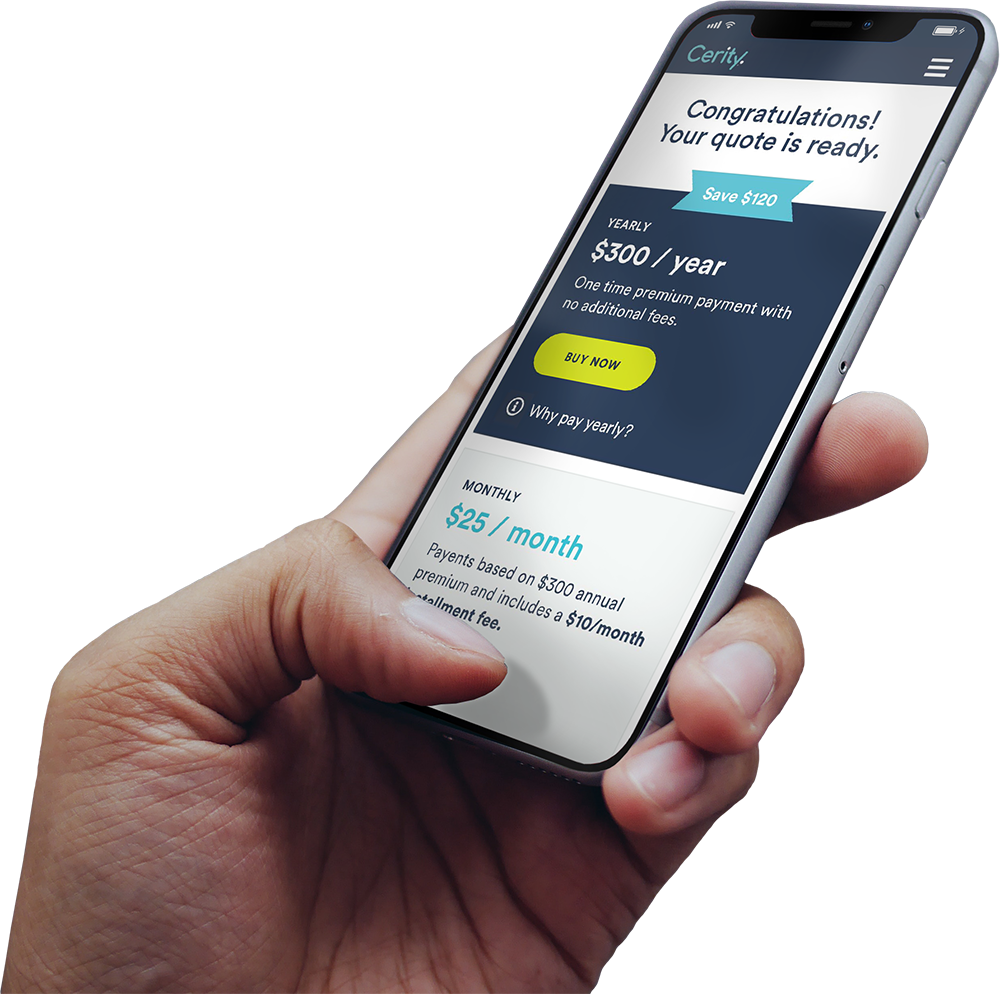 Grab your free quote today.
It only takes a few minutes, whether you're already covered or just getting started.