Workers' Compensation Guide for Sole Proprietors
As a sole proprietor, you are responsible for making all of the decisions related to your business. This can include many things like whether or not to hire subcontractors, how to file your business taxes, and what kinds of business insurance to purchase.
For many businesses, workers' compensation insurance is a must, either because their state requires it or because business owners want to protect both their financial health and their employees. Workers' compensation covers costs like medical expenses, lost wages, and legal expenses in the event that an employee gets injured or falls ill while on the job. However, for sole proprietors workers' comp can be a confusing topic, especially because sole proprietors' business models and approaches to employees often vary.
Below, we'll go over common questions related to workers' compensation insurance and sole proprietorship.
Do Sole Proprietors Need Workers' Comp Insurance?
Although it depends on your specific business model, most sole proprietors who do not have employees typically aren't required by state law to have workers' compensation insurance coverage.
However, in some states, such as California, laws do require all businesses, regardless of sole proprietorship status, to have workers' compensation insurance. To bypass this, you can apply for a workers' comp exemption, which declares that your sole proprietorship does not need workers' compensation insurance due to not employing anyone. This waiver typically requires you to fill out a form and pay a small fee, but it is beneficial for those who feel they cannot afford or do not need workers' comp.
Why Would a Sole Proprietor Need Workers' Comp? 
Although many sole proprietors may believe they do not need workers' compensation insurance, there are a variety of circumstances in which it would be a good idea to have coverage, including:
Hiring subcontractors. Some businesses hire subcontractors to help with projects. If a subcontractor is injured while performing the job, some states may view that as a workers' comp issue, requiring you to be responsible for the contractor's medical bills, lost wages, and more.
Client requirements. Some clients may require your sole proprietorship to have workers' comp coverage before hiring you for a job, particularly in industries with inherent risk, such as construction. Clients may not want the additional cost of hiring you as an employee to have you covered by their workers' comp policy, but they also do not want to be held liable should you get injured on the job.
Coverage for yourself. As the sole proprietor of your business, can you afford to be injured and out of work for a prolonged period of time? For many small business owners, the answer is no. Having coverage for yourself gives you peace of mind that you are covered and financially protected no matter what occurs while on the job.
How Much Does Workers Comp Insurance Cost?
The cost of workers' compensation insurance is based on a variety of factors, including the industry you operate in, your workers' compensation claim history, and the state in which you do business. However, many sole proprietors find the cost to be more affordable than they imagined once they get an online quote.
Cerity — Here for Small Businesses
At Cerity, we know that you have a lot on your plate as a sole proprietor. From making every single business decision to navigating the complicated world of commercial insurance, we understand how busy you are.
That's why we're here to support you by offering a faster, more affordable, and more flexible way to get a workers' comp quote. We're committed to quickly providing the coverage you want so you can focus your attention on more important things like running your business. To get a free quote online, visit our workers' comp quote tool.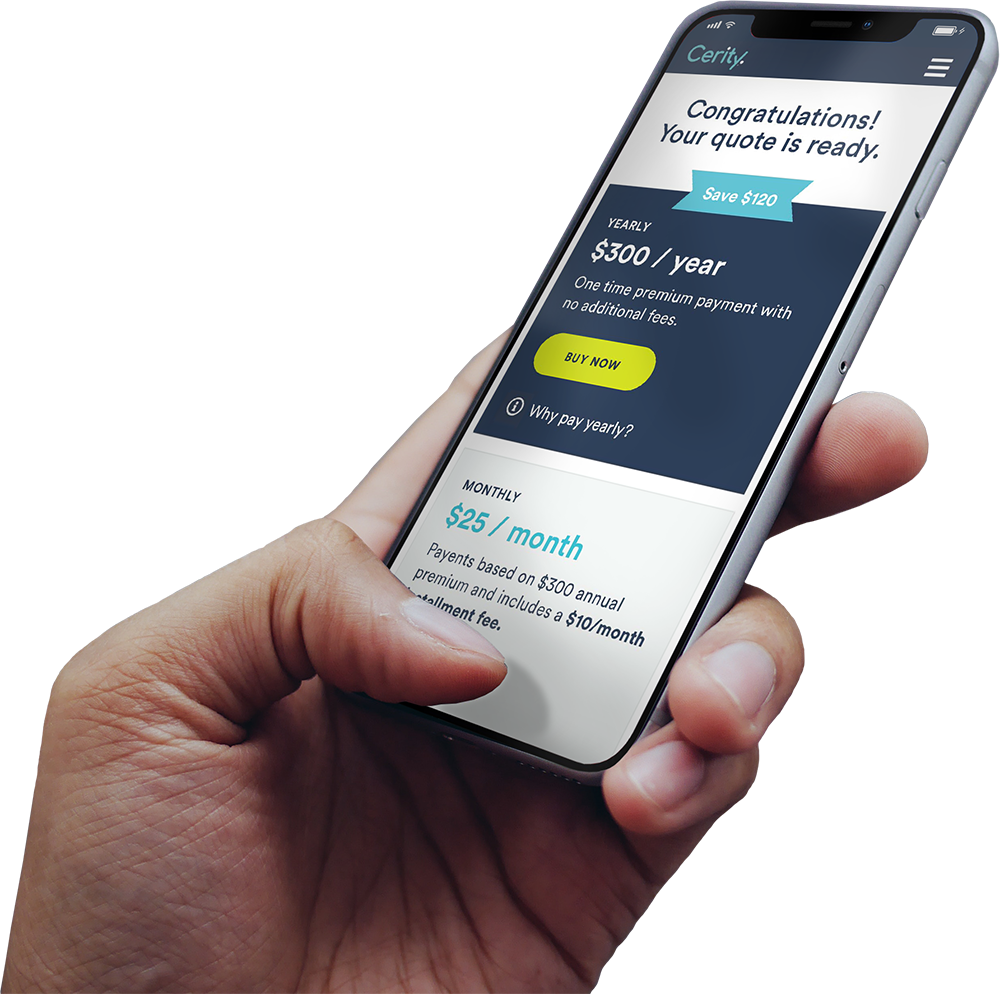 Get protection for your business baby.
It only takes a few minutes, whether you're already covered or just getting started.