Workers' compensation insurance for pressure washing professionals — without the hassle.
You know that there are risks associated with cleaning clients' properties, and you do your best to accomplish every job without damaging surfaces. But are you still risking your business's financial well-being by operating without comprehensive business insurance?
When it comes to revealing the beauty of your client's properties, you're the expert. But managing your business takes time, effort, and hard work. You can't be everything or everywhere at once. That's why business owners look to business insurance providers for protection if mistakes or injuries occur.
Are you protected in the event an employee hurts themself while working? Can you afford to pay for emergency room expenses, medical coverage, lost wages, and more? The answer for most businesses is no, and that's okay, but if your pressure washing company is not covered by workers' compensation insurance, you could be responsible for many of the major costs associated with employee workplace injuries.
Workers' Compensation Insurance for Pressure Washing Businesses
When you own your own pressure washing business, it's important to have workers' compensation insurance to protect yourself, your business, and the client. In fact, in most states, if you have employees (whether temporary, full-time, or part-time), you're legally required to carry workers' comp coverage. In addition, many clients may even require that your pressure washing business provide proof of insurance before hiring you to do a job.
Outside of legal obligation, why is workers' compensation insurance for pressure washing businesses important? Workers' comp provides protection in case you or an employee gets sick or injured while performing their job. Without coverage, your business could be held liable for paying the expenses related to a workplace injury or illness, including:
Medical treatment, services, and medications
Lost wages
Death benefits
Court costs, fees, and legal expenses in the event an employee files a lawsuit in relation to an injury/illness
According to The National Safety Council, the average cost of a workers' comp claim between 2018 and 2019 was $42,008 and the total costs of worker injuries in 2020 was $163.9 billion. Those are startling numbers that most small pressure washing businesses would not be able to afford — especially ones just starting out. If you have pressure washing business insurance like workers' comp, getting insured with workers' comp helps protect against these kinds of costs.
Pressure Washing Business Risks
Like many other industries in the home improvement field, pressure washing opens up a variety of potential risks to workers. According to Consumer Reports, high-powered pressure washers can generate anywhere from 1,500 to 4,000 psi. That amount of pressure can expose workers to risks of lacerations, bruises, punctures, or eye injuries if misdirected. In addition, up to 30% of pressure washer-related injuries eventually require surgery or amputation.
Accidents happen every day, and it's always best to have coverage proactively than to wish you had coverage in the aftermath of a workplace incident. With workers' compensation insurance, your business is protected against unforeseen costs like:
Emergency medical care (ER visit, ambulance, etc.)
Ongoing medical care (medication, physical therapy, etc.)
Lost wages
Workers' compensation is beneficial for both larger pressure washing businesses as well as individual pressure washing professionals who need coverage due to client requirements. With comprehensive workers' comp for your pressure washing business, you can rest easy knowing you're doing all you can for your employees.
Risk Management for Pressure Washing Professionals
You can mitigate risks by taking preventative measures to cultivate a culture of safety. From training employees to proper pressure washer usage to outlining and enforcing strict safety protocols, there are a variety of helpful steps you can take to reduce the chance of accidents. Safety features like these can not only reduce the risk of injury at your business, but they can also result in a credit to your workers' compensation policy. At Cerity, some types of safety features can translate to a 5% credit.
In the event an injury does occur, you'll want to have worker's comp to support you and your employee through recovery. At Cerity, we've created a faster and more affordable approach to workers' compensation for pressure washing professionals. We use proprietary tools that work with modern technology to provide pressure washing business owners just like you quick quotes and instant coverage. Visit our workers' compensation quote tool to get your free online quote and experience the Cerity approach to workers' comp insurance.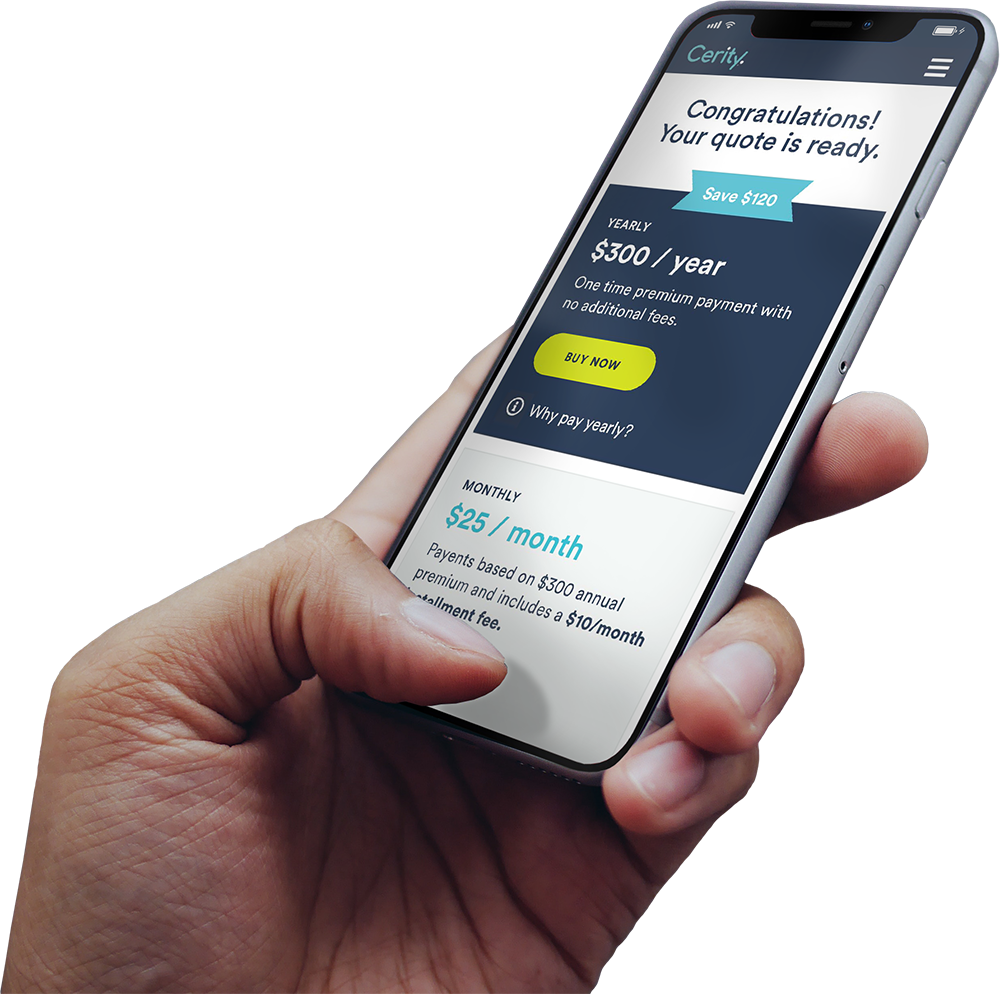 Grab your free quote today.
It only takes a few minutes, whether you're already covered or just getting started.