Workers' Compensation For DJs
The estimated 11,400 DJs in the U.S. make the world spin to their own beats and mixes. Where would we be without disc jockeys at weddings, proms, dances, and all the other big nights of our lives? If you're a DJ, you might go solo at first, but as soon as you take on an employee such as a sound manager, sound engineer, an admin to book gigs, or just someone to haul your gear, your state says you may need to pay for workers' compensation coverage.
But no worries. While DJs are busy sleeping during the day so they can create music at night, the insurance specialists here at Cerity are busy keeping on top of all the workers' compensation coverage rules, changes, and laws so you don't have to. Here, we break it all down and take the guesswork out of the DJ insurance you need.
Do I Need Workers' Comp If I'm a DJ?
If you're a DJ on your own, you'll still want DJ insurance so you can keep the party going. DJ liability insurance protects you if the beats get literally too hot and cause property damage. Professional DJ liability insurance covers you if your services cause problems for a client. If your amps cause the electrical system in a venue to blow, for example, and a wedding has to be delayed, this coverage has your back. You'll also likely want equipment insurance for all the equipment you've invested in. That way, if it's stolen or damaged, you'll be able to replace it.
But what about workers' comp? If it's just you, your talent, and a turntable, you might not specifically need insurance, according to your state laws. But getting workers' comp as an independent contractor is still a smart move. It covers you in case anything happens and you can't work for a while. And some of the best gigs will want you to be covered and want to see a Certificate of Insurance before you can play there. If you're building your skills and playing better spots, having workers' comp can open more doors for you.
And the minute you hire someone, even part-time, you're likely going to need workers' comp. While who needs workers' compensation varies from state to state, all states have workers' comp laws and you need to make sure you're paying for workers' comp coverage for all eligible employees. It's the law and you face fines if your worker is injured and you haven't been paying for their coverage.
What Kinds of Injuries Do DJs Face?
DJs and their teams work in some risky venues. It's dark. There are lots of bodies jumping around because you've got everyone on their feet. Throw in some alcohol and maybe an overly excitable wedding guest and injuries can happen. Bars, weddings, and other events come with risks, including the risk of violence, falls, and more. DJs and their teams can be hurt in lots of ways:
A guest can get aggressive with your worker

An employee can slip and fall on spilled beer or the other substances that can get spilled on the floor of a club

An employee can suffer strains or overexertion injuries carrying heavy equipment to and from a venue

Your worker can get into a car accident while getting your gear to a gig

Your equipment can overheat or fail, causing burns and injuries
One of the perks of the job is that you never know what will happen on any given night. If you do have a gig, you want to be left with just great stories and not bills, and workers' comp insurance for you and for any employees makes sure you and your workers are covered. This insurance covers medical bills and replaces some income, reducing some of the financial worries of an injury. 
What Do I Need in WC?
You don't need to get complicated to land a good workers' comp policy. Whether you're buying for yourself as an independent contractor or getting coverage for your workers, here's what to look for:
A policy from a company that works with small businesses.

Unless you're Marshmello or another top music producer, you want a company that specializes in small companies. A huge insurance company may not get what your business is like or may not be motivated to save you money. 

An insurer who specializes in workers' comp.

It may seem attractive to get insured for liability, equipment, and workers' comp in one package, but you probably won't get the most reasonable price on your policy and it can be hard to tell how much you're paying, exactly, when it's all bundled together. On top of that, you don't want to mess around with workers' comp insurance. If you're not compliant, you could be looking at fines. A specialist in workers' comp makes sure everything is by the book.

A policy you can live with.

Here's the bottom line: you need a policy that meets your state's requirements if you have any employees. And you may need to meet other states' requirements if you take work across state lines. You want a policy that'll protect you but is reasonably priced. The best way to find that is to look for an insurer who offers workers' comp for small businesses and DJs, and then let them help you find the right policy.
When you land a good workers' compensation policy, it protects your business in a few ways. It makes sure your workers don't sue you, so you can keep the music going. It also means if someone is injured while working, the insurance company takes care of a lot of the claims process, so you don't have to worry as much.
How Much Will I Pay for Workers' Comp Coverage?
If you're playing exclusively in biker gang bars, you're going to have very different risks than someone playing bar mitzvahs. DJs pay very different premiums for their policies, and it all comes down to three main factors, in addition to your risks:
Your past claims history.

If you've never had to make a workers' comp insurance claim, that's going to help save you money.

Where you're located.

Since different states have different workers' compensation insurance rules, you could be paying less (or more) than a DJ a state or two over.

Your payroll.

If you have only one employee, you'll save a lot compared to a DJ with a big entourage.
When you apply for insurance, your insurer is going to ask you questions to decide what kind of risk you are. The best way to figure out how much you'll have to pay is to get a good quote, and guess where you can get one? Witherity: Affordable Workers' comp insurance — trusted by small businesses.
My Worker Was Injured at a Gig. Now What?
If you've done your homework and are working with a solid insurer, the claims process should not be too complex. The insurance company will take care of most of it, and you'll just need to focus on a few basic steps:
The worker needs to let you know about the accident or illness as soon as possible.

You then hand the employee the form your workers' comp insurer gives you.

The employee fills out the forms and hands them to you, and you give them over to the insurer to officially start the claims process.

The insurance adjuster assigned by the insurance company takes a close look at the claim and either approves or denies it.

If the claim is approved, your insurance company contacts the employee with details about the offer, which your employee can accept or can negotiate through legal action.

If the claim is denied, your injured worker can either accept the denial, ask for a review from the insurance company, or take legal action.

Once the insurance company and employee have agreed or the case has been resolved, your worker needs to tell you when they can get back to work.
If you ever need to make a claim, having the right insurer behind you makes a big difference. And for DJs, that right insurer just might be Cerity. We're a faster and more affordable workers' comp insurance provider. Backed by over 100 years of experience, we make it easy to sign up or switch in minutes. No waiting. Policies as low as $20 per month and an instant online quote. Licensed Experts. Flexible payments. Expert assistance. Everything you've been looking for in WC insurance.
How Can Cerity Help Me Take Care of Insurance So I Can Get Back to My Music?
Cerity works with DJs and small businesses in all kinds of industries, including home-based businesses, engineers, event planners, and more. When your passion for music goes from a casual hobby to a serious business, reach out to us for workers' comp coverage that protects your work. Get essential workers' comp insurance from Cerity for as low as $20 per month. Pay only for what you need.
It's easy to get started. To get a free quote online, visit our workers' comp quote tool.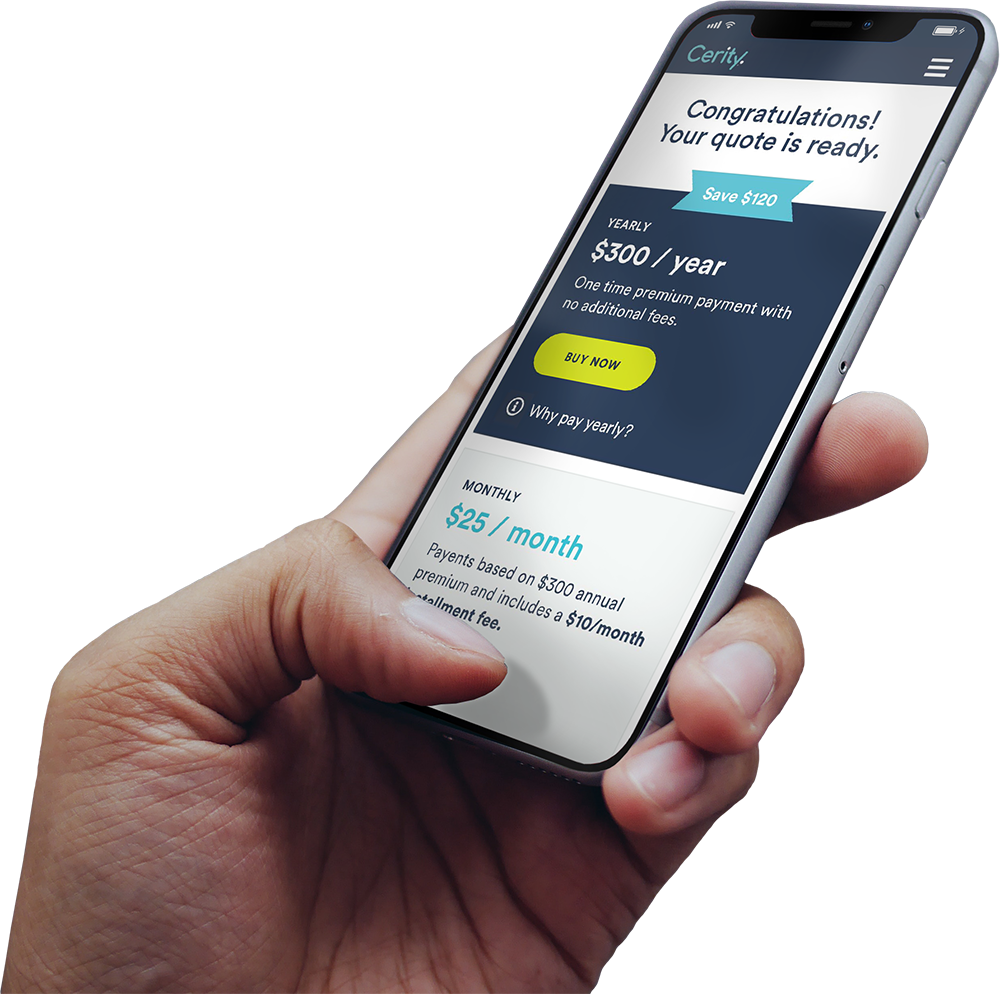 Grab your free quote today.
It only takes a few minutes, whether you're already covered or just getting started.